AROUND THE SHIELD — No matter the situation, former BYU running back Jamaal Williams has been as prone to dancing as he has to gaining first downs and touchdowns with the Green Bay Packers.
There's a lot more reason to dance with a win, though.
The BYU all-time leading rusher ran for 73 yards and a touchdown, tying for the team-high with 17 carries, in the Packers' 41-25 win over the Bears on Sunday Night Football.
Williams' 17 carries tied fellow running back Aaron Jones, who ran for 90 yards in a game where Aaron Rodgers threw for 211 yards and four scores to lead the Packers (8-3) to the win.
Even with those numbers, Rodgers called the run game "the key" to Green Bay's offense.
"We haven't had the run game anywhere near as efficient in the last 4-5 weeks," Rodgers told reporters after the game. "To have both those guys combine for over 160 yards, it's a credit to them, it's a credit to the offensive line."
The aforementioned ex-BYU tailback nicknamed "J Swag Daddy" didn't just dance around defenders during the game; he started pregame warmups dancing, too — and never stopped.
Ever one for a pregame vibe, Williams used the video board to get his groove on during pregame warmups. The former BYU running back danced, jived and shook his tail feather while getting ready for Sunday night's rivalry game.
Jamaal Williams is always a vibe 🤣 #ShowtimeCam@jswaggdaddy@packers

📺 #CHIvsGB on NBC pic.twitter.com/vkERpYdYDX

— The Checkdown (@thecheckdown) November 30, 2020
The party continued through the night.
Holding tight to a 34-10 lead in the third quarter, Rodgers went to Williams to try to run out the clock. First, he got a first down.
Moments later, with Green Bay on the 13-yard line, the tailback burst up the middle and bounced off a half-dozen Bears would-be tacklers to spin into the end zone for a touchdown that gave Green Bay a 41-10 lead with 1:12 left in the third.
"Jamaal had a big night. Aaron did his thing, too. It was just a complete win," said Packers receiver Davante Adams, who caught six passes for 61 yards and a touchdown.
"Sometimes it's going to be the receiver's day, sometimes we're going to do it on the ground. If it ain't broke, don't fix it … We've done a good job of recognizing what we're doing well, and sticking to it."
.@jswaggdaddy powers it in for the score! 💪#CHIvsGB | #GoPackGo

📺 NBC
Watch live 📱 https://t.co/CwnQfSzZ7dpic.twitter.com/fkpoAfu7P1

— Green Bay Packers (@packers) November 30, 2020
With 182 yards rushing to 211 yards through the air, the Packers were about as balanced as an NFL team can get. Not perfect — but pretty close.
"I think the more that we can run the football, we'll have success," Packers head coach Matt LaFleur said. "When you have both (the run and the pass), that's what makes you really dangerous. It just keeps the defense more off balance. I thought our guys did an outstanding job.
"The expectations are extremely high here, and I wouldn't want it any other way. Until we get that perfect game, we're going to continue to coach our butt off and our players are going to get better and better."
Williams wasn't the only former local standout to make a big play on the big stage. Former Utah defensive back Jaylon Johnson had four tackles, a tackle for loss and a pass breakup for the Bears — including blowing up Packers receiver Allen Lazard on one play.
Rookie Jaylon Johnson rocks Allen Lazard to jar the ball loose 💥pic.twitter.com/xeO5SXd8Yz

— PFF (@PFF) November 30, 2020
Utah State and Weber High alum Patrick Scales played five special-teams snaps at long snapper for the Bears (5-6).
Here's how other former high school and college football standouts from Utah fared around the league in Week 12.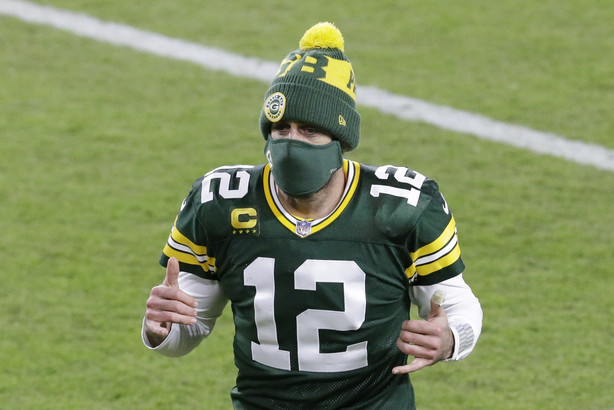 Buffalo 27, LA Chargers 17
Josh Allen threw for 157 yards and a touchdown and ran for 32 yards and another score to lead the Bills by the Chargers.
Bills (8-3)
Zack Moss, RB, Utah: Ran for 59 yards on nine carries; caught two passes for 9 yards
Taron Johnson, S, Weber State: Starting nickleback made six tackles, two quarterback hurries, and two pass breakups
Chargers (3-8)
Michael Davis, CB, BYU: Posted four tackles, one pass breakup, one interception
Sam Tevi, OT, Utah: Started at left tackle
Nick Vigil, LB, Utah State/Fremont: Had eight tackles, one pass breakup, and recovered a fumble
Alohi Gilman, S, Orem: Played as a reserve
Atlanta 43, Raiders 6
Matt Ryan threw for 185 yards and two touchdowns, and the Falcons forced five turnovers to roll past the Raiders.
Falcons (4-7)
No locals on the active roster
Raiders (6-5)
Devontae Booker, RB, Utah: Ran five times for 6 yards as a reserve; targeted four times
Nevin Lawson, CB, Utah State: Made three tackles as a reserve
Dallin Leavitt, S, Utah State/BYU: Made one tackle on special teams as a reserve
Andre James, OT, Herriman: Played as a reserve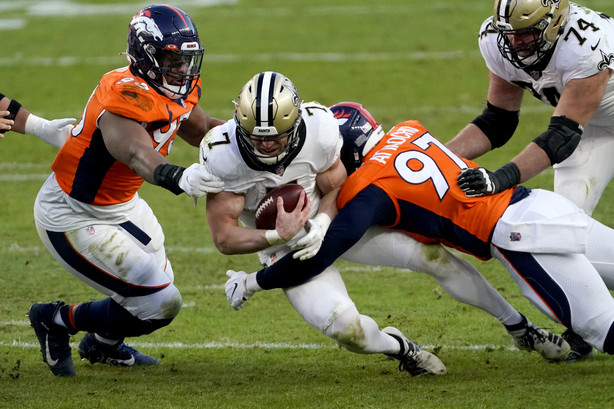 New Orleans 31, Denver 3
Latavius Murray ran for 124 yards and two touchdowns, and former BYU quarterback Taysom Hill ran for two more scores to lead the Saints' to their eighth-straight win.
Saints (9-2)
Taysom Hill, QB, BYU: Starting quarterback completed 9-of-16 passes for 78 yards, one interception; also ran for 44 yards and two touchdowns on 10 carries
Marcus Williams, S, Utah: Starting free safety, made three tackles
Kaden Elliss, LB, Judge Memorial: Played as a reserve
Broncos (4-7)
Garett Bolles, OT, Utah/Westlake: Started at left tackle after signing a four-year contract extension
Tim Patrick, WR, Utah: Starting wide receiver was targeted twice by elevated practice squad wide receiver Kendall Hinton
Untouched 💨@T_Hill4 | 📺: Fox pic.twitter.com/exJTzDOOLU

— New Orleans Saints (@Saints) November 29, 2020
NY Giants 19, Cincinnati 17
Graham Gano booted four field goals in a winning effort for the Giants.
Giants (4-7)
Kyler Fackrell, LB, Utah State: Starting outside linebacker posted two tackles, one quarterback hurry
Jackson Barton, OT, Utah/Brighton: Inactive for week 12
Bengals (2-8-1)
Leshaun Sims, CB, SUU: Starting cornerback made four tackles
Tennessee 45, Indianapolis 26
Derrick Henry ran for 178 yards and three touchdowns on 27 carries as the Titans overpowered the Colts.
Titans (8-3)
No locals on the active roster
Colts (7-4)
Julian Blackmon, DB, Utah/Layton: Starting free safety made two tackles
Noah Togiai, TE, Hunter: Inactive for week 12
Cleveland 27, Jacksonville 25
Baker Mayfield threw for 258 yards and two touchdowns in the Browns' third-straight win.
Browns (8-3)
Sione Takitaki, LB, BYU: Placed on reserve/COVID-19 list
Porter Gustin, DE, Salem Hills: Placed on reserve/COVID-19 list
Jaguars (1-10)
No locals on the active roster
Minnesota 29, Carolina 27
Kirk Cousins threw for 307 yards and three touchdowns, including two scores to Justin Jefferson, to help the Vikings hold off the Panthers.
Vikings (5-6)
No locals on the active roster
Panthers (4-8)
Tyler Larsen, OC, Utah State: Played as a reserve
New England 20, Arizona 17
Nick Folk's 50-yard field goal at the buzzer helped the Patriots edge the Cardinals in a game where quarterbacks Cam Newton and Kyler Murray combined for three interceptions and no touchdowns.
Patriots (5-6)
No locals on the active roster
Cardinals (6-5)
Kylie Fitts, LB, Utah: Made one tackle as a reserve
Leki Fotu, DT, Utah/Herriman: Inactive for week 12
Miami 20, NY Jets 3
Ryan Fitzpatrick threw for 257 yards and two touchdowns, and the Dolphins picked off Sam Darnold twice for a win over the hapless Jets.
Dolphins (7-4)
Kyle Van Noy, LB, BYU: Starting linebacker made five tackles, 0.5 sacks and one quarterback hurry
Eric Rowe, DB, Utah: Starting safety made three tackles
Jets (0-11)
Harvey Langi, LB, BYU/Bingham: Starting inside linebacker, posted a team-high eight tackles
Javelin Guidry, DB, Utah: Made two tackles, recovered a fumble as a reserve
San Francisco 23, LA Rams 20
Robbie Gould booted back-to-back field goals in the final 3:11 to help the Niners rally by the Rams.
49ers (5-6)
Fred Warner, LB, BYU: Starting middle linebacker posted six tackles, one quarterback hurry
Mitch Wishnowsky, P, Utah: Punted seven times for 357 yards, an average of 51.0 yards per kick, with two touchbacks and two punts downed inside the 20
Rams (7-4)
Matt Gay, K, Utah/UVU/Orem: Kicked field goals of 48 and 41 yards, with 2 extra points
Kansas City 27, Tampa Bay 24
Patrick Mahomes threw for 462 yards and three touchdowns as the Chiefs held off Tom Brady and the Buccaneers' late comeback bid.
Chiefs (10-1)
Daniel Sorensen, S, BYU: Posted a team-best seven tackles
Darwin Thompson, RB, Utah State: Played as a reserve
Buccaneers (7-5)
No locals on the active roster
Thursday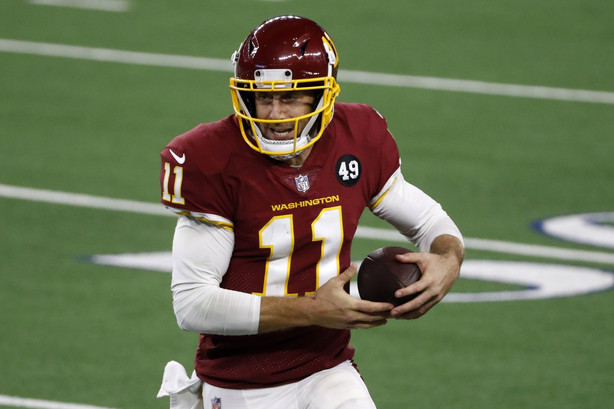 Washington 41, Dallas 16
Antonio Gibson ran for 115 yards and three touchdowns to lead the Football Team past the Cowboys.
Football Team (4-7)
Alex Smith, QB, Utah: Completed 19-of-26 passes for 149 yards, one touchdown, one interception
Jared Norris, LB, Utah: Inactive for Week 12
Cowboys (3-8)
Dalton Schultz, TE, Bingham: Caught five passes for 24 yards
Bradlee Anae, DE, Utah: Inactive for Week 12
Francis Bernard, LB, Utah/Herriman: Played 18 snaps on special teams as a reserve
Houston 41, Detroit 25
DeShaun Watson threw for 318 yards and four touchdowns as the Texans spoiled the Lions' Thanksgiving with a rout.
Texans (4-7)
No locals on the active roster
Lions (4-7)
Miles Killebrew, S, SUU: Played 26 snaps on special teams as a reserve
John Penisini, DT, Utah/West Jordan: Made one tackle on 44 defensive snaps
×
Related Links