SALT LAKE CITY — Devin Lloyd was thrust into the spotlight his sophomore season.
As Utah football kicked off its fall camp for the 2019 season, Lloyd became the de facto starter at linebacker after senior Manny Bowen, the expected starter with Division I experience off an offseason transfer from Penn State, quit the team to pursue a "business opportunity."
Suddenly, Lloyd was the lone player without prior starting minutes on one of the program's most experienced defensive units — Lloyd's freshman season, the year prior, he contributed just six total tackles in three games.
He had the physical traits, standing at 6-foot-3 and 232 pounds, but lacked real collegiate play.
But the former high school safety and wide receiver who had only a handful of Division I offers — mostly from the Mountain West Conference — made his presence known instantly on a Utah defense that finished the season as the second-best in the country in 2019.
Lloyd led the team in tackles — 91 total tackles for an average of 6.5 per game — and was second only to senior defensive end Bradlee Anae in tackles for loss (11) and sacks (6.5). He also had two pass breakups and an interception that was returned 64 yards for a touchdown against Oregon State.
In short, Lloyd didn't waste any time proving his ability on the field despite the inexperience at the position.
The junior now finds himself in a completely different role a year later as one of two returning starters on a defense that lost nearly every player to the NFL. He's someone with national respect as one of 51 players named to the Butkus Award preseason watchlist and a lot to prove in a shortened season.
So while Utah replaces an entire defensive unit this season, Lloyd knows a little about how it feels to be the odd man out and is the one lending his support to the young and inexperienced players looking to fill key roles on Utah's defense this season. Head coach Kyle Whittingham said the defense will feature a handful of freshmen and sophomores in starting positions, so there's a lot of need early on for mentorship.
Lloyd and Co. will get their first opportunity to prove their skills Saturday against USC as Utah tries for the third week in a row at a season-opener after games against Arizona and UCLA were canceled due to positive COVID-19 tests and contact tracing in the program. During that two-week hiatus, Lloyd was there to ensure everyone's health — physical and mental — was in check.
"This could really easily just get to them mentally, psychologically, it can put them in a state of depression," Lloyd said. "But you have to look at it from a positive side, and that's where leadership comes in a big way. But I feel like, you just have to look at it from the positive side, understand we'll see the field eventually and this is just a little adversity, that's all. But more than anything, you understand we will have our opportunity to play."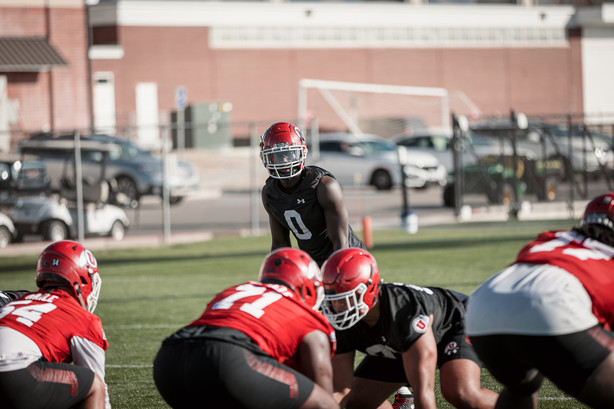 But not playing has still been "devastating" and a real challenge to an already difficult year with no clear grasp to the future.
"It's really just like the worst thing that can happen for you as a football player, especially now more than ever," Lloyd said. "We already knew our games were limited, and then for it to just happen the way it did — like the day before — everybody's mentality is, 'Oh we're good, we're going' and then it's taken away from us, the game we love is taken away from us, it's definitely devastating.
"But at the same time, you've got to take it with a grain of salt; you've got to look at the bright side, which is that we've gotten tremendously better in the two weeks that we had been practicing," he added. "We've gotten our mental side of just preparing for teams the right way; we've done that right two weeks in a row. So now we really feel comfortable with that."
That's leadership, and it's easily noticed by his teammates.
"He brings everyone along and he's good at making sure everyone's minds are right going into practice," fellow linebacker Nephi Sewell said, "so I know we'll all be ready going into our game, and I'm feeling confident every day."
"Devin Lloyd, he's one of our captains. He helps us get our mind right and just say keep pushing, you know, come on next play, next play, and we just keep it moving," cornerback JT Broughton added.
Lloyd will be the go-to guy on the field, too, when things go wrong — and it's expected there will be growing pains with an entirely new personnel in most positions on defense. He's there to get the team back on track while leading by example, and setting the tone for the younger players who will be the future leaders when Lloyd eventually moves on from the program.
"Obviously, as a leader and a captain, I'm going to try to do my best to make that shift," Lloyd said of helping the team get through mistakes on the field. "But my hope is that everyone should be leaders in their own right, you know what I'm saying — like I'm not the only one speaking; it should be all of us. It's just helping each other and lifting each other up.
"I would be the first to say something if that comes down to it, but I want everyone, and I hope that everyone will be willing to just lead by example, especially guys who've been here in the program."
Whittingham said Lloyd has "definitely stepped up" his role after learning from guys like Anae, Francis Bernard and Leki Fotu, among other players, and that "this is his time now."
"He's done a remarkable job of transforming himself into a linebacker," Whittingham said. "And he's the team leader on defense right now; it's great to see the progress that he's made while he's been in our program."
So while the status of each week's game remains a wait-and-see experience, Lloyd will continue to be a leading voice to a defense ready to jump in on the action. And he's more than ready to finally lead by example on the field, too.
Utah (0-0) is set to kickoff against USC (2-0) Saturday at 8:30 p.m. MT at a fan-less Rice-Eccles Stadium and will be broadcast on ESPN.
"I personally feel like all the preparation that we've been doing in the offseason, it's led us up to this point," Lloyd said. "I feel like 2020, coming back from this crazy, what better way to start off than going against the best team in the South (Division). Two of the best teams in the Pac-12 — I just feel like it's a perfect matchup, so I can't wait."
×