OREM — One week from Wednesday night, Mark Madsen's second season as head coach of the Utah Valley men's basketball team will open in a familiar spot.
The Wolverines will tip off the 2020-21 season against Stanford, Madsen's alma mater, inside a spectator-less Maples Pavilion that Madsen helped turn into a Pac-12 contender before a decade-long career in the NBA.
But the former Lakers big man won't be thinking about his memories, his old team, or his former coach, who will be calling the game for the Pac-12 Network.
"I still stay in touch with Mike Montgomery, and called him after practice just a month ago. He's been a great mentor over the years and a great friend," Madsen said. "But in my mind, it's about our players being able to play against some other great players. I'm really excited about the opportunity."
The Wolverines will finish arguably the most hectic offseason in program history next week in Santa Clara County, California. It's an offseason that saw the program go into quarantine on four or five separate occasions, Madsen said, due to COVID-19 issues. Like most of the country, the Wolverines have become more adept at Zoom calls, video conferencing and finding ways to play film at a slower speed — which turned hour-long film review sessions into two-plus hour team bonding experiences.
Next Wednesday night all of that will be in the past.
It may be a new team, but the Wolverines — who were picked to finish sixth in the WAC by the coaches and media — couldn't be more excited to be playing ball again.
Even if it's on the road at the coach's alma mater, a team picked to finish fourth in the conference that boasts preseason Sixth Man of the Year Oscar Da Silva.
"The thing about Madsen is he's not scared of nobody," said UVU point guard J.J. Overton, one of just three returning players on the Wolverines' squad. "I don't think we get a lot of respect around Utah, but we're starting right up with Stanford and BYU. That's one thing we respect about Madsen: he's ready to go."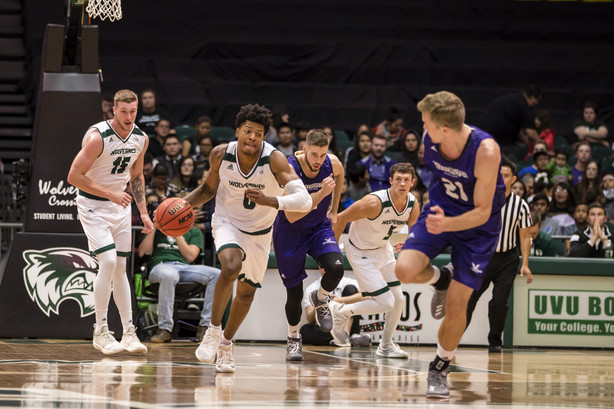 As an opponent, Stanford garners the Wolverines' attention, and not just because it's the season opener. With so many storylines around the game, said center Fardaws Aimaq.
"We're going to play a really good Pac-12 team; and with it being Madsen's former school and all that, it's really sweet. They have a really good squad, and they're very well-rounded as a team," said Aimaq, a Mercer transfer who sat out last season as a redshirt due to NCAA transfer rules.
"It's a big test for us. We're going to be thrown right into the fire, and we've got to come back and play BYU up the road just three days later."
Just three days after opening against Stanford, Utah Valley returns home to play at BYU in an intra-county rivalry game. The Wolverines' nonconference schedule also includes a second Pac-12 team in Utah, two more from the Mountain West in Air Force and a home game with Wyoming, and regional opponents Southern Utah and Idaho State.
That BYU game won't just be a county-wide rivalry with a school 5 miles away on University Parkway. It will also be a chance for the Wolverines to face former coach Mark Pope — and perhaps more importantly, former point guard Brandon Averette, who joined Pope in Provo as a graduate transfer after averaging 12.8 points and 3.0 assists en route to All-WAC Newcomer honors. "It was definitely a shock to all of us, but it's kind of like a next-man-up mentality. When one falls, we have to adjust," Overton said of Averette's departure. "We're not going to look back at losing a big piece, but we're going to find somebody else to take that spot.
"It's just a coincidence that he's down the street, but he was definitely one of our guys. It's a competitive thing; there's no grudges against him, but when it's time to go, it's time to go."
Each game is designed to help prepare UVU for conference play in the Western Athletic Conference, where teams need to play their best game by February and March. With a conference schedule that includes back-to-back games against the same opponent each week, it will be a season unlike any other, initially played in front of limited to no fans at the UCCU Center and beyond.
But March is what Madsen's team, like every team, is preparing for.
"Every single night will be a test, but we wanted it that way," Madsen said. "We don't want to schedule a bunch of cupcakes because that doesn't do anyone any good. I absolutely think it will help us later in February and into March."
×
Related Links