AROUND THE SHIELD — In four seasons with the Denver Broncos, Devontae Booker was a seldom-used offensive weapon, totaling 1,103 yards and six touchdowns in limited playing time for the team that drafted him with the 136th overall pick in 2016.
More than half of that production — 612 yards and four touchdowns, to be exact — came as a rookie.
So when the first-year Las Vegas Raiders running back and University of Utah graduate lined up against his former team Sunday afternoon at Allegiant Stadium, no one would've expected him to be fueled to perform.
Truth is, though, Booker didn't feel that way at all.
He just showed the Broncos what they were missing.
The 5-foot-11, 220-pound back ran for 81 yards and two touchdowns on 16 carries as the Raiders pulled away from the Broncos, 37-12 Sunday.
If Booker didn't think about facing his old team, though, his teammates certainly did.
"They've been telling me all week that they wanted to get this win for me," said Booker, who also had a 2-yard catch and made a tackle on special teams. "We just went out there and did what they needed to do.
"They're probably more excited than I am."
Stamp it with an ‼️

Enjoy it, #RaiderNation.#DENvsLV | CBS pic.twitter.com/fTvYO4TiYL

— Las Vegas Raiders (@Raiders) November 16, 2020
Booker still knows plenty of Denver ex-teammates — fellow Utah alums Tim Patrick and Garret Bolles being among them. And he admits it "felt good" to get the win over them.
Because winning feels good.
"It felt really good to go out there, and beat those guys," he added. "It started off slow for us in the beginning, but in the second half we came out and executed and just pounded it down their throat."
Playing primarily as a backup to breakout running back Josh Jacobs, Booker was averaging 6.8 yards on 33 carries before Sunday's game against the Broncos. Even that is well ahead of where he was during his final three seasons in Denver, when Booker played largely on special teams and averaged between 3.8 and 5.4 yards per carry out of the backfield.
Sometimes, all you need is a change of scenery.
"A lot of times, players just aren't in the right situation at the right time," Raiders coach Jon Gruden told Raiders.com. "Again, credit to (Las Vegas general manager) Mike Mayock and our scouting department for bringing him in here, and really you have to tip your hat to Booker in an odd offseason. He learned the offense on YouTube and he learned the offense on Zoom meetings, and he won the job in training camp and beat out a really good draft choice. So, it's good to see him have success, especially against his old team."
Booker learned the offense during a largely virtual offseason due to the COVID-19 pandemic, and when it came down to running between the tackles in between hamming it up with some of his old Denver friends during pregame, he took advantage of it.
"I had a lot of old teammates talking to me on the field, as I was in the backfield," Booker said. "But it was just another game for me, and I had to take it to them.
"I couldn't do it without my teammates and the O-line."
Here's how other former local high school and college football standouts fared in Week 11 of the NFL's 2020 season.
Las Vegas 37, Denver 12
Raiders
Devontae Booker, RB, Utah: 16 carries, 81 yards, 2 touchdowns; 1 reception, 2 yards; 1 tackle on special teams
Nevin Lawson, CB, Utah State: 1 tackle, 1 pass defended, 1 forced fumble, 1 fumble recovered
Dallin Leavitt, S, Utah State / BYU: Played as a reserve
Andre James, OT, Herriman HS: Played as a reserve
Broncos
Garett Bolles, OT, Utah / Westlake HS: Started at left tackle
Tim Patrick, WR, Utah: 4 catches, 61 yards
A different kind of Vegas strip 😅@nevin_lawson set us up for another TD with this beautiful forced fumble.#DENvsLV | CBS pic.twitter.com/vQqtI73fL2

— Las Vegas Raiders (@Raiders) November 16, 2020
Cleveland 10, Houston 7
Nick Chubb piled up 126 yards and a touchdown in a snowstorm as the Browns improved to 6-3 with a win over the Texans (2-7).
Browns
Sione Takitaki, LB, BYU: 1 tackle on defense, 2 tackles on special teams
Porter Gustin, DE, Salem Hills: 1 tackle on defense
Texans
No locals on active roster
Miami 29, LA Chargers 21
Tua Tagovailoa threw two touchdowns, including one early in the fourth quarter that proved to be the game-winner, as the Dolphins (6-3) outlasted the Chargers (2-7).
Dolphins
Kyle Van Noy, LB, BYU: 5 tackles, 1 QB hurry
Eric Rowe, DB, Utah: 6 tackles, 2 QB hurries
Chargers
Michael Davis, CB, BYU: 5 tackles, 1 tackle for loss, 2 passes defended
Sam Tevi, OT, Utah: Started at left tackle
Nick Vigil, LB, Utah State / Fremont HS: 1 fumble recovery, 44-yard return
Alohi Gilman, S, Orem HS: Played as a reserve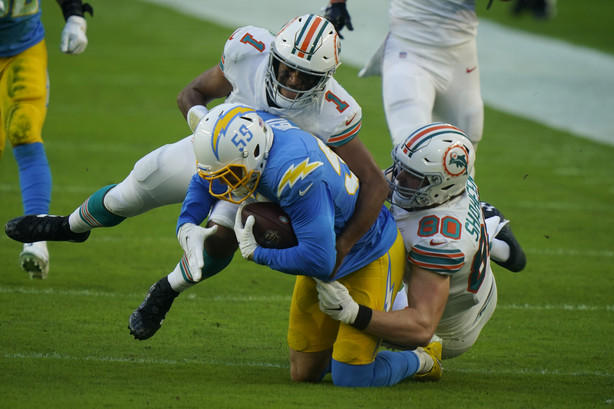 Green Bay 24, Jacksonville 20
Aaron Rodgers threw for 324 yards and two touchdowns as the Packers held off the Jaguars to improve to 7-2.
Packers
Jamaal Williams, RB, BYU: 8 rushes, 30 yards; 3 catches, 25 yards
Jordan Love, QB, Utah State: Inactive for Week 11
Jaguars
No locals on active roster
NY Giants 27, Philadelphia 17
Daniel Jones threw for 244 yards and ran or 54 and a touchdown to help the Giants (3-7) past the Eagles (3-5-1) to their third win of the season.
Giants
Jackson Barton, OT, Utah / Brighton HS: Not active
Kyler Fackrell, LB, Utah State: Starting linebacker, had 2 tackles and a quarterback hurry
Eagles
Sua Opeta, OG, Weber State / Stansbury HS: Started at left guard
Arizona 32, Buffalo 30
Kyler Murray threw for 245 yards, including a 43-yard Hail Mary heave to DeAndre Hopkins on the final play from scrimmage, to help the Cardinals (6-3) rally by the Bills (7-3).
Cardinals
Kylie Fitts, LB, Utah: 1 tackle on defense
Leki Fotu, DL, Utah / Herriman HS: Inactive for Week 11
Bills
Zack Moss, RB, Utah: 7 carries for 20 yards rushing; 1 reception for -3 yards receiving
Taron Johnson, CB, Weber State: 9 tackles, 1 sack, 2 tackles for loss and a forced fumble
Jordan Devey, OL, Snow College / American Fork HS: Inactive for Week 11
Detroit 30, Washington 27
Matt Prater made a career-long 59-yard field goal at the buzzer to keep Comeback Kid Alex Smith from leading the 2-7 Football Team's comeback against the Lions (4-5).
Football Team
Alex Smith, QB, Utah: Started and completed 69.1% of his passes for 390 yards while taking two sacks.
Jared Norris, LB, Utah: Inactive for Week 11
Nate Orchard, DE, Utah / Highland HS: Inactive for Week 11
Lions
John Penisini, DL, Utah / West Jordan HS: Started at defensive tackle and finished with three tackles.
Miles Killebrew, S, SUU: Made one tackle on special teams in limited time off the bench.
LA Rams 23, Seattle 16
Malcolm Brown ran for 33 yards and two touchdowns, the second from 1-yard out with 6:22 left to help the Rams (6-3) hold off the Seahawks (6-3).
Rams
No locals on active roster
Seahawks
Bobby Wagner, LB, Utah State: 7 tackles, 1 tackle for loss, 1 pass defended
Cody Barton, LB, Utah / Brighton HS: Played as reserve
Bryan Mone, DT, Highland HS: Inactive for Week 11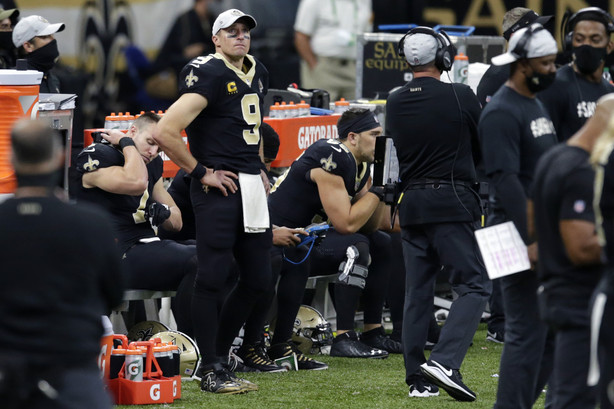 New Orleans 27, San Francisco 13
The Saints out-gained the Niners (4-6), 114-49 on the ground — including 45 yards on eight carries from former BYU quarterback Taysom Hill — to move to 7-2 on the season. But did they lose starting quarterback Drew Brees for an extended absence?
Saints
Taysom Hill, QB, BYU: 8 carries, 45 yards; 2 fumbles; 1 fumble recovery
Marcus Williams, S, Utah: 9 tackles; 1 pass defended
Kaden Eliss, LB, Judge Memorial HS: Played as a reserve
49ers
Fred Warner, LB, BYU: 5 tackles
Mitch Wishnowsky, P, Utah: 5 punts, 239 yards
Pittsburgh 36, Cincinnati 10
Ben Roethlisberger threw for 333 yards and four touchdowns to keep the Steelers (9-0) unbeaten with a win over the Bengals (2-6-1).
Steelers
No locals on active roster
Bengals
LeShaun Sims, CB, SUU: Inactive for Week 11
Thursday Night Football
Indianapolis 34, Tennessee 17
The Colts ended the game on a 24-0 run, including a blocked punt return with 59 seconds left in the third quarter, to rally past the Titans.
Colts
Julian Blackmon, CB, Utah / Layton HS: 4 tackles, 1 TFL
Noah Togiai, TE, Hunter HS: Played 16 offense snaps as a reserve
Titans
No locals on active roster
×
Related Links