Estimated read time: 5-6 minutes
This archived news story is available only for your personal, non-commercial use. Information in the story may be outdated or superseded by additional information. Reading or replaying the story in its archived form does not constitute a republication of the story.
To steam, or not to steam? If cleaning your flooring has you asking all sorts of tough questions, don't sweat it (and probably don't steam it either!). While it's tempting to order a steam mop based on a convincing late-night infomercial, most flooring options don't take too well to direct steam.
According to familyhandyman.com, flooring styles like laminate, wood, vinyl and vinyl planking aren't steam mop friendly. The steam seeps into tiny gaps and can warp the material, so it's best to play it safe.
Whether your home is sporting carpet, hardwood, luxury vinyl, ceramic tile or laminate, there's a brush, broom, mop or method recommended specifically for your floor. Extend the life of your flooring – and keep it looking lovely—with these cleaning recommendations.
Luxury vinyl
It's no wonder luxury vinyl is so popular in new builds and home renovations today. Combining the look of natural wood or stone with the durability of vinyl, luxury vinyl is often considered the happy medium between form and function.
If you have vinyl in your home, you likely already know that easy care and maintenance is one of the numerous benefits of this type of flooring. But be sure you're not getting too comfortable with care.
While luxury vinyl is scuff, scratch and water-resistant, it's not completely invincible either. It may hold up to water, but steam is another animal, so avoid using a steam mop. Instead, opt for a solution of apple cider vinegar (or white vinegar) and hot water. This combination will pick up dirt on the floors without leaving a film. If you'd rather not use vinegar, Bob Vila also suggests trying a cleaner designed for vinyl flooring, like Pine-Sol or Pledge Multisurface Floor Cleaner.
Carpet
It may be the warmest, coziest way to dress your floors, but carpet is just a downer when it's dirty – and you'll get a bigger bang for your flooring buck if you're committed to proper maintenance. In fact, maintenance might be required for you to take advantage of your flooring warranty. According to Giant Carpet One, almost all carpet manufacturers require professional cleanings every 12 to 18 months to keep the warranty active. Professional cleaning also ensures you get the deepest clean possible, as professionals use steam cleaners that remove more dirt and debris than vacuums and other home cleaners.
For regular maintenance, vacuuming is a no-brainer, but be sure you're covering each area by going over it both horizontally and vertically. Additionally, you can keep your carpets cleaner by removing shoes when walking on the carpet and investing in rugs for high-traffic areas.
Hardwood
For many people, nothing beats the look and feel of natural hardwood. While hardwood floors are a timeless, beautiful option, caring for hardwood can be difficult. The best way to keep your hardwood floors looking clean and fresh is by vacuuming it regularly with a floor brush attachment.
When it needs a deeper cleaning, Better Homes and Gardens recommends soaking a mop with a diluted cleaner made specifically for hardwood floors, then wringing the mop until it's only damp to the touch. Since standing water can harm hardwood, avoid using mops that are too wet.
Today, engineered hardwood floors are a popular choice, as they are easier to maintain and more damage-resistant than traditional hardwood. With that in mind, engineered floors include a natural veneer that should be treated as such. Use almost-dry mops with mild, diluted cleaning agents to remove ground-in dirt. And, of course, avoid the steam mop, as this can harm the wood's natural finish.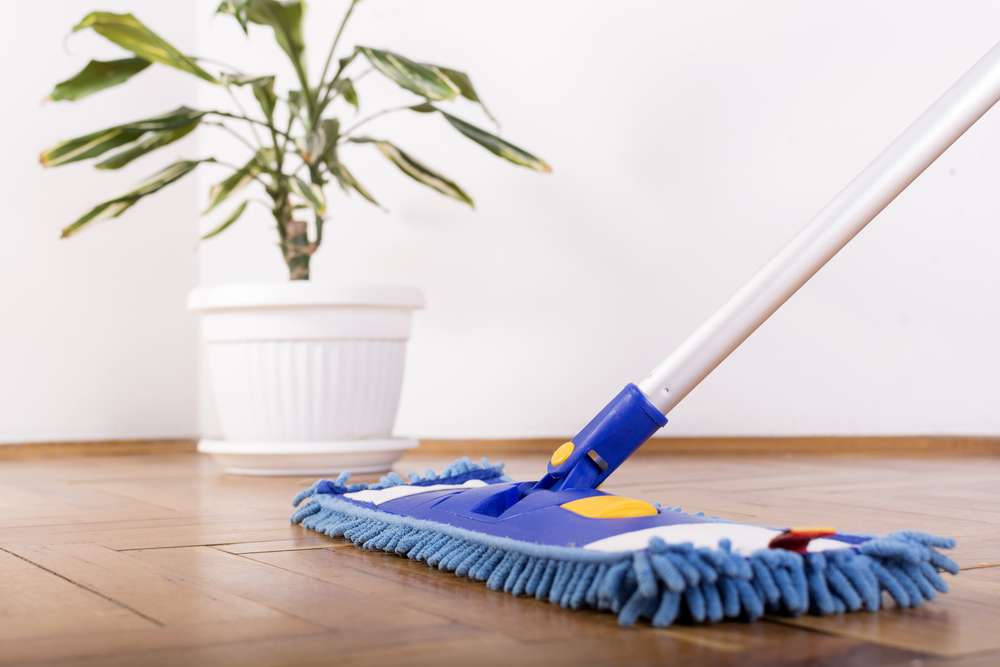 Tile
A favorite option for bathrooms, kitchens and other high-traffic (and high-moisture) areas, tile flooring can also be tricky to clean – particularly since grout tends to attract dirt and look dingy over time.
While your ceramic tile might easily wipe clean, grout is rarely as agreeable. When grout stains won't budge, DIY Network recommends mixing baking soda and water into a paste, then applying it to the stain, allowing it to sit overnight and then gently scrubbing it with a nylon brush. For stains on the tile itself, try blotting with hydrogen peroxide and gently rubbing with a microfiber cloth.
If you're dying to use the steam mop, HGTV gives the green light for ceramic tile – steam away!
Laminate
Laminate flooring is both durable and versatile – it comes in a variety of finishes, replicating wood, tile and stone. Like luxury vinyl, laminate is hearty, but should be treated with care when cleaning. Take care not to get your laminate too wet, and avoid using steam or wet mops to remove dirt and grim. And since laminate can scratch, Architectural Digest suggests avoiding abrasive tools like steel wool. Try to mop your laminate flooring twice a month, using a damp microfiber mop or a traditional mop wrung out til nearly dry.
Whichever flooring you prefer, it always looks best clean and fresh. Before you break out the vacuum, mop or broom, be sure to read the manufacturer's maintenance recommendations. If you need help choosing the right floor for your home and lifestyle, stop by any of Giant Carpet One's numerous Utah locations.
×