SALT LAKE CITY — Everyone is still chasing Region 4 in Class 6A, but the league is beginning to separate into three tiers after Corner Canyon, the defending state champs in Utah's highest classification and the top-rated team all year, handed Lone Peak its first loss of the 2020 season.
The Knights aren't going anywhere, but the strata are beginning to sift in what many call the "SEC of Utah high school football."
Meanwhile, Region 1 contender Roy is attempting to break through and play the role of Ohio State in this scenario, while Kearns is slowly moving up the rankings, as well.
In 5A, Brighton still leads the pack after a canceled game with Skyline. But Orem and Timpview aren't far behind in representing Region 7, the same week that the final undefeated Region 8 team suffered its first loss.
Here are the rankings through seven weeks of the 2020 high school football season:
1. Corner Canyon (7-0)
The Chargers overturned a rare halftime deficit to hold off Lone Peak in a Thursday night classic, getting a hat trick of three receiving touchdowns from Cody Hagen in the rally.
2. Skyridge (7-0)
James Palmer scored three first-half touchdowns — two of them from McCae Hillstead — as the Falcons kept rolling with 35 unanswered points before halftime in coasting to a 35-7 win at Pleasant Grove.
3. Lone Peak (6-1)
Even with the 35-25 loss to Corner Canyon, the Knights still showcased arguably the best defense the state, getting a sack and fumble recovery in the end zone from BYU target John Henry Daley, as well as a 13-0 first-quarter lead — the Chargers' first double-digit deficit of the season.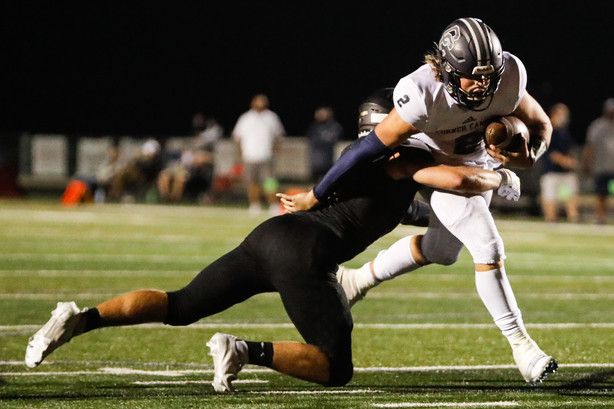 4. American Fork (6-1)
Maddux Madsen had three touchdowns, and Fisher Ingersoll returned two interceptions for touchdowns in the Cavemen's 52-13 win over Westlake that closed the gap with Lone Peak. The two rivals (American Fork and Lone Peak) will face off next week in what could be a clash of the two teams in the one-loss tier of a brutal Region 4.
5. Roy (7-0)
The Royals are rolling into October undefeated thanks to two touchdowns each from Izzy Gordon, Cade Harris and Parker Kingston in a 50-31 win over Northridge.
6. Brighton (6-0)
After a week off due to a postponed game with Skyline, the Bengals return to Region 6 play Friday, hosting Murray.
7. Pleasant Grove (5-2)
After opening 5-0, the Vikings are on a two-game skid — and the season doesn't get any easier, hosting American Fork on Friday in a brutal Region 4. The Vikings have fallen into a tier with Westlake behind the undefeated and one-loss teams in the league.
8. Kearns (7-0)
Still unbeaten, the Cougars moved to 2-0 in Region 2 play behind four total touchdowns from quarterback Iosefa Toia'ivao.
9. Davis (6-1)
Chance Trujillo threw for 324 yards and three touchdowns to help the Darts bounce back from their lone loss of the year with a 42-6 road rout of Syracuse.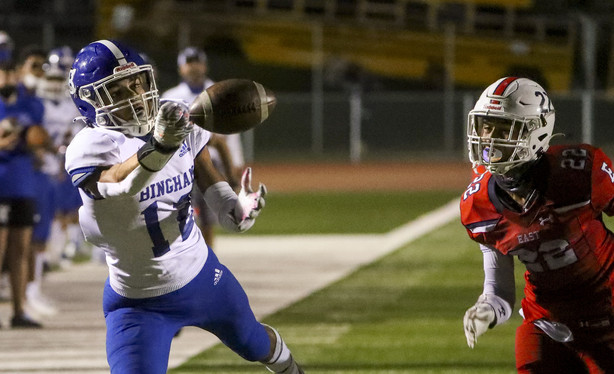 10. Bingham (4-2)
After a slow start to the season, the Miners have turned things all the way around. A gutsy two-point conversion throw from Troy Mehn to Josh Woolf in overtime completed a 14-point second-half comeback win over East to give Bingham its fourth straight victory.
11. Orem (3-2)
After two weeks off, the Tigers return to Region 7 play by hosting fellow contender (and reborn) Timpview in a game that could decide the region title while being played without fans due to COVID-19 restrictions in the Provo-Orem area.
12. Sky View (7-0)
Kasen Carlsen had four total touchdowns (throwing for two and rushing for another pair) and the Sky View defense didn't allow a point in a 29-0 rout over Mountain Crest.
13. Skyline (6-0)
Due to a spike in coronavirus cases on the team, Skyline isn't scheduled to take the field again until Oct. 16 against Olympus.
14. Snow Canyon (6-0)
Bretton Stone rushed for 237 yards and a touchdown, quarterback Landon Frei totaled three touchdowns, and Snow Canyon stopped a two-point conversion in the fourth quarter to hold on for a 35-33 win over Dixie. The Warriors are 6-0 for the first time since 2006.
15. Wasatch (6-1)
After beating Provo 30-20, Wasatch will have a week off before a showdown with Salem Hills.
16. Timpview (3-3)
Timpview has won three straight games after a 28-14 win over Lehi. The streaking Thunderbirds could announce they are all the way back and the favorite for the Region 7 crown with a win over Orem on Friday.
17. Salem Hills (6-0)
The Skyhawks suffered their first loss of the season last week, falling 16-13 to Springville. They'll get a chance to bounce back against Provo.
18. Beaver (6-0)
Another week, another blowout win. The Beavers beat Enterprise 52-3 and have outscored opponents by an average of 45 points per game through their first seven games.
19. Maple Mountain (5-2)
Tyler Nelson and Thomas Weight had fourth-quarter touchdown runs to help Maple Mountain claim a 44-37 comeback win over Spanish Fork. The Golden Eagles next play at Mountain Ridge.
20. Ridgeline (5-1)
Kaden Cox passed for three touchdowns to help Ridgeline to a 52-22 rout of Logan. It was a bounce-back win for the Riverhawks, who dropped their only game of the season — a 3-point loss to Sky View — the week prior.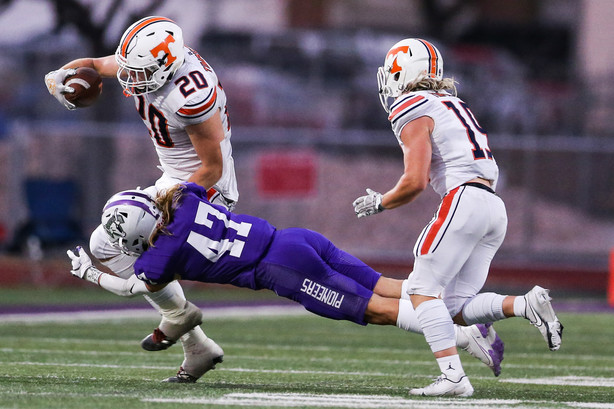 ---
Plus-1
Pine View 21, Crimson Cliffs 7
Doug Leung Choi rushed for 133 yards and a touchdown, and Brayden Bunnell accounted for two more scores as the Panthers jumped out to a 21-0 into the fourth quarter and, with the win, improve to a 6-1 record. That sets up a critical game Friday for Pine View, whose only loss came 42-38 to Ridgeline in the first week of the season.
The Panthers will host undefeated Snow Canyon in a game that could decide the Region 9 title.
×
Photos
Related Links