Estimated read time: 3-4 minutes
This archived news story is available only for your personal, non-commercial use. Information in the story may be outdated or superseded by additional information. Reading or replaying the story in its archived form does not constitute a republication of the story.
HIGHLAND — Corner Canyon's active state-record winning streak of 32 straight games was staring at becoming history at halftime of the Chargers' road tilt at Lone Peak.
It took the Chargers less than five minutes to keep history going.
Jaxson Dart accounted for five touchdowns, including three scoring passes to Cody Hagen, to help top-ranked Corner Canyon rally for a 35-25 victory Thursday night and hand the Knights their first loss of the season.
"We definitely needed one of these games," said Hagen, whose Chargers opened Region 4 play last week with a 38-7 win over Pleasant Grove. "It was a bit of a wake-up call. We knew Lone Peak was a great team, and it was going to be a battle."
It was anything but easy for the Chargers (7-0, 2-0 Region 4), who haven't lost since the 2017 state semifinals, when the two-time defending 6A champions competed in Class 5A.
Luke Durfey scored on a 1-yard goal line plunge on the opening drive for the Knights (6-1, 1-1), and Benjamin Miller added a pair of first-quarter field goals to help Lone Peak out to a 13-0 first-quarter lead.
It was the first time Corner Canyon has trailed a team by double digits since last year's region rivalry game in Draper.
Hagen hauled in two first-half touchdown passes on a total of 132 yards from Dart to pull Corner Canyon back ahead. But BYU target John Henry Daley sacked Dart in the end zone and recovered the fumble to give the Knights a 19-14 halftime lead.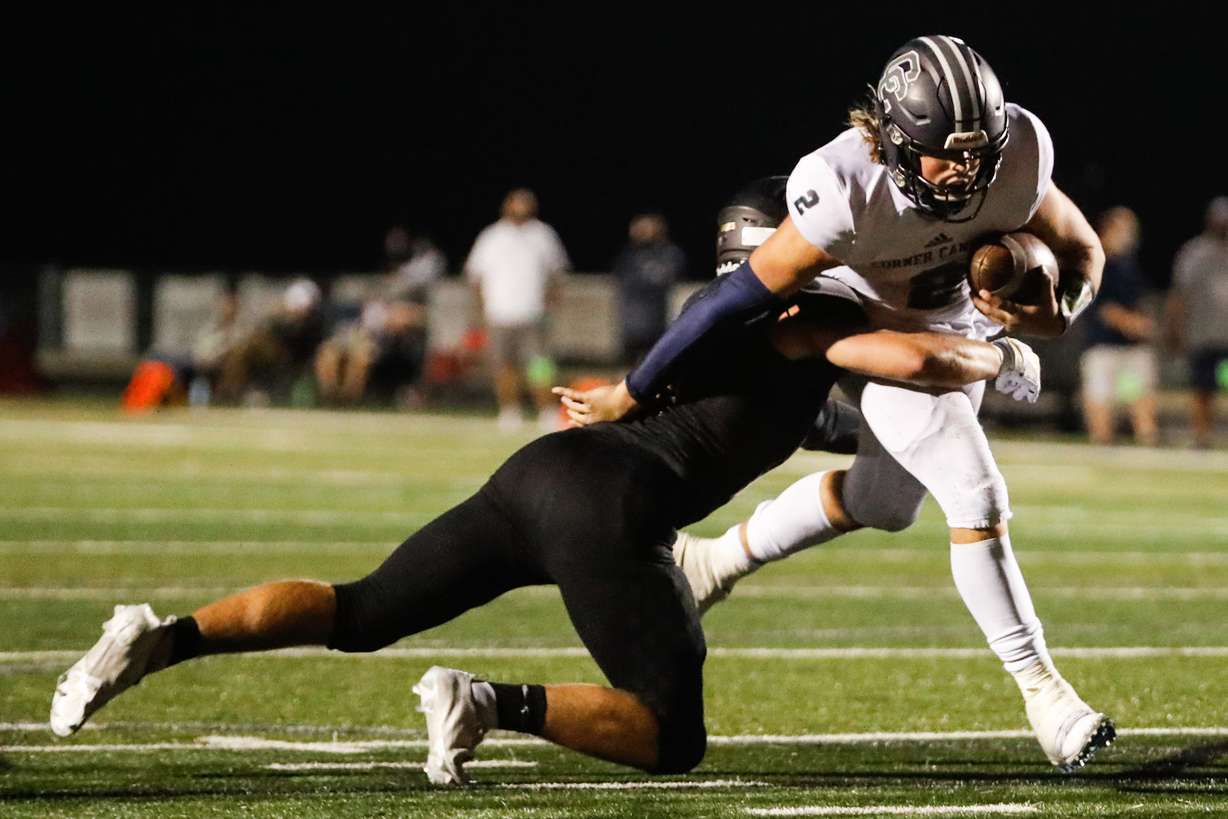 "Their D-line is a bunch of monsters," Corner Canyon coach Eric Kjar said of Lone Peak. "They bring pressure, and we knew that.
"I would've liked to see us adjust faster, but we eventually did."
Just like in that matchup — a 21-17 home win — the Chargers had another rally in them.
"We knew we could execute better," Hagen said. "There were just a few small things on the line, and then we were good from there.
"The defense played lights out for us. They were saving us."
Dart hit Hagen with a 12-yard score on the opening drive of the half, capping a 10-play, 80-yard drive in just under five minutes for a 21-19 edge, and Corner Canyon never trailed again.
Trevor Ogden had a sack, and Zach Hale recovered a fumble during a third quarter when Corner Canyon held the Knights' offense to just eight plays.
The real dagger came on special teams, when Corner Canyon recovered a botched punt return at midfield. Dart scampered 42 yards on the next play, then hit Noah Kjar from 4 yards out to give the Chargers a 28-19 lead and never looked back.
"We had some big turnovers to get us going, and it got us a lead," Kjar said. "There's a reason why that team was 6-0. We knew it would be a tough challenge, but that's what we're seeing week in and week out."
Dart added a 4-yard scoring plunge to cap the scoring.
Durfey ran for two touchdowns to lead Lone Peak, and Daley finished with four sacks for the Knights. Britton Berry added a first-half interception for the Knights, who will host Skyridge next Friday, Oct. 2.
"We did some uncharacteristic things," Kjar said, "but when you're playing good teams, that happens at times. They're going to force some of that.
"They're really good."
Corner Canyon hosts Westlake next Friday.
Scoring summary
First quarter
LP — 8:00: Luke Durfey, 1-yard run (Miller kick)
LP — 3:00: Benjamin Miller, 20-yard FG
LP — 0:29: Benjamin Miller, 10-yard FG
CC — 0:09: Cody Hagen, 80-yard pass from Jaxson Dart (Compton kick)
Second quarter
CC — 9:06: Cody Hagen, 52-yard pass from Jaxson Dart (Compton kick)
LP — 3:02: John Henry Daley, 0-yard fumble recovery (run failed)
Third quarter
CC — 7:39: Cody Hagen, 12-yard pass from Jaxson Dart (Compton kick)
CC — 2:38: Noah Kjar, 4-yard pass from Jaxson Dart (Compton kick)
Fourth quarter
CC — 9:38: Jaxson Dart, 4-yard run (Compton kick)
LP — 6:18: Luke Durfey, 5-yard run (run failed)
Final: Corner Canyon 35, Lone Peak 25
×
Related Links