Estimated read time: 4-5 minutes
This archived news story is available only for your personal, non-commercial use. Information in the story may be outdated or superseded by additional information. Reading or replaying the story in its archived form does not constitute a republication of the story.
It's the million-dollar question.
"When will life get back to normal?"
For the past six months, a virus has thrown nearly everything off its tracks. With disrupted school schedules, canceled events, limited entertainment options and shuttered business, it's been a difficult year for virtually everyone.
But thanks to the hard work of many here in the Beehive State, normal life is staging a comeback. Though not quite the same as it was before, people are starting to return to regular activities safely and responsibly.
Here's a look at how people in Utah are working to make everyone healthier by bringing an end to the pandemic as soon as possible.
BYU mask study
It's become one of the most divisive issues of 2020, but the research surrounding the mask-wearing debate is pretty clear: wearing them works.
To examine the effectiveness of masks in controlling COVID-19, BYU researchers analyzed 115 different studies and came to a clear conclusion. Professor Ben Abbott and three students who conducted the study found that "masks could be one of the most powerful and cost-effective tools to stop COVID-19 and accelerate the economic recovery."
Masks were shown to not only be effective but safe among children, adults, and the elderly in cultures where mask-wearing has been a longtime practice.
The Utah HERO project
Earlier this year, the University of Utah announced the start of Utah HERO (Health & Economic Recovery Outreach), which would test 10,000 Utahns across four counties. The data gathered would inform decision-makers in the state as they worked to help keep residents safe and get people back to work.
"Utah HERO represents the critical balance between protecting public health and moving the economy forward," said Taylor Randall, dean of the David Eccles School of Business. "This information will help us better understand how COVID-19 has spread through our community and inform business leaders on the best, data-driven ways to get people back into the workforce safely."
As part of the HERO project, the University of Utah recently released a study that found that the chance of catching COVID-19 from someone in your home is 12%. U of U Health epidemiologist Dr. Matthew Samore said the study shows that you're more likely to get the virus from community spread—making public health initiatives all the more vital to follow.
"As efforts to restore economic and social activities are underway, it is imperative that recommended preventive measures are followed to retain the benefits achieved through substantial statewide efforts over the past few months," according to the project.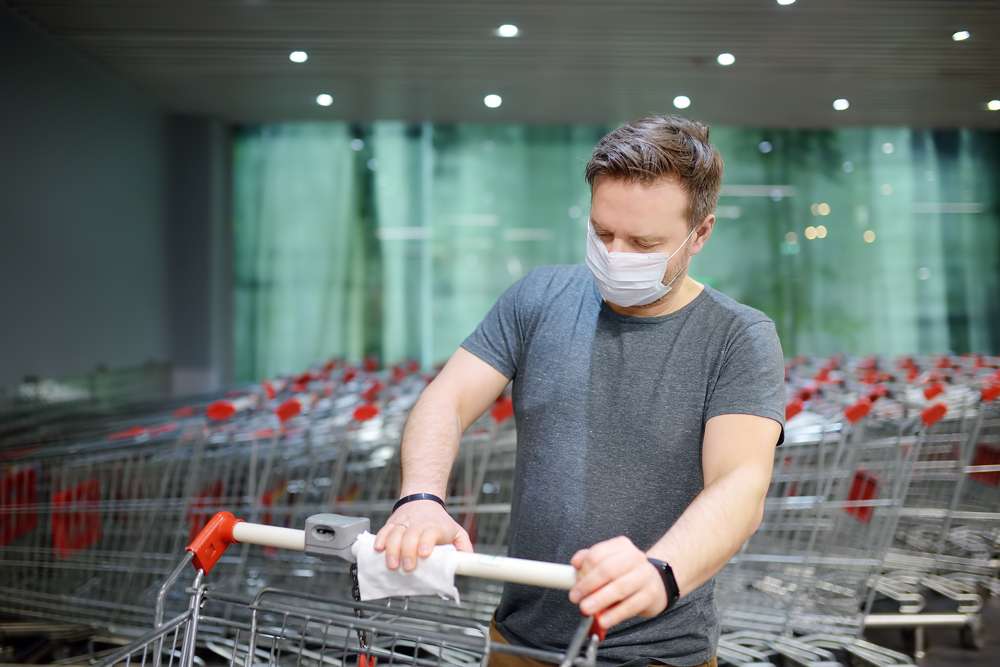 Utah Leads Together
State government leaders are doing their part to help Utahns bounce back from the effects of the pandemic as well.
Utah Leads Together is Governor Herbert's comprehensive task force plan to mitigate the economic consequences of COVID-19. Since March, this plan has received four different versions, each building off of the last. Version 4 of the plan focuses on economic recovery and revitalization.
Of course, the governor warns the plan only works if Utahns are willing to do their part.
"Central to volume four though — I can't overemphasize this enough — is the imperative that Utahns continue to take personal responsibility on the directions that are being asked of them," Herbert said. "Proper hygiene, social distancing and wearing a face mask."
Derek Miller, president and CEO of the Salt Lake Chamber said, "Safety is integral throughout each component of the plan and must be central to all of our activities and efforts to catapult Utah back to the economic summit."
To ensure the health and safety of Utahns as businesses reopen, the plan includes the Stay Safe to Stay Open initiative. This is a statewide campaign to prevent the spread of coronavirus while simultaneously boosting the state's economy.
Do your part to help Utah 'Stay Safe to Stay Open'
You don't have to be a scientist, a government leader, or a medical expert to help Utah get back on its feet as quickly and safely as possible. Overcoming this pandemic and restoring the state's economic health will depend on the contribution and collaboration of individuals and businesses alike.
As mentioned above, individuals can do their part by wearing masks in public places, staying home when sick, and practicing good hygiene. Businesses can communicate to their customers that they're taking safety precautions seriously by participating in the Stay Safe to Stay Open campaign. This includes the seven safe habits outlined in the Utah Leads Together plan:
Check symptoms before work and stay home when sick.
Wash hands frequently and avoid touching the face and eyes.
Practice social distancing including wearing face coverings in close common areas.
Learn about high-risk groups and help protect them.
Cover mouths when coughing or sneezing.
Clean high touch surfaces frequently.
Follow public health guidance as updated.
Following these best practices will go a long way toward ensuring the health and safety of both Utah's people and economy.
Help Utah businesses and individuals move forward safely through these challenging times. If you own a business, take the Stay Safe to Stay Open pledge today.
×
Most recent News stories