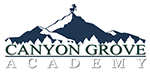 This story is sponsored by Canyon Grove Academy.
For decades, parents have breathed a guilty sigh of relief in sending their kids back to school. Joys of parenting aside, there's something refreshing about an empty house. You can clean up the Cheerios and Legos maelstrom in the front room. You can finally dig out the W-2s and get those taxes done. And crucially, you know that your kids are back to getting the education they need for the future when they're going to be responsible for buying the Cheerios and filing the taxes.
But then COVID-19 dropped onto 2020 like a load of bricks. A "few weeks" of quarantine stretched into months. Suddenly, the Cheerios and Legos maelstrom has made a strategic advance from the living room to occupy the entire kitchen table. And worse yet, now you don't just have W-2s strewn across the table—you have school work packets and half-filled-out worksheets with fractions that you barely remember.
What's a parent to do?
Enter the world of distance and blended learning.
COVID-19 forced many schools to change their student's educational model this last year, but the educational community had already been experimenting with a hybrid or blended model for years. This need grew from an increased parental desire for control over their children's education.
Parenting has moved on from the relatively hands-off model of the 1980s and 90s. Parents these days are more involved in every facet of their children's development, from extracurriculars to education. And distance/blended programs have been at the forefront of that movement.
"We know that parents want to get involved and that they want amazing, hands-on experiences for their children," says Kim Goates, executive director of Canyon Grove. "That's the basis of our whole model—the model of blended/distance learning. Our resource library and current technology lets us send the tools right to the parent's fingertips. Parents want to get involved in educating, but they need tools. Our mission was to give them those tools and the teacher support needed to ensure that students have a solid academic foundation and are thriving."
Today, with many state and local governments threatening another round of shutdowns that could send thousands of kids back home for their education, those tools could end up being the crucial component of many parents' sanity.
Parents and children can benefit from teacher-directed instructional videos with accompanying hands-on activity kits, individualized student learning plans, 1-on-1 online teacher interaction, online tutoring in multiple subjects, and a robust Resource Library full of home learning support materials such as microscopes, rock-tumbling kits, science experiments, etc.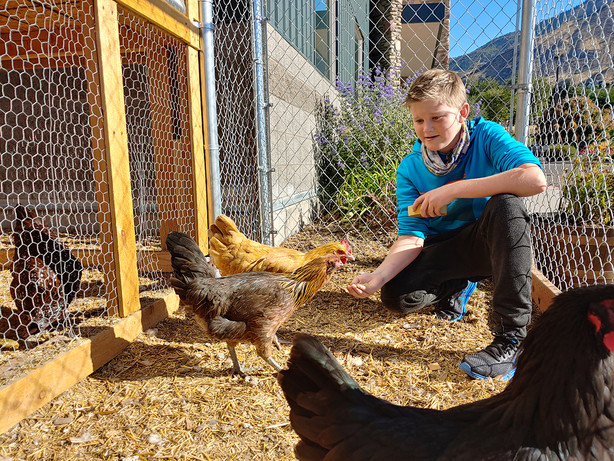 Canyon Grove is a fully functional brick-and-mortar school, located in Pleasant Grove. It's set back from the road in a little glen of trees with a pleasant stream nearby. It has a self-sufficiency farm for student engagement, complete with goats, pigs, chickens, permaculture gardens, and aquaponics. But also setting it apart is what's on the inside.
Instead of classes where children spend hundreds of hours per year in the same classroom, there are several enriching programs, each set up with the lessons, technology, and materials to handle onsite and offsite learning.
One on-campus option in Pleasant Grove is the 5-day a week Adventures program. Another program has students attend just once a week to get in-person instruction and hands-on projects at learning centers from Springville to Logan.
Canyon Grove provides an expertly designed flexible curriculum that includes pre-recorded lessons and at-home learning kits to promote self-directed learning. One parent who just started with the home learning materials enthusiastically reported, "We just did our first lessons with the kits. We love them, they are so fun!!! The only problem is my 3 year old was wanting so much to have his own stuff."
Schools like Canyon Grove recognize that teachers and administrators are experts in children's education, but they're not experts in a specific child's education. "Our model is trying to bring the two together," says Goates. "Parents who know kids, and licensed teachers who know education. We design the tools, but the parents have flexibility in how and when to use them."
"We never really pictured this," Goates continues. "COVID-19 has taken us by surprise just as much as anybody. But I do find it ironic—for years, we've worked with partners in government and the community to create a distance/blended school with engaged students and happy parents. We've gotten some skepticism. And now suddenly, that's the sort of school that's being recommended across the country. Kids are needing this educational model. We're just glad that we are here to fill that gap."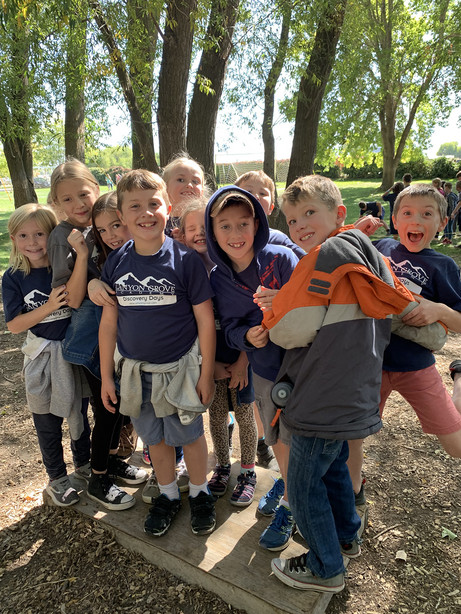 Canyon Grove was founded in 2008 under a mission statement that promotes an "environmentally responsible and multi-sensory learning center that empowers students to be accountable for their educational journey."
Goates explained the school's commitment to their mission. "I love our mission statement! Our farm provides the environmentally responsible component. The learning environment that we provide is multi-sensory. We empower our students by providing them with the opportunity to work independently. We hold them accountable by assessing their learning and checking their progress."
The mission statement may sound ambitious, and even unrealistic, but the administrators aren't shy about investing resources to make it reality. To provide empowering and multi-sensory options, the school operates its own fully functional farm, where students participate in composting, gardening, and caring for the animals.
Students come on campus to learn specific skills such as music, dance, or coding and other skills in our SmartLab. There's a space flight simulation center, where kids participate in leadership and team building exercises. And when state gathering guidelines allow, the school also holds regular offsite activities where students discover the world around them as they gain specific experiences such as paddle boarding, snowshoeing or fishing.
Another parent enthused, "My daughter has thrived at this school! She loves it so much she can't wait for Monday to come around. I feel like this school really encourages her to discover her passions as well as helps her develop skills she will one day use in the workforce and her daily life. I'm so grateful to have found this school and for all the teachers and staff that work tirelessly to make it amazing."
Traditional yet forward-thinking
This doesn't mean that Canyon Grove is all style and no substance. The school has marked improvement the last two years in student academic scores. They also significantly geared up operations since the advent of COVID-19 with more at-home learning support.
COVID-19 has shown that society can't take traditional models for granted. The virus has forced rapid innovation in everything from how we go to church, to how we experience sports. And nowhere is the shakeup more pronounced than in education. As society grows more interconnected and faster-paced, education is already seriously overdue for technological reform. Fortunately for parents and their children, many of those technological reforms have already been pioneered in schools like Canyon Grove.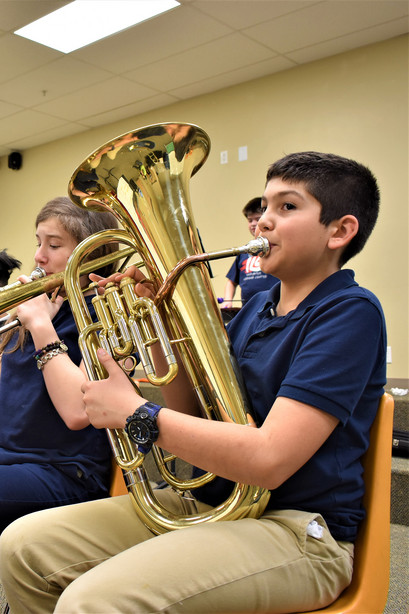 "Distance/blended education doesn't have to be stultifying or boring," says Goates. "It can be joyful. We want not only engaged students, but engaged families. The flexibility and content can actually bring the family together, not just add stress to life at home."
Benjamin Franklin said, "The good education of youth has been esteemed by wise men in all ages, as the surest foundation of the happiness of both private families and of commonwealths."
And indeed, that's one bright ray of hope for a society that looks to conduct many of its most important activities online. The spring's introduction of virtual classrooms had many commentators worrying about the effect on children's education.
But as schools like Canyon Grove have been demonstrating for years, technology doesn't necessarily diminish education. With a powerful blend of parental involvement, enabling technology, and expert administration, schools can still function.
And indeed, as Canyon Grove has shown—they can even flourish.
×