SALT LAKE CITY — Quin Snyder has had a front-row view of one of the greatest duels in postseason history.
Jamal Murray's 3-pointer that gave the Denver point guard 50 points on Sunday? The head coach of the Utah Jazz was a few feet away.
Donovan Mitchell's now-famous stare down 3 over Paul Millsap last week? Snyder had the perfect angle.
Murray and Mitchell are the first opponents to score 50 in the same playoff game, they're the first opponents to drop 50 twice in the same series, and they're the No. 1 (Mitchell) and No. 2 (Murray) scorers in the playoffs.
But watching from that close and being that involved makes it difficult to truly appreciate what he's witnessing. That changes when he reviews the tape.
"During the course of the game, you're desperately trying to figure out if there's anything that you can do to either continue to facilitate those opportunities, in our case for Donovan, or things that you can do to slow Jamal down and make it harder. ... After the game, you're looking at it differently," Snyder said.
"And then there's kind of an appreciation, where you're trying to figure out how and what can we do to help that not happen again. You have respect for performances like that while they're going on, but I think you have a much greater appreciation when you watch them on tape."
The film study has provided context and appreciation, but it sure hasn't provided answers — for either side. The two all-time individual performances have defined the series. It seems only appropriate it'll be settled in a Game 7.
If you think the epic duel seems to have come out of nowhere, you wouldn't be alone. In the regular season, Murray averaged 18.5 points on 45% shooting and shot under 35% from 3-point range. Mitchell, meanwhile, averaged 24.0 points on 45% shooting and hit on 36.6% of his 3s.
It's common for top players to elevate their game in the playoffs — they're playing more minutes, the stakes are higher, possessions mean more — but Mitchell and Murray haven't just elevated theirs, they've sent them on a rocket ship.
Mitchell: 38.7 points, 55% shooting, 55% 3-point shooting, 5.5 assists, 3.7 rebounds
Murray: 34 points, 58% shooting, 57% 3-point shooting, 6.7 assists, 6.2 rebound
At some point, it stops mattering whether the defense is good or bad, players — even NBA ones — aren't supposed to be shooting that well over that many games. Both are shooting over 55% from three on over 9.0 attempts, and they are No. 1(Murray) and 2 (Mitchell) in clutch scoring. It's absurd and it's historic. By the end of Game 7 on Tuesday, it's likely Murray and Mitchell will have scored more points in a first-round series than any players before them.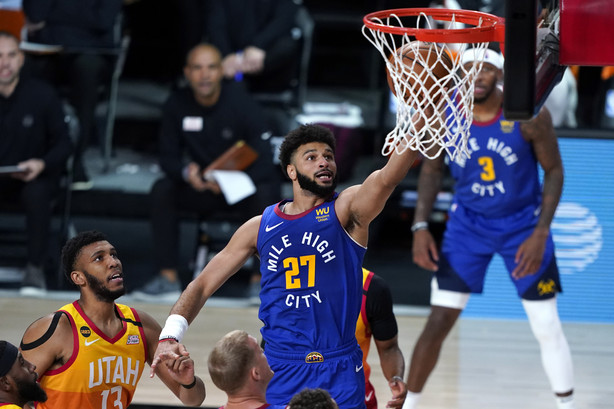 "People want me to be consistent. And I'm not going to lie, it's not easy," Murray said. "That's why the greats are so good, because they don't do it just one night. They do it every night. They play hard every night. They bring their will to win every single night. And they will their teams to play harder."
Denver head coach Michael Malone didn't need to see this series to know Murray had a little special something in him (maybe not to the extent of what he has seen, but still). Last playoffs, in Denver's 4-3 series win over the San Antonio Spurs, Murray averaged 23.5 points in the Nuggets' four wins, including a game-high 23 in the Game 7 victory.
"Jamal Murray saved the playoff's last year," Malone said. "He single-handedly saved that playoff series. I expect greatness from Jamal Murray, and he expects greatness from himself."
And, at this point, they're expecting greatness from Mitchell, too. Denver has thrown everything at him; and even when the Jazz's offense stalled (like it did in Game 6), Mitchell still found a way to put up 44 points.
"This is where you make a name for yourself," Malone said. "If you are not a fan of this series, watching Donovan Mitchell and Jamal Murray going at it, two guys that have had 50 points games in one series. … Game 7 is going to be unbelievable."
Mike Conley called the duel between the two guards "unbelievable" but admitted that he was having a lot more fun watching it from a close distance before Games 5 and 6 happened.
"I wouldn't say fun to watch when you lose it, but when you're winning it definitely is," Conley said.
Will Mitchell be remembered as a playoff hero? Or will the Jazz leave Orlando feeling like they wasted a historical scoring performance?
The series and the duel all come down to one game — a game everyone expects will come down to Murray vs. Mitchell.
"As a fan perspective, I see it and I respect it. But I can't tell you as a player that I want to play Game 7 if we are up 3-1," Mitchell said. "I don't think anybody wants to do that, but we're here. So, play the hand that you're dealt with, and we're going to go out there and execute and do what we got to do."
×
Related Stories