Estimated read time: 8-9 minutes
This archived news story is available only for your personal, non-commercial use. Information in the story may be outdated or superseded by additional information. Reading or replaying the story in its archived form does not constitute a republication of the story.
SANDY — Real Salt Lake announced Friday that owner Dell Loy Hansen is taking an indefinite leave of absence after comments he made Thursday instigated a Major League Soccer investigation that could put his ownership of the team in jeopardy.
On Thursday afternoon, The Athletic dropped a bombshell report about Hansen that alleged several moments of racially charged language and behavior during his time since becoming majority owner of the club.
One of those accusing Hansen was Andy Williams, an RSL original who served in several front-office capacities within the club including head scout until he was furloughed in April due to the economic uncertainty surrounding the novel coronavirus pandemic.
But others also spoke out with stories: former defender Aaron Maund, one-time general manager Craig Waibel, and current center back Nedum Onuoha were all vocal — and on the record — in describing the frustrations with Hansen at various moments of his tenure.
Shortly after the report was published, MLS announced its investigation into Hansen's conduct as primary owner of one of its franchises.
"Major League Soccer has zero tolerance for this type of language or conduct and will immediately commence an investigation," the statement read, in part.
Williams already knows how he feels about Hansen.
"That's just how he is," said Williams, a former Jamaican international who is Black. He then used strong language in calling him a "racist." "I've been in situations where it's like (former LA Clippers owner) Donald Sterling. He says something, and it's like, 'Oh my (expletive), what did he just say?' It's Donald Sterling part two. It's just unbelievable. It's crazy how he doesn't see that the stuff that he says affects people."
The National Women's Soccer League has also launched an investigation surrounding Hansen, who also owns Utah Royals FC.
"The allegations regarding Dell Loy Hansen contained in published reports are shocking and run counter to everything the NWSL stands for," a league spokesperson said, promising "appropriate actions" if the reports are verified.
A spokesperson declined to comment if the league has a mechanism for forcing an owner to sell a team, calling it "hypothetical."
On Friday, RSL announced that Hansen was taking a leave of absence from the club.
"As MLS and NWSL commence their investigations, Utah Soccer will ensure full cooperation, including seeking to answer any questions the leagues may have about the statements made by Mr. Hansen regarding athlete boycotts and allegations in a resulting article," the statement read. "As an organization, our priority is our employees, our teams, our players, and our fans, and Mr. Hansen in particular cares deeply for each of these individuals who works so hard to make Utah Soccer the success that it is.
"During the pendency of these investigations, and until further notice, Mr. Hansen will be taking a leave of absence from all RSL, URFC, and Monarchs operations. The existing Soccer Executive Group at Utah Soccer will assume all management of the organization."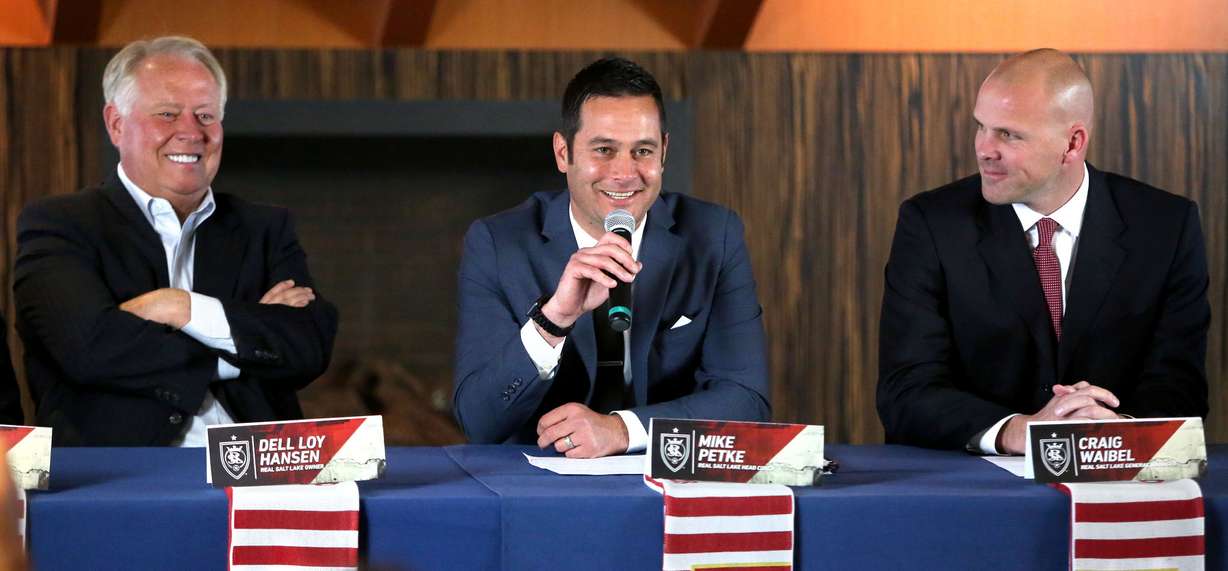 Hansen's wife Julie Aiken Hansen told local TV and sports radio personality David James — which recently extended its broadcast agreement with RSL through the 2022 season — in a text message that Hansen "does not have a racist bone in his body."
"No one supports equality more than this man," she said. "He actually read and gave out 'The New Jim Crow' book in support of Black Lives Matter. Today, he just wanted to apologize to the fans, the employees and vendors who worked so hard and were sorely disappointed. Very disheartening.
"Dell Loy donates millions every year to lift people up. In fact, he has donated over $150,000 (in the last few years) to a small rural village in Malawi, Africa. All to lift mankind (all black) and give hope to millions. He brought in a women's league to promote women and he built them a locker room and training facility equal to the men.
"People so easily want to jump on the hate bandwagon. But this man is full of love and generosity. He is colorful as you know. But he simply does not warrant this. Judge him by his actions. And you will know his heart."
MLS announced Friday that the league will resume play, beginning with Friday night's match between Toronto FC and the Montreal Impact. That means RSL will travel to play Saturday at Portland (8 p.m. MT, KMYU) while its owner remains under league investigation.
How much longer Hansen owns the club, however, is anyone's guess. Which begs the question: Could MLS force him to sell the team? Even one that, admittedly, he's poured millions of dollars into building, including an $80 million training facility and academy in Herriman?
The short answer is yes.
The MLS Constitution allows for the league to wrest control of an owner away from a franchise. And while not common in MLS's 25-year history, there is some precedent for such a decision, as well.
Section 4, Part D of the MLS Constitution says that the MLS board of governors can terminate an owner's interest in a team if 75% of the other owners vote to do so. Stipulations for invoking the clause involve finding that "the team operator or any owner has failed to act in the best interest of the league." (Somewhat ironically, it was former RSL coach Mike Petke who first published the league constitution via a lawsuit against Hansen and the club following the coach's firing in 2019).
In his initial radio interview Thursday morning with X96, Hansen questioned if he would still be motivated to use his resources for RSL's improvement.
"It's taken a lot of wind out of my sails, what effort I want to put into recruiting players and building a great team," Hansen said. "It just seems that's not a very good path to take."
Hansen also said that "tomorrow I start cutting 40 to 50 jobs again."
Hansen later clarified in an afternoon interview with ESPN 700 — another station which he owns through Broadway Media — that he used "poetic" language and unnecessary metaphors in the first interview, and walked back many of his statements.
If MLS were to force a sale, the owner would then have six months to sell the team, either to a third party or the league itself.
In 2014, MLS purchased Chivas USA in Los Angeles from then-owner Jorge Vergara after troubling reports of the Mexican owner's business practices regarding the team. That franchise later folded, and four years later, Los Angeles FC became the second L.A.-based club in MLS.
Of course, the purchase by Major League Soccer seems unlikely. That's because RSL would have plenty of potential buyers.
U.S. international Jozy Altidore, who plays for Toronto FC, said almost immediately following Hansen's first interview Thursday that he has a group of investors "ready to purchase it."
A local option could be Qualtrics founder Ryan Smith, who was asked by a fan to buy the team Thursday morning.
"I'm in," he tweeted. "They got my number."
Representatives from Qualtrics have declined to comment on its founder's other potential business interests.
Smith recently sold the Provo-based survey-software company to SAP for around $8 billion, and the company has announced its intentions to take Qualtrics public. In doing so, SAP would retain majority ownership of Qualtrics, while Smith intends to become "Qualtrics' largest individual shareholder," according to a news release from the company.
Other options could include the Miller family, which owns the Utah Jazz of the NBA and Salt Lake Bees of Triple-A baseball under Larry H. Miller Sports & Entertainment, though how much interest remains in acquiring another professional sports franchise (or three, if second-division Real Monarchs and the Royals are included in the deal) remains in question.
Forbes valued Real Salt Lake at $235 million in November 2019, the 19th-highest valuation in the 24-team league with an operating revenue of $2 million. RSL was one of just seven teams in the league operating at a profit, according to Forbes.
Other groups within MLS have come out against Hansen's ownership of the Salt Lake franchise — perhaps few more powerful than the MLS Players Association.
"The allegations in (Thursday's) Athletic story concerning RSL owner Dell Loy Hansen are sickening," the statement read. "The MLSPA calls upon MLS to immediately suspend Hansen and conduct a thorough investigation. If allegations are substantiated, he must be forced to sell the team."
LAFC coach Bob Bradley, who once coached the U.S. men's national team and remains among the highest-profile and most respected coaches in the league, told Los Angeles media Friday that there's "enough of a pattern with his leadership" that Hansen should relinquish his stake in RSL.
Contributing: Ryan Miller, KSL.com
×
Related links
Most recent Real Salt Lake stories