LEHI — It's been three long years, but Utah County drivers may finally be coming to the end of their I-15 freeway reconstruction journey.
The Utah Department of Transportation said Tuesday two new on-ramps onto southbound I-15 installed as part of the I-15 Technology Corridor project are ready to open. The 2100 North "flyover" ramp, along with a new ramp from Thanksgiving Way to southbound I-15, was scheduled to open on Wednesday, but that has been pushed back to Thursday.
UDOT said the new on-ramps are designed to improve access to the freeway to accommodate the 190,000 vehicles per day that use it, allowing local drivers and commuters to move around easier.
"At the 2100 North interchange, this new ramp is what we call a flyover ramp. It goes up and over the adjacent road instead of coming in at an intersection like you normally would," explained UDOT I-15 Technology Corridor project director Boyd Humphreys. "So what that does is eliminate traffic conflicts and the need for a (traffic) signal. It's more of a free movement for people to get on I-15."
The new 2100 N on-ramp to SB I-15 will open tomorrow, Aug. 26. Drivers will be able to access the new ramp directly from EB 2100 N. To access the ramp from 1200 W & State St, drivers can use the dedicated turnaround lane. pic.twitter.com/opvMCCLsVn

— I-15 Technology Corridor (@i15techcorridor) August 25, 2020
Upon completion in November, the project will widen the freeway to six lanes in each direction and upgrade the freeway with all-new concrete pavement from Main Street to state Road 92 in Lehi, he said. The project is designed to meet traffic demand now and in the future as the population grows and the number of homes and businesses in the area continues to increase.
"We've been been working on this for a little while now and are on the last lap of the project and wrapping it up this fall where we get all the features open," Humphreys said.
He said the goal now is to finish the $415 million project this fall so drivers will have improved access and traffic flow when the inclement weather conditions of winter arrive. Until then, UDOT advises drivers to take extra care when traveling through the final stages of construction.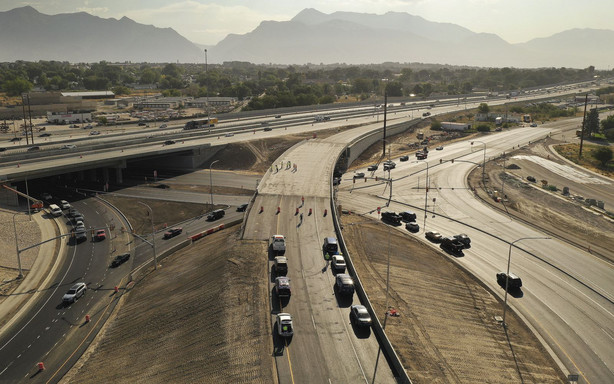 "This is a new configuration and a lot of these features that we're opening up are going to be new configurations so we want people to pay attention, avoid distracted driving and drive the speed limit," Humphreys said. "Be aware of your surroundings so that they can navigate this safely (and) it can be safe for the workers and for everybody. Everybody wants to get home safely and that's what we want, too."
Besides the freeway portion of the project, UDOT also worked in conjunction with the Utah Transit Authority to add elements to bolster and enhance use of alternative transportation. methods.
"We have a trail system in place as part of the project. We've got the UTA FrontRunner stop over there at Thanksgiving Point, and commuters will be able to get on the trail system as part of the project through the state Road 92 interchange," he said. "We actually have pedestrian bridges across the ramps so there's not conflicts with traffic. That's going to help people to be able to use that FrontRunner station."
×
Photos
Related Stories