PROVO — Peter Kuest had made the walk up the 18th fairway toward the resort at Riverside Country Club hundreds of times.
Maybe even thousands.
With all the grinding he's done over the past four years at BYU, the native of Fresno, California, even joked that he's probably played the course a million times over. He won the West Coast Conference championship on the course as a freshman to open a college career that led to WCC Golfer of the Year honors.
With the way he played in the first professional tournament in his adopted hometown, maybe he wasn't joking.
Kuest shot 6-under-par 66 Sunday to finish with a scorching 23-under 193 to run away with the title at the Siegfried & Jensen Utah Open, claiming his first professional win at the same site as his first collegiate victory four years ago.
"It was a grind today, but it was a lot of fun," said Kuest, who won three times during the fall 2019 season en route to a No. 1 ranking in college golf by Golfstat. "I got my first college win here, and so it's nice to get the first professional win here, too. It's really sweet to do that."
Kuest's final score was just three shots off the Utah Open record of 26-under, held by fellow BYU alum Patrick Fishburn.
"I've won here three times, and they're all really special," said Kuest, who earned $15,000 in winnings. "Every win you get is really special."
Kavan Eubank shot 7-under 65 to finish second at 16-under. The 24-year-old golfer from Meridian, Idaho, was followed by BYU golfer Kelton Hirsch, former Dixie State golfer and fellow amateur Hayden Christensen, and 2016 Utah Open champion Zahkai Brown at 14-under. Arizona pro Blake Cannon finished sixth at 13-under, followed by Eric McCardle, Neil Johnson, Matt Baird and Utah senior Mitchell Schow, who tied for seventh at 11-under.
Reigning champion Samuel Saunders and 2010 champ Nick Mason rounded out the top 10, just two strokes ahead of two-time defending state amateur champion Preston Summerhays, who rallied with a 5-under 67 to shoot 8-under.
Christensen held off Hirsch via an 18th-hole playoff to claim the low amateur title, an emotional victory for the St. George golfer who plans to turn pro after the Utah State Amateur in September. Not bad for a 27-year-old golfer whose sole goal prior to Friday's opening round was to make the cut.
"I think this performance today and this weekend will give me a good shot to kick start that and get up there," said Christensen, whose top-20 finish earned him an automatic qualification for next year's Utah Open. "Kelton (Hirsch) is an amazing player, a great ball-striker.
"To even have a chance at the low amateur is huge for me. I gave it the best run I could."
Christensen will play in next week's Governor's Cup before the Roosevelt Open, and then a short break before the state amateur in September.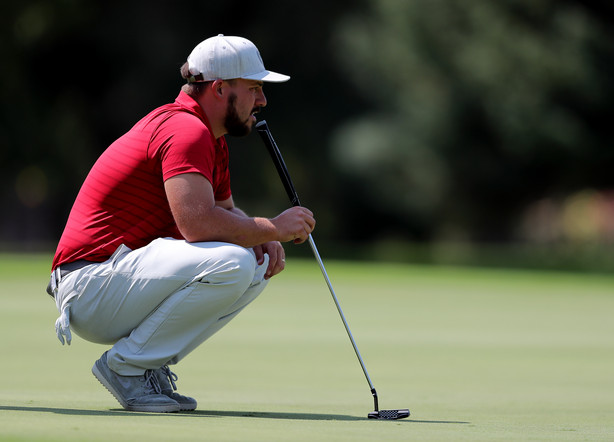 Kuest was 4-under through the front nine before cruising to the win. He didn't play the back nine Sunday as well as he did the previous two days, finishing just 2-under 34 after shooting 31 and 30 Friday and Saturday, respectively.
But he didn't need to; after two sparkling rounds, Sunday amounted to little more than a victory lap.
"We'd love to have you back next year to defend your title," Utah Section PGA executive director Devin Dehlin told Kuest after awarding the first-place trophy on the 18th green. "But if you're not, we understand; you'll be at The Memorial or on the PGA Tour, instead."
In three days at Riverside, Kuest recorded 24 birdies, two eagles and just three bogeys. He played the stretch from No. 12 to 16 — one that includes three par-4s and two par-5s — on the back nine at a combined 13-under-par.
"I think the ball striking can get a bit better. I just need to be more consistent," Kuest said. "It was all really good — but I still need to keep working on everything."
Kuest's biggest challenger, other than Riverside teaching pro Matt Baird and eventual runner-up Eubank, came from amateur Hayden Christensen. The 27-year-old former Dixie State golfer who still plays out of St. George was 6-under on his first six holes, including an eagle on the par-5, 557-yard fifth, to move into second place at 13-under par.
Christensen hit the flagstick at No. 11, the only bogey on an otherwise spotless Sunday. When he struck the flag on a chip-in to save par at No. 18, the course corrected itself.
"I definitely think with it hitting the pin twice on that chip, the golf gods owed me that one," Christensen said. "I'll take par there any day — with where I was at and the nerves coming in. I wish I had a couple more on the back nine, but I'm satisfied with the way I played."
Playing together in the final group, both Baird and Kuest played the first three holes at 1-under to keep the recent BYU alum's lead at a startling distance.
No one in the field seriously threatened him the rest of the afternoon.
"It just verified what I've been doing and that my hard work is starting to pay off a bit more," said Kuest, whose next start is yet to be determined. "I can really compete, and take it low."
2020 Siegfried & Jensen Utah Open
Riverside Country Club
Top 10
193 — Peter Kuest
200 — Kavan Eubank
202 — Hayden Christensen (a), Kelton Hirsch (a), Zahkai Brown.
203 — Blake Cannon
205 — Eric McCardle, Mitchell Schow (a), Neil Johnson, Matt Baird
206 — Samuel Saunders, Nick Mason
Low Amateur
Hayden Christensen — 202 (via playoff)
Utah Section PGA winner
Matt Baird — 205
Utah Section senior winner
Bruce Brockbank — 141
×
Photos
Related Links