SANDY — MLS is Back, or at least that's the name of the league's return-to-play tournament at ESPN's Wide World of Sports Complex in Orlando.
The tournament starts Wednesday, with Orlando City facing in-state rival Inter Miami at 6 p.m. MT on ESPN. But the league is hardly back to normal.
Even Wednesday's opening day of MLS is Back has been touched by the virus.
Nashville SC was originally scheduled to face Chicago on Wednesday in a match that was postponed after Nashville confirmed five players have tested positive for COVID-19.
Other teams have been touched by the virus, as well. The league withdrew FC Dallas from the tournament after the Hoops had 13 players test positive for COVID-19 in the past week.
The novel coronavirus may touch Real Salt Lake's group soon enough. RSL was scheduled to face Rocky Mountain rival Colorado at 8 p.m. MT Sunday, the first match of a group stage that also includes Sporting Kansas City and Minnesota United. But the Rapids didn't depart for Orlando until Monday because of several rounds of tests.
Two players who had reported false positive tests remained in Colorado for one more verifying test. The club has since departed for Orlando, and every team but the aforementioned Dallas side has checked in and begun at least one — and in most cases, several — rounds of testing to detect the presence of COVID-19 inside the "bubble."
The surge in team cases and the league's desire to return to play to stage some semblance of a regular season in a made-for-TV tournament on ESPN is also happening against the backdrop of Florida's current surge in infection rates. The state has reported 214,000 cases of COVID-19, and at least 56 hospitals have reached capacity in their intensive care units, state officials said Tuesday.
"It's a strange time, because on one hand you're focused to get ready for this tournament, and get pumped up and get excited about it because the tournament sounds a lot of fun, World Cup-style," Real Salt Lake veteran Kyle Beckerman told the media this week. "But then on the other hand you're thinking, 'Is this even going to happen?'
"So there's mixed emotions going on."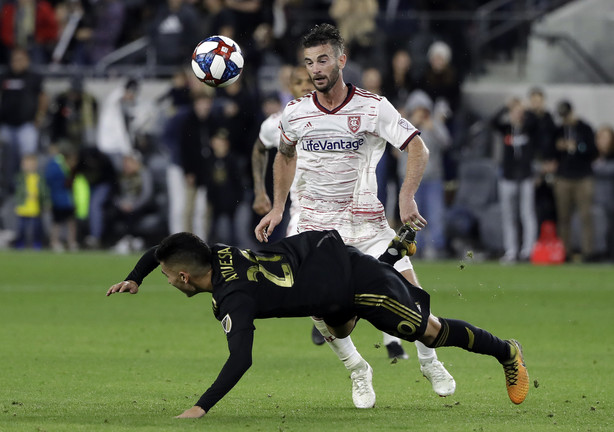 RSL reported to Central Florida over the weekend, and held training sessions Monday and Tuesday, as players and coaches felt things get a little more "real" during a nearly four-month stint that has been anything-but.
"The day the group was announced a few weeks back, I think that was the turning point when it got real. And then you walk into the room with the medical staff, and the guys knew it was about to get real," RSL coach Freddy Juarez told team media after Monday's training. "Today was about excitement."
Still, it's not completely normal; starter Nedum Onuoha will not join his teammates in Orlando. The Manchester City product and former Premier League center back explained why on his Instagram page.
"I didn't think leaving my wife and three kids in the middle of a pandemic was a good idea. Especially for a month," Onuoha wrote. "You're entitled to disagree but just know I am very comfortable with my decision. My teammates support me. The coaching staff supports me. And I'm very grateful to be able to work with them.
"Good luck to all those good people. I hope we have more games together when the tournament is all over. If not, it's been a pleasure."
Several other players won't be available, either. Vancouver announced that five players won't travel to the tournament, including star forward Fredy Montero, who posted on Instagram that he is "truly disappointed" but decided it best not to travel across state and international borders while his family deals with "an unforeseen health emergency."
LAFC star Carlos Vela, the reigning MVP of the league, also won't join his team in Orlando, along with Miami's Robbie Robinson, the No. 1 pick in the SuperDraft; and reigning MLS defender of the year Ike Opara of Minnesota United, to name a few.
Still, the tournament will go on. Like all things during the current pandemic, that could change quickly. But MLS commissioner Don Garber said his league has prepared and handled well the rise in positive cases that approached the start of the tournament.
"We have 550 players that have already been tested and 13 of them have tested positive," Garber told ESPN. "Right now it's an extremely low percentage. The players that are there [in Orlando] are safe, they're comfortable, they're training, they're eating, they're recreating. They're doing the things in accordance with our protocols — they're wearing masks, they're socially distancing. They're managing their lives in a bubble.
"Now if that bubble is suspect and something should happen, then we're going to have to address that. Right now, we're in a pretty good spot although Dallas will not be participating in the tournament. We'll have to replace those regular season games they're going to miss and continue to monitor the rest of the arrivals very closely. Thirteen of 550 [player tests] is relatively low. But in the days leading up to Wednesday's opener on ESPN, we're going to have to keep a close eye on it."
MLS is Back Tournament
Real Salt Lake vs. Colorado Rapids
Sunday, July 12
Kickoff: 8:30 p.m. MT
TV: ESPN
Streaming: WatchESPN
×
Related Links