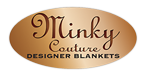 This story is sponsored by Minky Couture.
It's no secret that Utah is full of talented performers, actors, authors, athletes and academics. From the Osmond family to the Hough siblings, there are many famous individuals with ties to the Beehive State. But every day more Utah talent is making headlines across the nation, making it difficult to keep up with all of the hype!
If you think you're up-to-date with the Utah and pop culture crossover, take this quiz and put that knowledge to the test. Don't forget to enter your information to win a free Minky Couture blanket!
×