SANDY — It took 126 days for live soccer to return to Rio Tinto Stadium, including with fans in the stands.
Those fans were loud — and also disappointed for the host Real Monarchs SLC of the second-division USL Championship.
Grant Stoneman scored in the first half to give San Diego a 1-0 lead, and the Loyal held on for the victory Saturday afternoon over the Monarchs.
After a flurry of early chances from both sides, Stoneman whipped in a header off a corner kick from Jack Metcalf that gave the visitors an early lead.
"I'm proud of those players because they fight and they try really hard to create opportunities that we didn't put away," said Real Monarchs coach Jamison Olave, the former RSL defender in his first season as full-time head coach. "It's a different team and it takes time to learn because the players we had last year aren't here, so we can't rely on them. We have to rely on who we have right now."
Syracuse High product Kyle Coffee nearly equalized in the 35th minute. But the Monarchs forward's shot from Jack Blake clanged off the underside of the crossbar, and the assistant referee waved off the goal.
Coffee's strike swerved up toward the top shelf, hit the underside of the crossbar, and struck the ground near the goal line — but San Diego goalkeeper Jon Kempin corralled the loose ball before a formal decision could be made on the goal, and neither the head official nor the assistant referee/linesman signaled the ball fully crossed the line.
Monarchs newcomer Ryan Sierakowski also had what looked to be a goal taken off the board with less than 10 minutes left in regulation. The recently acquired forward from Portland Timbers headed home a long throw-in that caromed off a San Diego defender — who appeared to be standing in or close to the goal. But no call came, and the Loyal held through regulation.
Real Salt Lake's second-division club out-shot San Diego 11-10, but was credited with just one shot on goal to be saved by Kempin.
"There's nothing there that we can control," Olave said of the two disallowed goals. "He missed the calls, but I'm not going to talk about that because we can watch the replay and make our conclusion.
"I'm really proud of what the players did. In the first half, maybe we conceded a little bit too much, but in the second half fought and created a couple of chances and the players did well."
Saturday's match was the first live professional sporting event in the United States since March 11 and marked 126 days since the last soccer match at Rio Tinto Stadium, a prolonged layoff on both accounts due to the coronavirus pandemic.
It was also the first professional game with fans in the United States since March 11. A few hundred of them showed up, an official tally of 816 for the Saturday afternoon match that was broadcast on ESPN Deportes and ESPN+.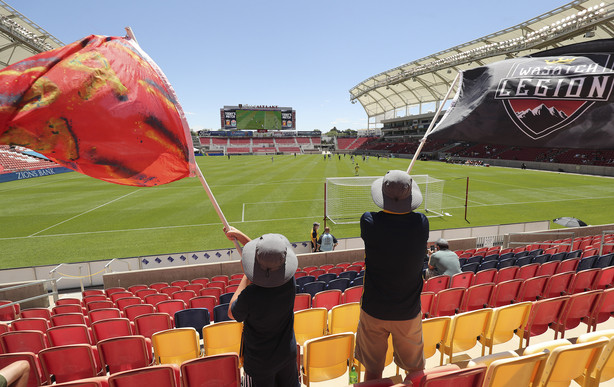 All the fans were physically distanced in the cavernous 20,000-seat stadium per Salt Lake County health and safety protocols, and most were seated on the stadium's shaded west side in temperatures that flirted with triple digits. Every one of them cheered as the Monarchs showed off their silverware as defending USL Cup champions in the home of parent club Real Salt Lake.
Fans also observed a poignant 15-second moment of silence with players, coaches and referees kneeling in honor of the Black Lives Matter movement and George Floyd, the Minneapolis man whose death while in the custody of four police officers has set off nationwide protests calling for an end to racial violence and police brutality.
"It was nice with everything going on right now," Coffee said of the pregame moment. "It's chaotic in the world right now, so to have a moment to recognize those things and notice that everyone can be stronger than everything happening right now shows that we can be stronger as a country and move forward together."
Moment of silence from @RealMonarchs and @SanDiegoLoyal before kickoff. pic.twitter.com/eKk1EkB34v

— Salt City FC (@saltcityfc) July 11, 2020
RSL owner Dell Loy Hansen said he was "excited" to have the Monarchs back at Rio Tinto Stadium with fans — but their first priority was safety.
That, as well as the scorching temperatures, likely contributed to the low turnout. Hansen said the club planned to operate at a loss for Saturday's match, but reopening Rio Tinto Stadium wasn't about profits.
"We need to experiment before we have a larger group, so we know how to bring them into a stadium, feed them in a stadium, enjoy the game, and exit properly — and keep the distances between players and fans," Hansen told KSL TV. "It's a learning curve; we've never had to do that in the history of our state, that I'm aware of.
"We now have to do it, and I think we're doing it effectively."
Still, the limited-fan attendance will be watched by other teams and leagues and could continue in Hansen's organization, so long as Utah's current spike of positive cases for COVID-19 doesn't continue.
The health department reported 632 new cases of the virus Saturday, with five new deaths, bringing its seven-day average of positive cases to 614.
Real Monarchs will host the Colorado Springs Switchbacks next Saturday, July 18 at Rio Tinto Stadium, the first of four matches against their Rocky Mountain rivals during a 16-game return-to-play, regional format installed by the USL Championship that is the first live game production since the Monarchs' season opener March 7 against San Antonio FC.
Every game of the USL season will be broadcast on the ESPN family of networks or streamed live on ESPN+.
Contributing: Garna Mejia, KSL TV
×
Photos
Related Stories