SALT LAKE CITY — With each sniff, Rudy Gobert gets a stark reminder of how trying the last few months have been.
Even now, over 100 days after he came down with COVID-19, Gobert hasn't fully regained the sense of smell the disease stole from him. He was Patient Zero of American sports. His positive test led to mass shutdowns of all the major leagues — and then most industries. Gobert found himself front and center of a worldwide pandemic.
"It's been a tough few months both physically and mentally," Gobert said Friday. "It was something that I've never experienced before — not just the virus, but the whole situation. I think all of us have never experienced that before, not just me. ... There are a lot of things that we all take for granted."
He wants to make sure he doesn't do that anymore.
So, Gobert said he's thankful for his ability to smell — even if only 80% of the sense has returned. He's grateful he is healthy and preparing to play basketball games once again. And he appreciates the situation he's in with the Jazz — even the last few months haven't been the easiest.
The Jazz center, a two-time NBA Defensive Player of the Year, made his first All-Star Game in February and is part of an exclusive club of players who are eligible for supermax contracts.
He's one of the top players in the world; yet, the most national air time he's ever received came in March when his faux pas of touching every recorder and microphone during a media session was played on repeat after the sports world shut down.
Gobert apologized for his lackadaisical attitude toward the growing virus, but that didn't stop the threatening messages coming his way or how Jazz guard Donovan Mitchell, who also tested positive for the novel coronavirus, felt about the situation.
Fair or not, there was anger and annoyance directed toward him. So while fighting an unknown disease, he dealt with reports over an "unsalvageable" relationship with his co-star and heard from numerous people who considered him not just Patient Zero, but also Public Enemy No. 1.
"Obviously, when you have the whole world judging you and threatening you, sending you negative energy and stuff like, it's not easy as a human being," Gobert said. "But at the same time, people just judge you on the perception they have and the perception you get from — sometimes it can be one picture, one video, one interview, one action. So people don't really know you. I think you guys (media members) know me a little bit, you know who I am as a person, as a human being; the people around me really know me, they know who I am, and that's what matters to me."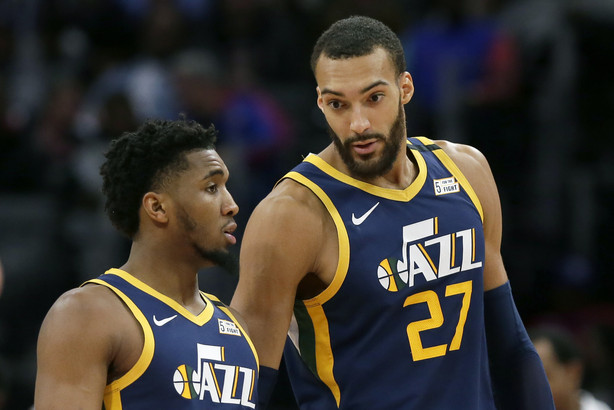 Mitchell's response to testing positive of the virus revealed a relationship that might not have been what Jazz fans had hoped it was.
Yes, Mitchell and Gobert both have embraced the comparison between them and franchise legends John Stockton and Karl Malone. Their lockers are next to each other at Vivint Arena and they often joke around with each other during post-game interviews. All of that paints a picture of a joyous bond between the two team cornerstones.
But, as Gobert and Mitchell have both made clear recently, that's not always the case. The good news: they feel it doesn't have to be.
"It was like the relationship between two competitors that both want to win," Gobert said of his relationship with Michell before the COVID drama began. "No one expects it to be perfect, and it's never been perfect. I've never had perfect relationships with my teammates or even my family members, or pretty much anyone that's around me. But as long as we respect one another, and we both share the same goals, and we both do what's best for the team, that's what matters. I think over the last few years that's what we've been doing, and that's what we plan on continuing doing."
Gobert, who is eligible for a supermax extension this offseason, said he intends to stay with the Jazz as long as he feels they can win — which means, best friends or not, he'd rather have Mitchell around.
"I'm really happy in Utah," Gobert said. "I love living here — that's the number one thing. Number two thing: I want to win. So, to be honest, as long as I feel like we can win and we have the group with Quin (Snyder) and the things we've been building over the years — it's something that you don't see anywhere else, and that's something that takes a lot of pride in so right now.
"Yes, it's not perfect. Yes, a lot of things happened. But I still don't take nothing for granted. I think it's a great situation for me individually, for my family. … I don't plan on leaving right now. I plan on winning a championship in Utah."
Gobert is the best situation to take advantage of his skill set. He doesn't want to take that for granted.
×
Related Stories