SANDY — The band is back together.
Well, almost.
Utah Royals FC returned to full training this week, including several notable international players who have been away from Salt Lake City taking the practice field Tuesday at America First Field in Sandy.
It's all in preparation for the NWSL Challenge Cup, the league's nine-team tournament that may or may not take the place of the 2020 regular season but will kick off June 27 at Zions Bank Stadium in Herriman.
The Royals will open June 30 against former BYU star Ashley Hatch and the Washington Spirit, and all matches, which are closed to fans, will be broadcast on CBS or the network's paid streaming service, CBS All Access.
"I think we're all on a wee bit of a time crunch, and still learning some people's names that are new to the club this year," said Royals midfielder Desiree Scott, who was away with the Canadian women's national team. "There's a bit of a growth patch that we need to go through, but I think everyone has been so anxious with an extra-long offseason and extra-long pre-preseason, so we want to get out here and put in the work while we can. The days are getting shorter before tournament time, and we want to be ready for that."
Fellow Canadian international Diana Matheson joined Scott at practice, with both making an appearance in a video released by the club of Tuesday's training that was closed to the media.
Also included was U.S. international Kelley O'Hara, who has returned to the market after rehabbing from an ankle injury that cost her much of last season, both domestically and internationally.
"Being part of a team is why we play this sport, and I missed all the camaraderie and togetherness as a unit," Scott said. "I was definitely doing my little dance when I got the official OK to come out with the team."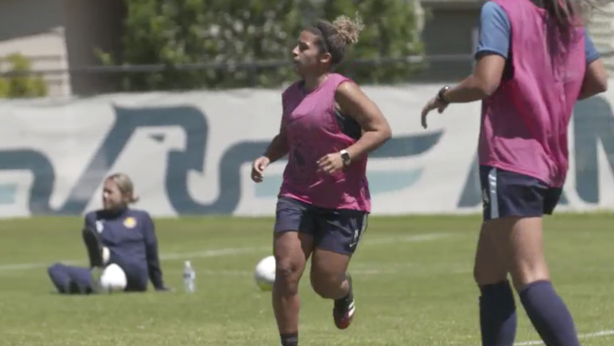 Utah forward Brittany Ratcliffe, who sat out the 2019 season with a knee injury, was also in training, as were the Royals most will recognize: team captain Amy Rodriguez, midfielders Gunny Jonsdottir and Lo'eau LaBonta, and Scotland team captain Rachel Corsie, to name a few.
Noticeably absent from the video was Christen Press, the Royals' talisman-like striker and international standout who has been training away from Utah for the past few weeks because of the COVID-19 pandemic. Several reports linked Press to sitting out for the tournament, as several players have decided because of the pandemic.
The Royals have not commented on the U.S. international's availability.
U.S. star Megan Rapinoe is not expected to be with OL Reign when it kicks off at the end of the month in Utah, and the U.S. women's national team players association has allowed any of its players to not be present if they don't feel comfortable.
Similar options have been given to every player in the NWSL, according to the league's players association that does not cover U.S. internationals, though it is unknown how many have embraced the option.
Utah coach Craig Harrington said after Tuesday's training that new players arrive, either physically or in closer-to-game fitness, every day, leading to a sense of excitement within the team.
But each day also brings a little more intensity and pressure, too.
"We can't tiptoe around things," the first-year head coach added. "It's right into the meat and potatoes of what we're looking for. Hopefully we're prepared to play Washington."
×
Related Stories