AMERICAN FORK — Officially, Saturday's final game of the UPG Last Chance baseball tournament didn't have any stakes.
Both Lone Peak and Pleasant Grove were locked into their respective positions for bracket play, which begins Monday. In the third group-stage game, both teams had exhausted large amounts of pitching under the tournament's 70-pitch limit over two days.
Nothing would've changed, no matter the result.
But don't tell that to the Vikings. They were just excited to be playing.
A day after meeting for the first time in over two months — yes, Pleasant Grove baseball coach Darrin Henry didn't hold a single of practice prior to Friday, when they lost to Syracuse in the tournament opener — the Vikings finally got their first win of the tournament.
"To not have had one day of practice, and relying on guys to throw strikes and players on the field ready, it's crazy," Henry said. "We've had great crowds, and all these great things going on — and these kids haven't had any reps. They needed to grow up, and we did that, we grew up today."
Winning pitcher Ernesto Lugo scattered just three hits with four strikeouts in five innings, and Pleasant Grove shut out previously unbeaten Lone Peak 6-0 in Saturday's final game in the eight-team Class 6A group stage.
Lugo was just happy to take the mound.
"You come out a little stressed; haven't seen a baseball in a while," he said. "But it's all about having fun, and that's what we did here.
"I'm so confident right now. I feel like I can take these guys anywhere and play any team now."
Kyler Lester, Jordan Pace and Ty Johnson opened the game with three-straight base hits, and the Vikings (1-2) put in four runs on five hits in the first inning to take a lead they never relinquished.
Johnson finished 2-for-4 with an RBI and two runs scored, and Tate Lewis was 2-for-3 with three RBI to lead Pleasant Grove.
"Our guys were stoked to play Lone Peak because we've played them so many times," Henry said.
For dozens of seniors, this week is their season. It may not be sanctioned by the Utah High School Activities Association, but it is their state tournament. For each one, it's their first live action since the season was canceled two months ago due to the COVID-19 pandemic.
"It's our moment," Lugo said. "It's our last year, and the spotlight gets taken away from us. But I'm very grateful we get to play.
"This is something special for us. We were a little rusty, but we're ready again."
Even for those who had more eligibility, this week was special to give their senior class a proper sendoff. Jordan only has three seniors on the roster, but Micah Ashman pitched for every one of them. The junior reliever allowed just one hit in three innings with five strikeouts to help the Beetdiggers secure an 8-7 win over Riverton.
"There are only three of them, but I love them all to death," Ashman said. "This is awesome; hopefully we can send them off on a good note."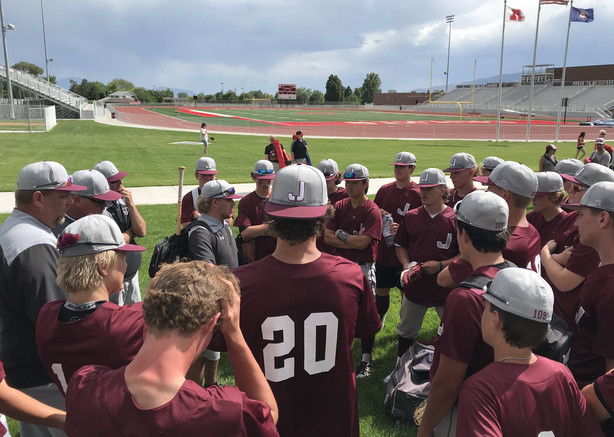 UPG Last Chance Tournament
Saturday's results
6A bracket
Bingham 9, American Fork 3
Copper Hills 5, Pleasant Grove 3
Lone Peak 2, Syracuse 1
Jordan 8, Riverton 7
Pleasant Grove 6, Lone Peak 0
5A bracket
Cottonwood 14, Lehi 4
Spanish Fork 13, Mountain View 1
Salem Hills 4, Provo 0
Maple Mountain 4, Timpanogos 3
Lehi 5, Orem 0
Future schedule
UPG Last Chance baseball tournament (6A bracket) by KSLcom on Scribd
6A bracket
Tuesday, June 2
At Pleasant Grove HS
No. 1 Bingham vs. No. 4 Pleasant Grove, 10 a.m. MT
No. 3 Syracuse vs. No. 2 Jordan, 2 p.m. MT
At Lone Peak HS
No. 3 American Fork vs. No. 2 Copper Hills, 10 a.m. MT
No. 1 Lone Peak vs. No. 4 Riverton, 2 p.m. MT
UPG Last Chance baseball tournament (5A bracket) by KSLcom on Scribd
5A bracket
Monday, June 1
No. 4 Orem vs. No. 5 Lehi, 5 p.m. MT at Maple Mountain
No. 4 Mountain View vs. No. 5 Springville, 5 p.m. MT at Salem Hills
Wednesday, June 3
At Salem Hills HS
No. 1 Salem Hills vs. Orem/Lehi winner, 10 a.m. MT
No. 3 Spanish Fork vs. No. 2 Cottonwood, 1 p.m. MT
At Maple Mountain HS
No. 3 Timpanogos vs. No. 2 Provo, 10 a.m. MT
No. 1 Maple Mountain vs. Mtn. View/Springville winner, 1:30 p.m. MT
×
Related Stories