SALT LAKE CITY — Things are about to change in the Mountain West Conference — and not for the better.
The conference could be moving to a 20-game conference schedule, cutting two more games from its non-league options, the San Diego Union-Tribune first reported.
The decision will not be effective immediately, or even next year, but will go into effect ahead of the 2022-23 season — after the final years of the Mountain West-Atlantic 10 Challenge have wrapped up. The move suggests that the MWC-A10 challenge will not be renewed.
Utah State University is scheduled to play Dec. 1 at Davidson in the inaugural season of the challenge.
The legislation still requires approval from the league's 11 university presidents, who are expected to vote on it in about a month, according to the Union-Tribune. But with a vote of the league's athletic directors approving the decision, that may be a formality.
Utah State athletics did not immediately comment on the proposal. The Mountain West does not comment on pending legislation on principle.
Under the new plan, every team in the league would play every other team in a home-and-away annual series. The Mountain West has played an 18-game conference schedule since its last expansion ahead of the 2013-14 season. That's why the Aggies played two conference games in early December before finishing out nonconference play with five contests, including in-state rival BYU in the now-defunct Beehive Classic and Florida in the neutral-site Orange Bowl Basketball Classic.
Teams skipped two games every year, a selection reportedly made by random computer generation when the conference puts together each team's schedule. The Aggies did not play a home game against New Mexico, and then skipped a road trip to Nevada in 2019-20, meaning they did not play teams ranked No. 89 and 183, respectively, in the NCAA's final NET ratings (conducted without the NCAA Tournament, as a result of the novel coronavirus).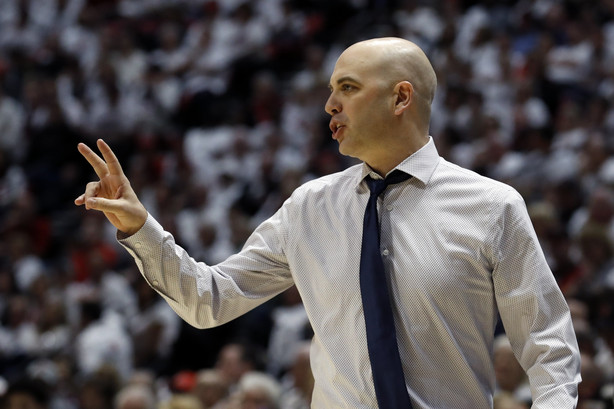 While impossible to know which games would've been dropped in favor of a 20-game conference season, the games against the Cougars and Gators represented matchups with the No. 9 and 29-rated teams, respectively, for the Aggies. At least one of those games may not have materialized if Utah State had been forced to play a 20-game conference schedule.
Of course, Utah State also had home games against Denver, North Carolina A&T, UTSA and NAIA Saint Katherine as part of its nonconference schedule in 2019-20, which finished 26-8 overall with a 12-6 record in conference play. In a perfect world, one of those teams could be eliminated from the schedule to fit in more conference games.
But perfect worlds don't exist, and those games exist for a reason: to supplement a season when the likes of BYU, Florida or LSU (all neutral-site opponents) won't play in Logan.
Regardless, a 20-game conference schedule simply takes away more opportunities for teams to develop a quality nonconference resume in hopes of building a case for NCAA tournament inclusion. That's why San Diego State has fought the idea since Steve Fisher was in charge.
The new plan also hurts BYU basketball's future strength of schedule. Since leaving the Mountain West for the West Coast Conference in 2011, the Cougars have regularly maintained a strong tie to the league via its nonconference scheduling.
The Cougars already play top competition in-conference in Gonzaga and Saint Mary's; scheduling the best of the Mountain West in San Diego State, Utah State and others is only in their best interest, as well.
Unlike in football, Mountain West schools are still want to regularly play BYU in hoops. This year, the Cougars faced five opponents from its former league, including San Diego State, a series that has been renewed for two more years; neutral-site games against Utah State and UNLV in Salt Lake City; as well as Boise State and Nevada.
The Cougars went 3-2 in those five games, with losses to San Diego State and Boise State. While BYU has faced the Aggies more than any team other than archrival Utah — on 236 occasions, for that matter — it's hard to imagine five future series with Mountain West schools surviving on the Cougars' schedule.
Similarly, Utah State's near-annual Northern Utah rivalry game against Weber State could be among those left on the cutting room floor for the extra two games of conference play. The Aggies already ended a 13-game series across 12-straight seasons with Utah Valley in 2018. San Diego State has long been an opposer of such a plan, dating back to the days when BYU, Utah and TCU were all in the conference with the Aztecs.
According to the Union-Tribune, the vote of athletic directors was 7-4 in favor of the 20-game schedule. The newspaper reported that UNLV, Nevada and Air Force joined San Diego State in opposition, while at least one coach opposed the plan but could not convince his athletic director.
"We know that we need to build a great nonconference schedule, so having as much flexibility to go out and find those good home-and-homes, like Arizona State and BYU, or neutral sites, like Utah or Cal, are important," San Diego State athletic director John David Wicker told Fox Sports radio in San Diego. "We saw a couple of years ago; we went 16-2 in league, had a rough nonconference, and 16-2 didn't get us into the NCAA Tournament.
"We really value our nonconference schedule and are disappointed that we will have less flexibility going forward."
If the legislation passes, a lot of schools will adjust. That's the nature of college athletics.
But they shouldn't have to.
×
Related Links
Related Stories