SALT LAKE CITY — The Beehive Classic became the Cougar Classic in the in-state round-robin series' final edition Saturday afternoon.
Yoeli Childs poured in a game-high 20 points and 10 rebounds, and TJ Haws added 16 points and five assists to help BYU hold off Utah State, 68-64 Saturday afternoon in the final game of the Beehive Classic in front of an announced crowd of 10,291 fans at Vivint Smart Home Arena.
Jake Toolson added 5 points, five rebounds and four assists for the Cougars (9-4), who won their third-straight game and fifth in the last six contests. BYU also improved to 3-0 in the three-year run of the Beehive Classic, which will not be renewed next year.
Alphonso Anderson led Utah State (10-2) with 14 points, Abel Porter added 13 points on 5-of-7 shooting, and Sam Merrill added 11 points and eight rebounds with three assists for the Aggies, who fell to 0-2 against West Coast Conference opponents.
The Aggies have lost eight-straight to BYU, and eight of the last 10 while falling to 0-4 on a neutral court. For as remarkable a job as Craig Smith has performed in just his second season in Logan, there's a hurdle there for the defending Mountain West regular-season and tournament champions to overcome.
"They're a very, very good basketball team — well-coached and really play connected on both ends," Smith said of BYU. "They're difficult to guard. They put a lot of pressure on you, and they have five guys who can score at all times.
"They just made a couple more plays than we did. But I'm proud of the way we fought."
BYU coach Mark Pope was equally complimentary of his rival coach in Northern Utah.
"Utah State is a great team," Pope said. "I've said it for the last week, I think Craig Smith is amazing for what he has done. It's just incredible.
"He's got guys that play hard and with a ton of heart. It's a great team. I couldn't be more proud of our guys for fighting the whole time. They got through some adversity, some stickiness and weirdness and just stuck together."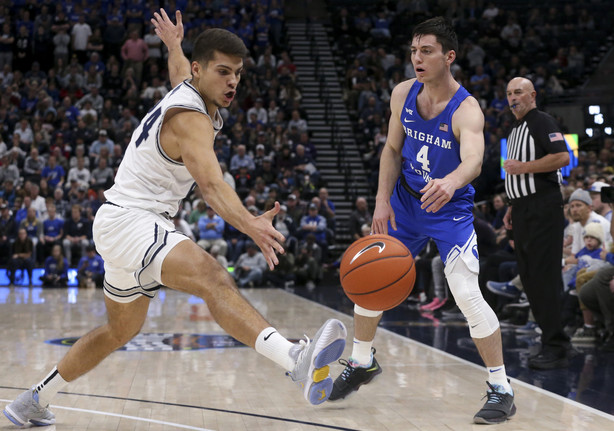 BYU ended the first half on a 9-0 run, and never trailed after the break — though the Cougars never led by more than nine and Utah State tied the game twice down the stretch, while pulling within one on Justin Bean's layup with 2:15 remaining, 63-62.
But Dalton Nixon blocked a go-ahead attempt by Bean in the final minute, and Alex Barcello drained the Cougars' 11th 3-pointer of the game on the other end to help BYU survive and hand the Aggies just their second loss of the season.
"That was unbelievable," said Barcello, who finished with 7 points and 2 assists. "I didn't start off the game too hot, but I love my guys and I love my coaching staff. They pick me up and they told me to just trust it. They believe in me, and they knew my shots would eventually fall.
"No guy came out on me, and so I just shot my shot."
What a clutch shot from Alex Barcello! A three gives BYU a 4 point lead over Utah State. The Cougars lead 68-64 over the Aggies.#BeehiveClassic#BYUvsUSUpic.twitter.com/9kn4GYFM7f

— BYUtv Sports (@byutvsports) December 15, 2019
Utah State never trailed by more than nine, but also was prone to long scoreless droughts — including a 5-minute, 32-second drought just before the half that sparked the Cougars' 9-0 run. Porter ended the drought with a triple just 17 seconds after the break — but the Aggies couldn't overcome the deficit.
Some different BYU player would simply make another play. Different guy each time; Childs, both in the post and from three. Haws, who shot 6-of-13 from the field with four 3-pointers.
And perhaps the biggest one of all: Barcello, from the corner, to ice the game after Nixon's block and Queta's follow-up layup rimmed out.
"He's a shooter; he gets up shots every day," said Childs of Barcello, who added he was "100 percent" confident in the decisive trey. "This dude has an unbelievable work ethic. In the summer, when we'd be in the gym every day at 6 a.m., he'd be in at 4:30, getting up shots and ball-handling. At the end of the day, you have all the confidence in the world in him."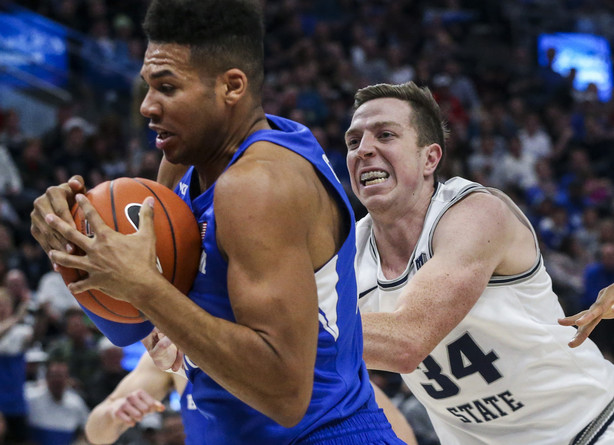 The Aggies opened the year in the AP Top 25 and didn't fall out until last week (when they were replaced by Mountain West rival San Diego State). They've only lost one other game — an 81-73 heartbreaker to Saint Mary's on Nov. 29. And they were playing with the return of Neemias Queta, who Pope called a "future pro" that finished with 11 points, nine rebounds, two assists and a block.
Yet somehow, as they've done in three-straight contests against Mountain West opponents, the Cougars found a way to win, improving to 3-2 against their former conference.
"We knew that this game was going to be a tough one for us," Barcello said. "We came in to work every day in practice, ran through scout, and told each other to go out and give it our all. That's what we did."
Next up
BYU returns to the Marriott Center to host Weber State next Saturday, Dec. 21 (7 p.m. MST, BYUtv).
Utah State travels to Houston on Dec. 18 to face South Florida at 5:45 p.m. MST.
×
Related Stories