SALT LAKE CITY — It's been a while since Jazz forward Joe Ingles has had a basketball hoop at his house. There was one in his backyard when growing up in Adelaide, Australia, but as an adult, in his own places, it's felt unnecessary.
He's had gyms and practice facilities to go to — and after long hours of practice, he didn't feel the need to keep shooting at home.
About two weeks ago, Ingles had a hoop installed at his house. That was just another sign the NBA isn't very close to returning.
On the night the NBA changed, Ingles assumed it would be nothing more than a few weeks off. The players would go into quarantine for a couple of weeks, Ingles thought, and then the season would resume.
If only that were the case.
As the weeks have passed, the reality has started to sink in: the season might already be over.
"My personal opinion is every week we go along, it feels like it's a less and less chance that we're going to," Ingles told local reporters on a virtual press conference.
That's what Jazz players are coming to grips with. Even when they put on an optimistic front — like Jazz guard Mike Conley did last week, saying he was hopeful things would resume — it's followed by talk of uncertainty. No one knows what's going to happen, NBA Commissioner Adam Silver has reiterated such time and time again, and that has left the players and league in a weird situation.
There's no timeline. There are no answers. Everyone is waiting.
That has put the players in an odd situation.
"It's a lot harder than it seems," Ingles said. "We usually get a text message at eight o'clock at night that says be here to lift weights at 10 o'clock or whatever 11 o'clock, and a lot of our fitness in the way we get ready is with a team or with that group of guys. And it honestly, it feels like the offseason."
Ingles said he was lucky that he has a gym in his home (along with the newly installed hoop) — things not all of his teammates have access to. But that doesn't mean it's been easy to leave his two young twins, Milla and Jacob, to train.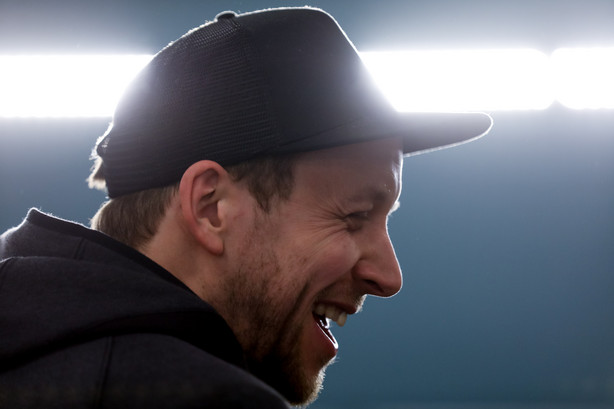 "It's hard when you're used to playing with a team and everything's with a team — we fly together, we hang out together, everything's together — and all of a sudden you get put in this position that we aren't together," Ingles said.
A week into his two-week quarantine following Rudy Gobert's positive coronavirus test on March 11, the Ingles' home, like many across the Salt Lake Valley, began to shake. The Ingles's plan was always to stay in Utah over the summer. Joe's wife, Renae, had retired from her professional netball career and the family had decided to remain in Utah over the summer. But as the ground became unstable, they started reconsidering those plans.
"The thing that Milla kept saying that her house was shaking but our house in Australia doesn't shake, so I was like, if she's scared and she's worried about living in this house, then we've got to go," Joe Ingles said.
But flying home would have meant a two-week quarantine in a hotel, and with everything going on, they knew traveling wasn't the best option for their kids.
His kids are why Joe Ingles is not really on board with what would be the quickest avenue to restarting the league. The NBA has floated around the idea — and that's all it is at this point, an idea — to gather in Las Vegas and quarantine the players there to finish the season with no crowds.
"It would be extremely hard. It'd be like the look, basically the longest I've been away from the kids, which I don't know how much I'm willing to do that as much as I love playing basketball," Ingles said.
Just a couple days after his kids were born, Ingles left for six weeks to train for and play in the 2016 Olympics, but he said this time would be different.
"They've got personalities," Ingles said. "They know when I'm leaving, they tell me they miss me, the stuff like that that makes it a lot harder to leave. Even just leaving to go to the supermarket, it's like they cry and they don't want to leave and stuff. So two or three months without them would be borderline impossible for me. …. We'll have to see what happens."
At this point, that's all he or anyone else can do.
×
Related Stories