SALT LAKE CITY — Perhaps few are more qualified to address conflict between teammates in the NBA than former veteran player Mark Madsen.
Now the head coach at Utah Valley, Madsen played for the Los Angeles Lakers during a time of great success mingled with soap opera-like drama. On the subject of the reported spat between Jazz stars Rudy Gobert and Donovan Mitchell, Madsen can't speak from first-hand knowledge but has plenty of experience to draw upon.
"It's never perfect in a locker room," Madsen said during an interview on The Zone Sports Network. "It's just never perfect."
Madsen began his NBA career with the Lakers during the 2000-2001 season, the second of three consecutive championships the team won under head coach Phil Jackson. The former first-round pick out of Stanford also was on the team the following season.
The feud between Kobe Bryant and Shaquille O'Neal was developing into a major issue during Madsen's first two professional seasons. Other forms of conflict arose during those seasons with teammates during those years, leading Madsen to say it was almost a daily issue with players airing grievances about Jackson in the media or vice versa.
"My first two seasons with the Lakers we were winning championships (and) everybody was happy in June," he said. "But there was so much conflict throughout the season. There just was. There was drama."
And, yet, the Lakers dominated the league, meaning the two Hall of Fame players managed to put aside any differences on the court. It leads Madsen to think Gobert and Mitchell, whose spat drew national attention after both tested positive for the coronavirus last month, could resolve their reported conflict.
Related:
Gobert said as much during an interview on social media last week, noting that both players share the same goal of winning a championship with the Jazz. On the surface, it does not seem like any damage is permanent, as teammates Joe Ingles and Mike Conley have said in separate interviews.
"What you hope is there's never a rift that can't be healed," Madsen said. "Even if it doesn't heal 100%, hopefully, whatever rift there is – on any team – it can get back to a point where there's a professional relationship.
"One thing that's talked about a lot in the NBA is professionalism. Things are going to happen. Sometimes those things are personal. Most of the time it's not."
In the case of Bryant and O'Neal, the two got along well enough to win those three NBA championships before their relationship deteriorated to the point of no return. Eventually, the Lakers sided with Bryant and traded O'Neal to the Miami Heat in 2004, the day before Bryant re-signed for the next seven years.
Bryant won another two championships with Lakers and retired five years ago. O'Neal won a title with Miami and then played for three more organizations.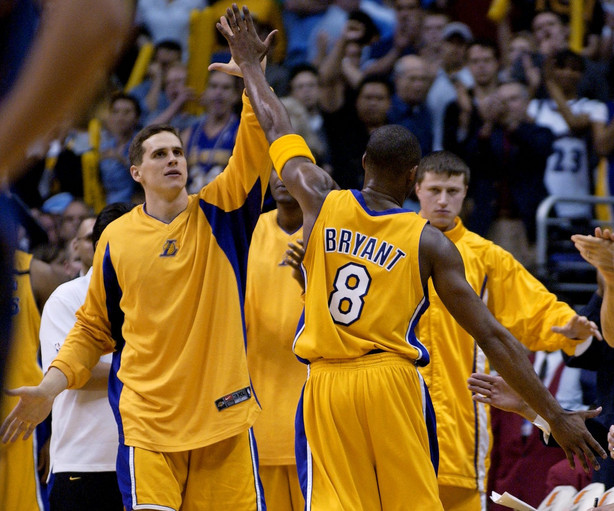 Madsen saw both sides of conflict during his nine-year NBA career, meaning not all of them do work out. It depends on the willingness of the individual players.
"It's amazing how many NBA players I've seen get in the same room and hash something out and crush it," Madsen said. "That doesn't always happen, either, but it's just amazing when two guys really want to communicate and solve a problem, it gets done."
Ultimately, whatever issue Gobert and Mitchell have with each other, it's up to them to solve it whenever the season resumes. Neither player has achieved the status of Bryant or O'Neal to make any outrageous demands, and probably wouldn't do it anyway.
Even if the apparent rift is not healed entirely, as Madsen said, both players have the same objective on the court. Either way, the Jazz face the decision of whether to re-sign Gobert at what price after next season.
More from Patrick Kinahan:
---
×
Photos