PROVO — Late Tuesday night, Devin Kaufusi posted a GIF on his Twitter account from the ill-fated Star Wars prequel series: an image of Anakin Skywalker turning away from his Jedi roots with a Sith-like glow in his eyes, a tongue-in-cheek precursor of an announcement that would come a day later.
Whether joke or not, that's probably how he felt by Wednesday, when the former BYU defensive end announced he was headed to rival Utah.
All jokes aside, the reality of the latest Kaufusi's transfer — the younger brother of former BYU standouts Bronson and Corbin and son of former BYU coach Steve Kaufusi — had little to do with turning away from anything.
"BYU's done a lot for me and my family. I've been blessed to have BYU in my life," said Kaufusi, whose mother Michelle was a BYU Cougarette and is the current mayor of Provo.
"But when it came down to it, I struggled to find my identity as a player in a position, as well as progressing while I was there and looking forward. I felt I needed something better for me."
Pleased to announce that I have officially committed to the University of Utah. There I will further my football career and education. Thank you @CoachPowell99@UtahCoachWhitt@SafetyPride@Utah_Football UTAH MAN AM I💯 pic.twitter.com/HjTcNwabba

— Devin Kaufusi (@devskaufusi) April 8, 2020
Kaufusi played two seasons for the Cougars since returning from the Alpine German-Speaking Mission for The Church of Jesus Christ of Latter-day Saints. But the 6-foot-7, 257-pound had just 15 tackles and one sack across both seasons, including just 10 tackles in 13 games as a sophomore.
His cousins Isaiah and Jackson will bolster the BYU linebacker corps this fall, making for an interesting dynamic when the three could potentially face each other Sept. 3 in the season opener for both teams at Rice-Eccles Stadium.
That family connection won't go away, nor will his tenured friendship with BYU tight end Kyle Griffitts. He said his transfer is not related to the school's honor code, or the political climate currently encircling the Provo campus, both related to COVID-19 and other factors.
So why leave BYU?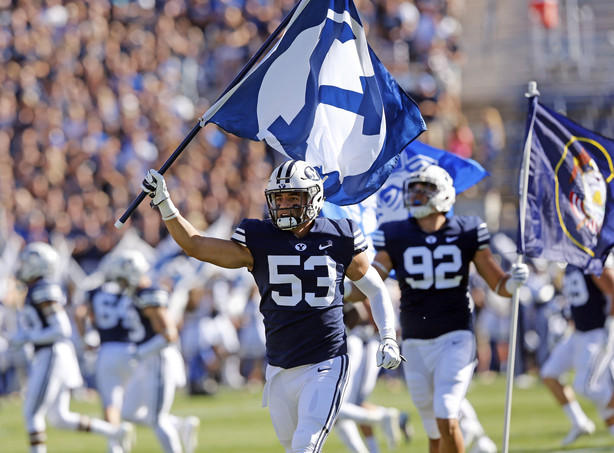 "It was an accumulation of things," Kaufusi said Wednesday on the Locked on Cougars podcast. "But it was all football-driven, me developing into a better player and into someone as a person and player. It's something I feel like I missed out on the past two years at BYU, and I had a better opportunity at somewhere other than BYU."
That opportunity will come through Utah defensive coordinator Morgan Scalley and defensive line coach Lewis Powell, on a full-ride scholarship — no matter when his eligibility will be recovered.
"I knew with the timing of me entering the portal, as well as not having much film to back it up and coming off injury, I knew there was a high chance that I wouldn't be on scholarship right away," Kaufusi added. "So I'm super grateful to coach Powell and coach Scalley and what they see in me. I'm looking forward to proving them right."
In Utah, Kaufusi will be reunited with former Timpview teammate Britain Covey and a handful of other graduated Thunderbirds.
Even if he has to sit out a year — an NCAA transfer policy that may be changing this summer — Kaufusi is excited to get to Utah and meet his new team.
"They think I have all the right tools to become a great player on their defense, and to develop into a next-level player," Kaufusi said.
×
Related Stories