PROVO — The only thing constant during spring football is change.
Whether it's position changes, transfer requests or changing coaching staffs, every Division I football is dealing with it in March and April.
BYU is no different.
The Cougars saw junior-to-be Devin Kaufusi enter the transfer portal on Friday, as first reported by 247 Sports — a fact head coach Kalani Sitake seemed to confirm after Monday's practice without specifically addressing any individual player. Such is spring life in college football, where the transfer portal has changed the offseason on every campus.
Sitake has been through the portal several times as he enters his fourth season — on both sides. His role is less as a lawyer or persuasion artist, but more of a guide for what's best for the player as he takes a big step.
"It's an emotional decision," Sitake told reporters after Monday's practice. "I think it's important for me to advise them and to take a step back while doing it. If they don't want to be here, it's not going to work. That doesn't mean it has to be a negative.
"I care about them; and if I care about them, then I'd like to see them have success somewhere else. That's important to me, as a person."
Players are not bound to leave by entering the portal, though many coaches often use it to rescind a scholarship or not take him off the roster. But the likely loss of Kaufusi is a special blow to BYU.
Kaufusi's father, Steve, coached and played at BYU; and Devin Kaufusi is the third of the Kaufusi sons to play for the Cougars, joining older brothers Bronson and Corbin.
Devin Kaufusi is also the cousin of current Cougar linebackers Isaiah and Jackson Kaufusi, so the Kaufusi name is written all over BYU's campus (as well as the city of Provo via mother, Michelle, the city's current mayor and running mate of gubernatorial candidate Jon Huntsman Jr.).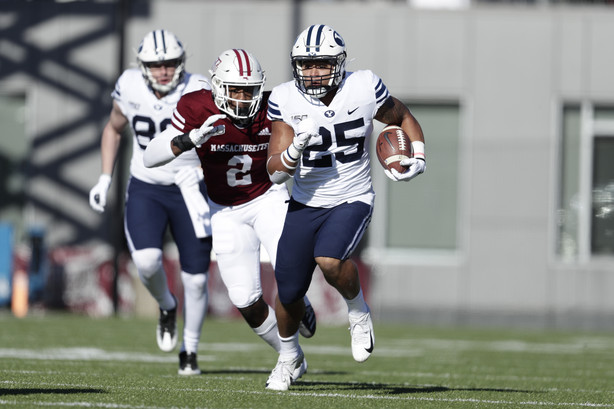 In an adjacent move, Alema Pilimai has moved from tight end to defensive end. The 6-foot-4, 245-pound native of Tustin, California, was the No. 9 outside linebacker in California before signing with the Cougars prior to the 2016 season.
One player that returned to the sideline was Tyler Allgeier — as a running back. The 5-foot-11 all-time leading rusher at Kaiser High School in Fontana, California, redshirted in 2018 and briefly moved to linebacker last year before flipping back over to offense.
Allgeier finished the season with 119 rushing yards, including a 57-yard touchdown in the Cougars' 56-24 win at UMass, as well as 19 tackles and half a sack. And he's back in a running backs room at a position that currently doesn't have a coach (though is led by graduate assistant and former BYU all-time leading rusher Harvey Unga).
"He's a running back, full time. He didn't play any defense today," Sitake said of the former walk-on running back. "I think it's going to be a really talented group. I feel comfortable with him being there full time, and I feel good about the linebackers."
Zayne Anderson moved to cornerback after spending the past two seasons at flash linebacker. Prior to an injury-riddle campaign at linebacker, the 6-foot-2 state champion sprinter from Stansbury High played primarily at safety.
With the move, and also due to being unable to lift while he rehabs a shoulder injury, Anderson has slimmed down by nearly 20 pounds to his current weight at 198.
"It's been an adjustment," he told reporters after Friday's practice. "I'm just learning, trying something new, and seeing how it plays itself out. It's a pretty big change."
×
Related Stories