This archived news story is available only for your personal, non-commercial use. Information in the story may be outdated or superseded by additional information. Reading or replaying the story in its archived form does not constitute a republication of the story.
SALT LAKE CITY — Many Utah nonprofit animal organizations are asking for the community's help to provide pet owners with needed supplies amid COVID-19 restrictions.
"Pet owners who were gainfully employed only a week or two ago may now be wondering how they'll buy the next bag of dog or cat food to care for and keep their pets safely at home," according to a Best Friends Animal Society news release.
Residents can help with monetary and supply donations, by hosting a pet food drive, and by fostering animals. Here are three places where Utahns can help:
Best Friends Animal Society
Residents can donate to the Best Friends Animal Society by placing pet food in bins outside the Lifesaving Center at 2005 S. 1100 East in Salt Lake City. They accept donations at any time of day.
"We especially need dry cat and dry dog food," a news release from Best Friends says. "Previously opened bags of dry food are accepted if taped up securely."
Residents can also donate through the animal society's AmazonSmile Charity List.
Those in need of assistance should email utahtnr@bestfriends.org to make a curbside pick-up appointment. For more information, visit the Pet Food Bank Salt Lake City website.
According to Temma Martin, a spokesperson for Best Friends, the organization gave away almost 2 tons of dog and cat food just last week. "We're giving the food away as fast as it's coming in," Martin told KSL.com.
She said the goal is to help as many people who are having a rough time as possible. "We want to help people feel like they don't have to face the decision of giving up their pet," Martin explained.
"Donations of pet food help not only the pets who ultimately receive the food, but also the families who at least know their pet is fed, which is one less thing to worry about in these difficult times," the news release reads.
As shelters across the state close and move to an appointment-only system, Martin said this is also a great time for families to foster a pet, especially when people are spending more time at home.
Nuzzles and Co. Pet Rescue and Adoption
Nuzzles and Co. gave away dog food, cat food and cat litter at its pop-up pantry in Salt Lake Tuesday, according to a Facebook post. Jamie Usry, executive director of Nuzzles and Co., said they plan to do pop-ups every week in Petco parking lots in Utah, Davis and Salt Lake counties. Future pop-up pantries will be announced on its Facebook page.
To adhere to public health orders, the nonprofit asks those picking up or dropping off donations to practice social distancing and use patience as workers find what people need.
"Our staff wears gloves and masks. And we had people start driving up in their cars yesterday, so they're not even getting out of their car," Usry told KSL.com. "So, we're being very, very safe."
"But if we go on a full stay-at-home order, kind of locked down, we just can't help the community anymore," she said.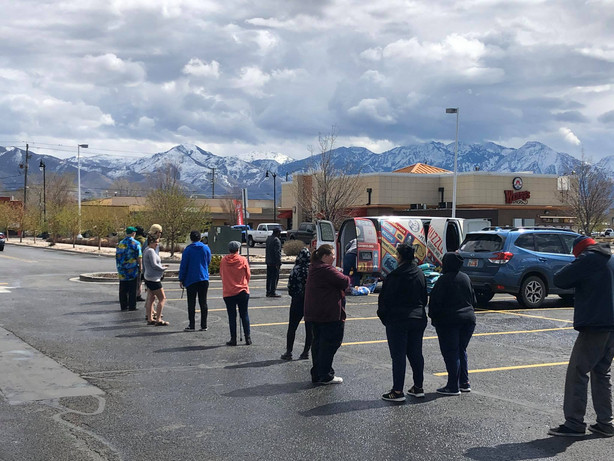 They will accept supply donations at the pop-up locations and at their adoption center and Rescue Ranch locations. Big dog kibble and dry pet food, in general, is especially needed, Usry told KSL.com, but Nuzzles and Co. will accept anything.
"We need people who are not struggling to bring pet food and cat litter supplies to us so that we can continue to redistribute these supplies to the community in the coming weeks," a a Facebook post reads.
"At Nuzzles & Co., we believe that pets are family," Usry explained.
She said the nonprofit gave away 785 lbs. of pet food and 503 lbs. of cat litter Tuesday. At a pop-up pantry earlier in the month, they gave away 1,945 pounds of pet food.
Utahns can also donate through the nonprofit's AmazonSmile Charty List.
"With the support of the Jason Heigl Foundation, Nuzzles & Co. is helping people laid off or with reduced hours due to COVID-19 to feed and care for their pets," the post reads. "We want to ensure that people and their pets are able to stay together during this crisis."
At Tuesday's pop-up pantry they also worked with two other community partner groups: Street Dawg Crew of Utah and Geraldine E King Women's Center.
"The Street Dawg Crew of Utah is an excellent nonprofit group," Usry said.
Long before COVID-19, Ursy said the nonprofit has provided pet owners with what they need. Now they deliver to those in need who reach out to them on Facebook.
"I would just absolutely encourage if you're an animal lover, (to) go to the shelter or rescue group nearest to you and just see if they need help because I guarantee they do," Usry said.
Cache Humane Society
In addition to unopened dog and cat food, the Cache County Humane Society is asking for:
Laundry detergent
Non-clumping cat litter
Paper towels and cleaning supplies
Office paper
Office supplies such as Sharpies, sticky notes and dry erase markers
Dog and cat treats
"These are items we use every day," according to the humane society's website. "We are grateful for individual donations, no matter how large or small."
Stacey Frisk, executive director of the Cache Humane Society, said it needs dry cat food the most.
"We do pretty well with dog food," she explained to KSL.com.
Supplies can be donated from 10 a.m. to 6 p.m. during weekdays, and noon to 5 p.m. on Saturdays at the shelter location, 2370 W. 200 North in Logan. Every donation is tax-deductible and stays in Cache Valley, the website states.
For more donation ideas, visit their website or their Amazon Wishlist. With Amazon, donations will ship directly to the shelter.
"The other items on our Amazon Wishlist are there to give our shelter animals additional treats and toys and enrichment in the foster homes that they're currently all staying in," said Frisk.
Residents can also host a supply drive for homeless animals. For more information email volunteer@cachehumane.org.
Despite closing down its office, the humane society continues to take in homeless animals and find them a home.
"We've been very, very fortunate to receive a huge outpouring of support from the community, from people who are willing to foster animals in their homes," Frisk shared with KSL.com
She explained that animals coming into the shelter receive veterinary care, vaccinations and some basic training before going to a foster home. Adoptions also became virtual since COVID-19 restrictions and closures. Frisk said the humane society does adoptions through video chats and phone calls.
"Your local shelter is depending on you to provide support," said Frisk. "To hopefully donate to allow (shelters) to care for those animals in foster, to support pet food pantries and the continued intake of homeless animals in this difficult time."
To protect those in need of help, the humane society made its pet food pantry self-serve.
"At this point, we just don't feel like establishing any barriers to helping feed pets," Frisk said. "We trust that people will use the pet food pantry wisely."
"Take a bag or leave a bag," a Monday Facebook post reads. "We're in this together."
These are just a few of Utah's animal shelters. If not listed above, reach out to your local animal shelter to see how you can help with pet donations and fostering a pet.
×
Photos