SANDY — New Utah Royals FC coach Craig Harrington knew exactly why he wanted to name forward Amy Rodriguez as the first captain of his first head coaching job.
It took less than a day of training to see why he wanted that leadership, too.
The Royals, along with the rest of the nine-team National Women's Soccer League, halted their preseason early due to concerns around the spread of the COVID-19 virus.
It was the right call, even if the past two weeks have been difficult, being stuck inside, not knowing when the league would start, or trying to keep proper fitness without group contact, both coaches and players agree.
Flattening the curve of the coronavirus spread will take everyone — professional athletes included — and Rodriguez, in particular, wanted to do her part.
It's why she penned a letter to the club's fans and supporters, encouraging them to do everything they can to help fight the spread of the virus. Simple things, like wash your hands, stay home from work if you are sick, and contact health care providers if you are feeling sick.
"I know we all miss soccer, and it is not easy to be away from something you love," she wrote, "but I know that this is only temporary and the more we work together, the faster we can all return to what we love."
That's the kind of leadership Harrington hoped to see from his captain. But he's not surprised.
A former United States international, Amy Rodriguez has excelled at every level of her playing career — from youth, to Southern California, to the Philadelphia Independence in Women's Professional Soccer, to her time in the NWSL with FC Kansas City, and now Utah.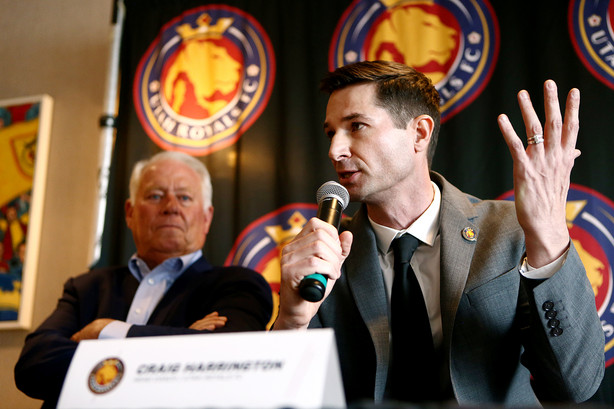 A veritable goal-scorer with 13 marks in two seasons with the Royals, Rodriguez is even more than a soccer player right now for a team that needs her leadership in uncertain times. She's a veteran of life, a veteran of parenthood, and the type of player that teammates of all ages can look to.
"She embodies everything I want in a captain," Harrington said. "She's a very, very good player, and people forget that. But she's also a lion, a warrior, in the way she plays: Her enthusiasm and aggressiveness, how she attacks through the ball, sums up for me what this team will be about.
"So ultimately, it was an easy decision."
Rodriguez isn't the only leader on a team stocked with veterans, even while replacing last year's coach as well as its captain. Eleventh-year veteran goalkeeper Nicole Barnhart and Scottish national team captain Rachel Corsie will represent Utah Royals FC on the NWSL Players' Association board; U.S. internationals Kelley O'Hara and Christen Press, as well as Canadians Diana Matheson and Desiree Scott, are also returning to a lineup that is getting younger but still replete with experience.
Vero Boquete returns to anchor the midfield, and Taylor Leach has been brought into the back line after spending four years in Sweden.
That chance for leadership even extends to the newest member of the club, Aminata Diallo, who agreed to come to Utah on loan from French Division 1 Feminine side Paris Saint-Germain just before the NWSL shuttered all transactions as states prepared to face the coronavirus pandemic.
The 24-year-old Diallo made 59 appearances in PSG's midfield, in addition to two seasons with Guingamp in France after starting her professional career in 2011 with Grenoble Metropole Claix Football Feminin in the second division.
"She's a two-way player, a forward-thinking player," said Harrington, who compared Diallo to North Carolina midfielder and Irish international Denise O'Sullivan in style of play. "She's a different type of player than we have in this squad. But she brings competition to the squad."
So, while Rodriguez will be the one in constant communication with Harrington, walking in lockstep with the first-time gaffer to lead Utah, she won't be the only one with leadership responsibility.
"Everyone feels they have a voice, as we make big and small decisions," Harrington said.
×
Related Stories