SALT LAKE CITY — Finally, after perceived to have underachieved since starting college basketball three years ago, TJ Haws has found redemption even if he didn't need it.
This season, in which he's become a star for 17th-ranked BYU, Haws has matched the hype — as ridiculous as it was — that was slapped on him coming out of Lone Peak High. For the first time, the senior point guard will play in the NCAA Tournament, a feat long in the making.
To be sure, the Cougars would not come close to sniffing the tournament without the brilliance of Haws. Playing his position as well as it's been in years at BYU, Haws is averaging 14.5 points and a team-leading 5.6 assists while shooting 47.7% from the field.
Along the way, he has hit game-winners to beat Houston and Saint Mary's. Just like it was supposed to be after winning four state championships in high school.
The problem is, it wasn't that way until now.
Teamed with Eric Mika and Nick Emery in high school, Haws was part of a trio that was expected to revolutionize BYU basketball. Never mind that the program has reached the Sweet 16 only twice since 1981, the Lone Peak group was taking BYU to the promised land every year.
For different reasons, Mika and Emery left the program before their eligibility expired. The three played only one season together in college and failed to make the tournament.
As the Lone (Peak) survivor, Haws was a target of criticism for BYU's failure to play in the tournament during his first three years. But here he is, having played through the revolving door of teammates and even a coaching staff overhaul.
Enduring to the end is worth it.
"TJ Haws is the most surprising player to me," former BYU star Travis Hansen said in an interview with The Zone Sports Network. "He was good last year, but he's become a phenomenal player. Barely makes any mistakes. He's like a coach's dream — you're not going to make too many mistakes; you're going to make the right decision every time. He's shooting a very high percentage and leading in a phenomenal way."
Not to say Haws played poorly over his first three years, but it is clear this is BYU's most talented team during his college career. Continued improvement, combined with better teammates, has allowed Haws to flourish.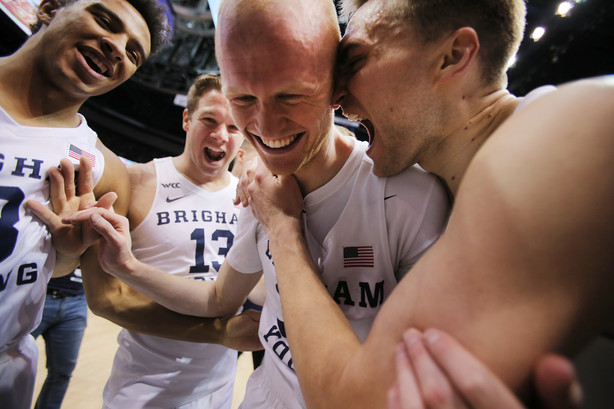 The most important addition is Jake Toolson, who followed new coach Mark Pope over from Utah Valley University as a graduate transfer. Toolson, who played his freshman season at BYU, has provided the toughness and leadership that has helped ease the pressure on Haws.
Former BYU coach Steve Cleveland thinks Toolson has had a calming effect on Haws, who has played under control much more this season.
"Jake came in and took some of responsibility of leadership that TJ didn't have to carry on his shoulders by himself," Cleveland said on The Zone Sports Network. "He's still a significant leader on that team, but Toolson comes in and he kind of just establishes himself."
Toolson immediately became a vital cog, teaming with Yoeli Childs as the top two scorers. His presence allowed Haws to settle in as the primary playmaker and also put other role players in positions better suited for their talents.
The collective group has put BYU in contention to become the best team since the Jimmer Fredette-led Cougars reached the Sweet 16 in 2011. With a few breaks along the way, maybe the first Elite Eight appearance since 1981 is possible."
"Hands down, no matter where they go, they can win two games," Hansen said.
Whatever happens over the next three or four weeks, Haws has cemented his BYU legacy. In the end, he played up to his true capability.
"To see him playing this way, I honestly could not be happier for anybody on that team more than I am for TJ," Cleveland said. "TJ is someone who will always be beloved at BYU because of what he kind of endured and how he's finishing."
More from Patrick Kinahan:
---
×