OREM — The unspoken rule in low-major college basketball, when bracketologists are scarcely breaking down resumes and far from the view of national television cameras, is that November doesn't matter.
December doesn't matter.
Not even January, for the most part, matters.
The general rule of low-major college hoops — conferences like the Western Athletic and others — is that February and March are the most important months.
If that's the rule, then Utah Valley is following it to the letter.
Brandon Averette had 23 points, Isaiah White added 15 points and seven rebounds, and Casdon Jardine supplied 14 points, five rebounds and three assists to help Utah Valley pull away for a 92-80 win Saturday afternoon over Grand Canyon in the UCCU Center.
TJ Washington dished out 13 assists for the Wolverines (11-17, 5-8 WAC), just one off the UVU all-time single-game record.
"My hard work is starting to pay off late in the season," said Averette, who scored 20-plus points in back-to-back games. "That's really when we want it to pay off."
Trey Woodbury's 3-pointer and Isaiah White's rim-rattling dunk powered an 18-3 run that put the Wolverines up 29-18 with just under six minutes remaining in the first half. But Carlos Johnson had 17 points by halftime to pull the 'Lopes back within 38-31 at the break.
Trey Woodbury and Brandon Averette have 7 points apiece to lead @GoUVU against @GCU_MBB at the half. #WAChoopspic.twitter.com/5nHbC4XTLP

— KSL.com Sports (@KSLcomSports) February 22, 2020
But Jardine laid down a pair of 3-pointers less than three minutes into the second half, and Utah Valley pushed the lead to 51-37 by holding GCU to just two field goals by the under-16 timeout, and the 'Lopes (12-15, 7-6 WAC) never threatened again.
It wasn't just a massive win because Grand Canyon ranks third in the conference, or because Cal State Bakersfield — who lost to Utah Valley 72-58 two nights ago — also ranks ahead of the Wolverines.
It's about mentality. It's about sharing the basketball.
Maybe most importantly, it's about growth and improvement.
"We feel like we're playing good basketball, but we still feel like we can do better," Washington said. "Defensively, we were great at the start of the year. Now, offensively, we're better.
"If we can bring back that defense with our offense, then we feel like we're tough."
A 31-point loss to Colorado State? Got it. Falling in the final minute at Southern Utah? Done and done. Giving up a late lead on the road at WAC rival Kansas City before a 68-63 defeat? Check that, too.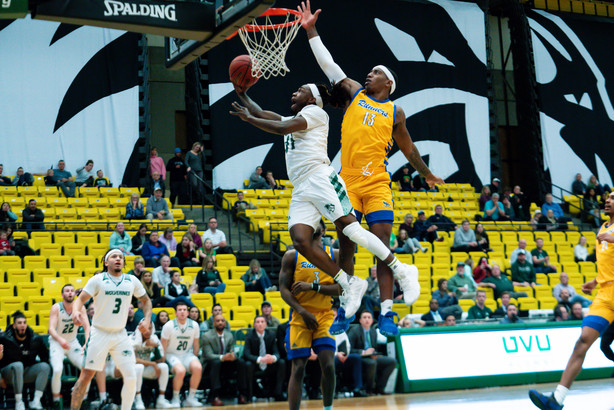 "We had 13 games decided by four points or less," Averette said. "We've been right there all season — but we definitely feel like we're turning the corner right now. We want to go into the conference tournament with as much fire and intensity as possible."
The Wolverines had never won back-to-back games in Madsen's brief tenure in the WAC. They only put together consecutive wins once, an 80-65 victory over NAIA Antelope Valley followed by a 94-73 win over Chicago State in their WAC opener Jan. 2.
Carlos Johnson and Alessandro Lever tied a game-high with 23 points for Grand Canyon. But Utah Valley countered with five players in double figures. The Wolverines assisted on their first nine makes, and 26-of-29 overall.
"We had a good week of basketball. But we don't want to stop there," Madsen said. "This was a good week. Grand Canyon is a very good team and we respect them. But we don't want to be peaking now. We want to continue to the work every day, watch the film and continue to build momentum as we go forward."
×
Related Stories