Estimated read time: 4-5 minutes
This archived news story is available only for your personal, non-commercial use. Information in the story may be outdated or superseded by additional information. Reading or replaying the story in its archived form does not constitute a republication of the story.
PROVO — With a few jumpers, a pull-down off the rim, and even a 3-pointer, Yoeli Childs moved within six spots of BYU all-time greater Kresimir Cosic with his 42nd career double-double.
And that was just the first half Thursday night against Santa Clara.
But with the game on the line of a one-possession game, the senior forward from Bingham High was forced to watch from the bench with four fouls.
All he could do was hope, or pray, or will his team to its seventh consecutive win.
In other words, it was TJ Haws time.
Childs had 22 points and 11 rebounds, and Haws added 28 points, nine assists and a perfect 12-for-12 free-throw shooting as newly ranked No. 23 BYU basketball held off the Broncos 85-75 in the Marriott Center.
"In tough, physical games like that, if you can get that 1-and-1, then it's a huge deal," said Haws, whose team outscored the Broncos 22-13 from the foul line. "I thought we did a really good job of getting to the line frequently, and that helped us a lot when shots weren't falling as much."
Jake Toolson supplied 20 points and 10 rebounds for the Cougars (22-7, 11-3 WCC) in their penultimate home game of the regular season, two nights before they welcome No. 2 Gonzaga to the Marriott Center for a senior-night tip.
Former Wasatch Academy standout Josip Vrankic had 28 points and 11 rebounds to lead the Broncos (18-10, 5-8 WCC) in their fourth straight loss. Tahj Eaddy added 11 points, including three 3-pointers, for Santa Clara.
"I thought Josip was outstanding tonight," Santa Clara coach Herb Sendek said. "Even though we didn't come away with the win, I thought our team really tried to play the right way and did a lot of good things."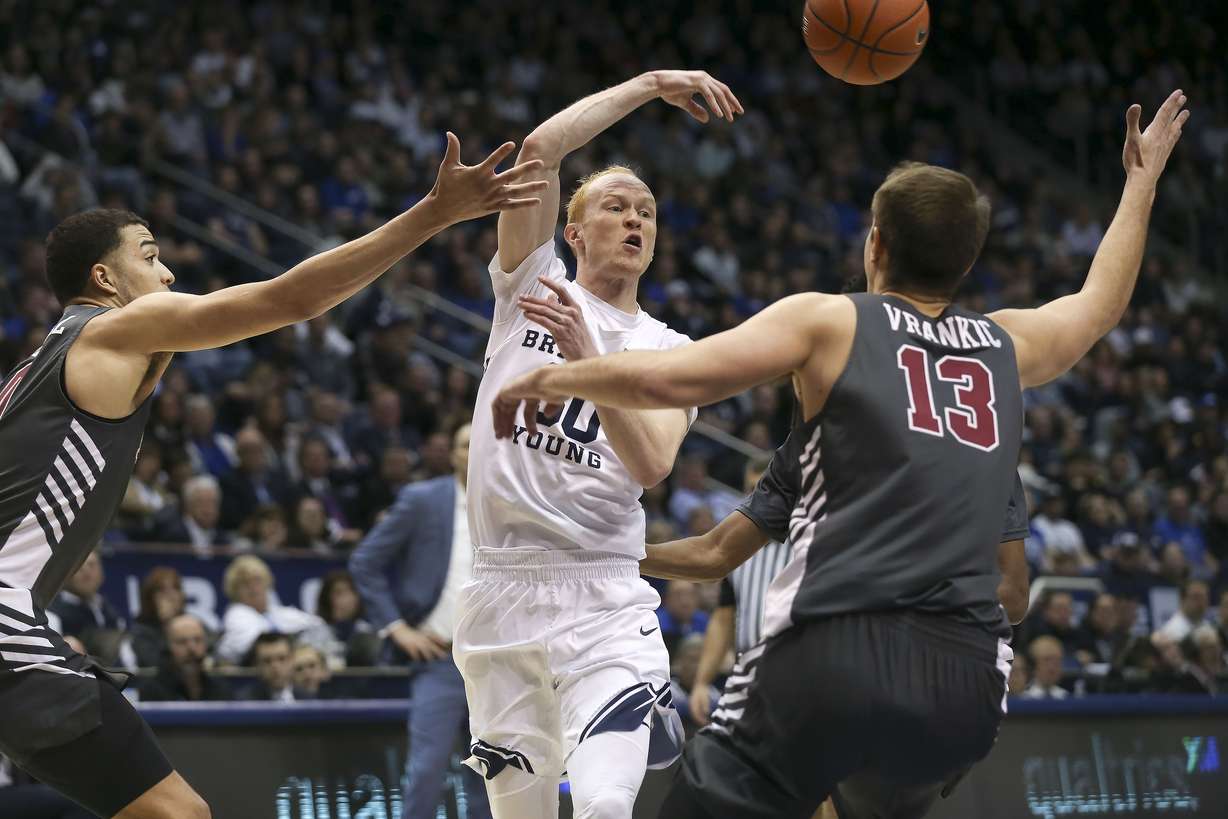 But BYU weathered a storm, one that included a flurry from the nearly unstoppable Vrankic, who made 10 of 19, Eaddy from the outside, and Keshawn Justice, who had 10 points and eight rebounds.
On a night when the NCAA's top 3-point shooting team in the country only hit three treys — two from Childs and one from fellow forward Kolby Lee — BYU found a way to do something it had yet to do in the past decade since joining the West Coast Conference: win seven league games in a row.
"I couldn't be more proud of our team," BYU coach Mark Pope said. "The guys battled, and they figured it out. It was a much different game plan against us, and the guys figured that out."
The Broncos shot just 40 percent from the field, including 1 of 9 from 3-point range, and Childs and Toolson combined for 16 of the Cougars' 21 rebounds to limit the rest before the break. But the second half was entirely different.
Sophomore Trey Wertz drained a 3 to cap a 7-0 run for the Broncos out of halftime, pulling the visitors within 40-37. The visitors' torrid shooting continued, hitting 66.7 percent to open the half en route to a 49-47 edge on Eaddy's triple with 13:21 to go.
BYU made just 2 of 12 field goals to open the second half, including an ice-cold 0 for 4 from 3-point range. The Cougars finished just 48% from the field, including a season-low 3 of 13 from deep.
With the game tied at 66-all with 5:37 to go, Haws took over. The senior from Alpine dished to Toolson in the paint, and scored or assisted on the next 13 points to help the Cougars pull away for good.
"Santa Clara made an all-out commitment to double up the post and not give up 3s. So the poison there is TJ Haws running downhill; I don't know if anyone wants to see TJ Haws downhill," Pope said. "He's too good. He's unbelievable. He's really special."
Nowhere was it bigger than at the free-throw line, where Haws and Toolson combined for the final 6 points from the charity stripe in the final three minutes.
"It's always important to win, and coach has said all year long that it's really hard to win. Any time we can win, I feel like it's a step in the right direction," Toolson said. "Now there are things that we'll look at and things that we'll have to shore up. But I think winning is getting better, and I feel like we did that."
Next up
BYU hosts No. 2 Gonzaga in the regular-season home finale Saturday at 8 p.m. MT (ESPN). The Cougars wrap up the regular season next Saturday, Feb. 29, at Pepperdine (4 p.m. MT, CBS Sports).
×
Related stories
Most recent BYU Cougars stories