Estimated read time: 4-5 minutes
This archived news story is available only for your personal, non-commercial use. Information in the story may be outdated or superseded by additional information. Reading or replaying the story in its archived form does not constitute a republication of the story.
PROVO — One thing notably absent from the BYU men's basketball team as it looks to build up a resume as an NCAA Tournament "lock" comes outside of the Cougars' fearsome home environment, the Marriott Center.
That is to say, road wins.
Winning away from home is hard, and while BYU — which ranks No. 23 in the NCAA's NET rankings, No. 17 in KenPom, and is beginning to receive votes among the nation's top 25, most recently by the Associated Press and CBS Sports' Top 25 — has a range of resume builders, the Cougars are just 3-5 in true road games (against the No. 33-rated strength of schedule in the nation, at that).
The Cougars have been remarkably consistent at home, including avenging road losses — and much less on the road.
As head coach Mark Pope likes to say, "this game" will often provide exactly what you need. And the Cougars will get more of what they need as they travel three times in their final five games, beginning Thursday at Loyola Marymount in Gersten Pavilion (9 p.m. MST, ESPNU).
"Both of these teams have struggled in the league. But if we don't come in at 100 percent, we aren't going to have a chance to win," Pope said after Tuesday's practice in the Marriott Center. "If we come in at 100 percent, we're going to have a chance to win.
"The game keeps you honest. Unless you're Gonzaga, you can't roll in with any assumptions. You have to play, and play with every bit of your heart and soul."
Pope's comment about Gonzaga was said with a portion of his tongue tucked inside his cheek. But the West Coast Conference has become a home-friendly league this season. The Zags (25-1) top the WCC with an 11-0 conference record, but every other team has at least three losses — starting with the Cougars, whose losses have all come on the road: at Gonzaga, at Saint Mary's, and at San Francisco.
Two of the third-place Gaels' four conference losses have come on the road, the same number as Pacific (which is tied with Saint Mary's at 7-4 in WCC play), while the next two teams in the standings Santa Clara and Pepperdine have three road losses apiece.
With Gonzaga running away with the league regular-season title, road form will likely decide the seed lines for the upcoming WCC tournament in Las Vegas in March.
Making each road trip all the more vital — and difficult to play in, BYU forward Zac Seljaas said.
"It's always a different game, whenever you go out, especially on back-to-back road games," he added. "You have a different vibe each time you go.
"It's tough, but we just have to get our minds set, to focus on one thing, and try to do that as best as possible."
At first glance, the Lions (8-16, 2-8 WCC) may not represent a "quality road win" for BYU's tourney resume. But Gersten Pavilion has historically given the Cougars fits, with six road wins in nine appearances, including a 76-69 loss in Los Angeles back in 2018.
Each game in the series, which BYU leads 17-5 overall, played away from Provo in the past four years has been decided by an average of 7.2 points.
That's likely to remain a constant Thursday night when the Cougars face an LMU squad playing without a traditional guard, including leading scorer Eli Scott, a 6-foot-6 wing who averages a team-high 15.7 points and 6.5 rebounds. None of the Lions' anticipated starting five of Scott, Erik Johansson, Jordan Bell, Parker Dortch and Keli Leaupepe stand shorter than 6-foot-5, in fact.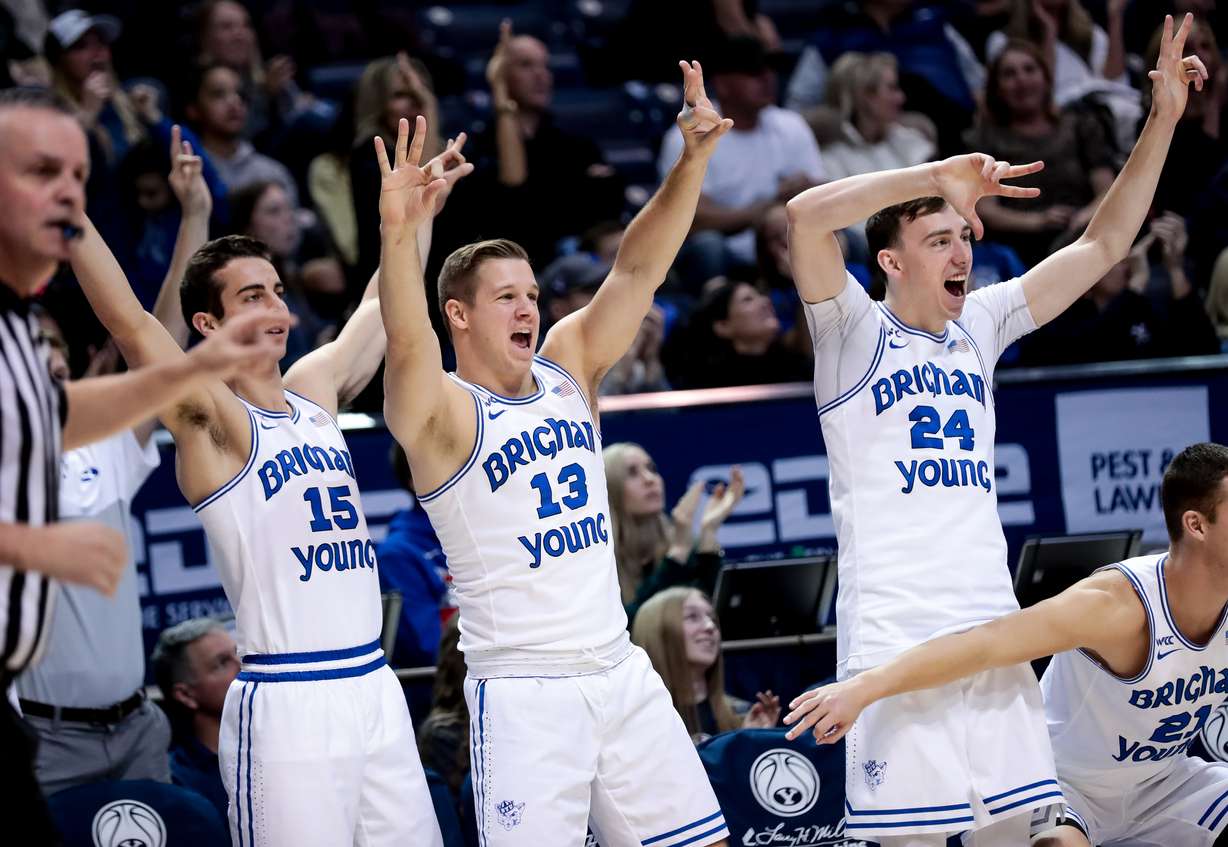 "There's no team that is more confusing to me than this Loyola Marymount team, because they are switching defenses all the time," said Pope, whose team beat LMU 63-38 in Provo on Jan. 4. "They make it really chaotic, and even within a possession, they can switch defenses."
Of course, the Cougars have a unique advantage built into league play — the immense alumni base of the university, as well as fans across the west coast, courtesy of the school's sponsoring institution, The Church of Jesus Christ of Latter-day Saints.
"There are always amazing BYU fans, no matter where we go — even when we were in Hawaii (at the Maui Invitational)," Seljaas said. "Portland had a lot of BYU fans, too. It's just kind of the way it is."
How to watch, stream and listen
BYU (19-7, 8-3 WCC) at Loyola Marymount (8-16, 2-8 WCC)
Tipoff: Thursday, Feb. 13, at 9 p.m. MST
TV: ESPNU (Eric Rothman, Dan Dickau)
Streaming: WatchESPN
Radio: BYU Radio 89.1 FM, KSL 102.7 FM/1160 AM (Greg Wrubell, Mark Durrant)
Series: BYU leads 17-5
×
Photos
Related stories
Most recent BYU Cougars stories