Estimated read time: 4-5 minutes
This archived news story is available only for your personal, non-commercial use. Information in the story may be outdated or superseded by additional information. Reading or replaying the story in its archived form does not constitute a republication of the story.
Beginning in 2019, The Church of Jesus Christ of Latter-day Saints re-emphasized the importance of "home-centered, church-supported" gospel learning and conversion, through implementing "Come, Follow Me - For Individuals and Families." While the youth programs had years to grow accustomed to this new emphasis and way of teaching, this study guide was a new way of life for many Latter-day Saints.
The "Come, Follow Me - For Individuals and Families" manual states that the aim of this program is deepened conversion to Jesus Christ and His gospel. Many families face challenges on how to best engage and teach young children, especially those with short attention spans, and to ultimately achieve the desired outcome of deepened conversion.
Ideas for teaching young children
While all children learn differently, there are a few different ways you can help your children engage in family learning. Listening to or acting out a story, reading scripture, looking at a picture or watching a video, singing, creating, participating in object lessons, role-playing, and repeating activities are all ways your child can learn new concepts.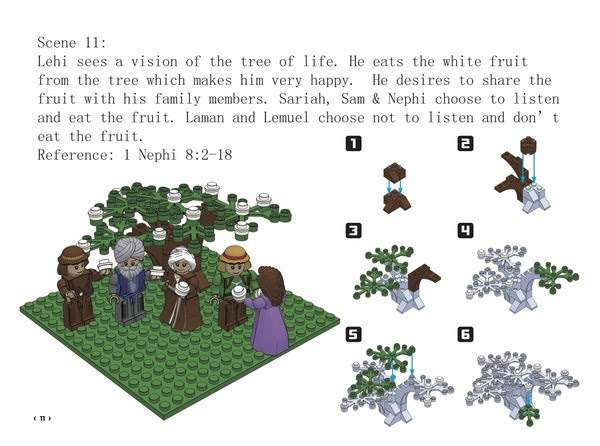 While you can find ample Book of Mormon-based resources online that help children engage Brick'em Young is prepared to help teach your kids about the Book of Mormon with the little ones. This family and gospel-oriented company began when Suzanne and Tim Calton longed for a way to teach their young children the importance of temples.
The family lives in Shanghai, which is several hours by plane away from the nearest temple in Hong Kong. What started as a small idea on how to teach children and bring families together for some good, non-electronic fun, has flourished into a global company.
Building a testimony of the Book of Mormon
Now featuring more than 12 temple sets, they've also introduced a variety of figurine sets, including a nativity and a recently released Book of Mormon set - perfect for use with the 2020 "Come, Follow Me" year of studying the Book of Mormon.
The Book of Mormon set includes 6 main bodies, 20 heads, 15 hats/helmets, 8 hair pieces, 5 beards, 5 spears, 5 swords, 5 bow and arrows, 2 pole staffs, 1 chain, 1 Golden Plates, 1 brass plates, 1 Liahona, 1 camel, 1 horse, 2 sheep, several pieces to construct a ship, a tree of life, towers, walls, rocks, trees, and bushes — all for under $30.
With a variety of pieces, configurations, and recreations of scenes from your weekly Come, Follow Me discussions are endless. As you read and discuss stories and principles from the Book of Mormon, your children can build out the scene and visualize the story in front of them.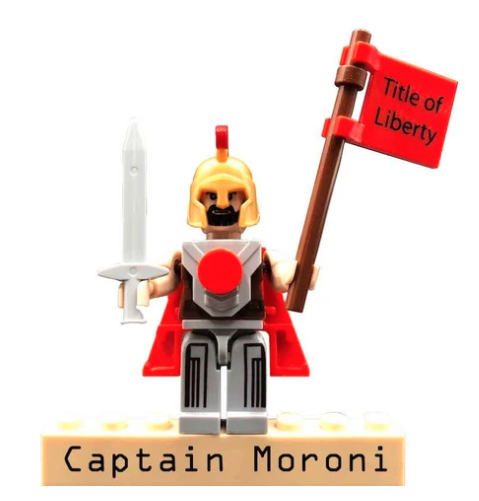 Suzanne Calton said, "The Book of Mormon figurine set allows kids to mix and match figurines and accessories to literally tell almost any story from the Book of Mormon. " She continued, "You can build the Tree of Life, build a boat for Nephi and his family to sail to the promised land, or play with Captain Moroni, Abinadi, Abish or other characters scripture."
Should you need help in visualizing some scenes, the Book of Mormon figurine set comes with a downloadable instruction manual for ideas on recreating over 30 of the most well-known stories of the Book of Mormon.
Brick'em Young models are meant to create a fun, purposeful activity the whole family can enjoy, ensuring that learning and fun are taking place in the home.
"Many parents have expressed excitement about having a project for their children to do which does not involve electronics," said Suzanne Calton. "It makes an ideal gift as it connects faith, family, and fun."
Succeeding with "Come, Follow Me" in your family
This year, make the most of studying the Book of Mormon with your little ones by building on their testimonies on the foundation of His word with all the fun resources Brick'em Young has to offer. From now through Feb. 12, the Brick'em Young Book of Mormon figurine set is $10 off. Visit their website to check out all of their faith-based sets.
×