Estimated read time: 4-5 minutes
This archived news story is available only for your personal, non-commercial use. Information in the story may be outdated or superseded by additional information. Reading or replaying the story in its archived form does not constitute a republication of the story.
SALT LAKE CITY — Riverton native Joe Barlow will be among the pitchers and catchers reporting to spring training on Tuesday, Feb. 11 to compete for a spot in the Texas Rangers bullpen after he was listed as a non-roster invitee of the club.
The Rangers had a decision to make with their prized right-handed prospect this past fall: Place Barlow on the 40-man roster in November or expose him to the Rule 5 Draft at the winter meetings where other teams could claim him for their own active roster.
November came and went without Barlow's name added to the roster, leaving him unprotected. In December, all other major league clubs passed on selecting him, maintaining his contract rights with the team that drafted him. At the beginning of the year, the Rangers let him know he was being invited to big league camp.
"It was one of those things that was out of my control," Barlow said. "I did what I could do during the season, but I was just blessed to have another day to play baseball."
Barlow might seem especially grateful for a player who was left unprotected by his club over the winter — that's because it wasn't long ago that he had anything but a secure future playing in the game he loves. Through high school and most of his junior college career at Salt Lake Community College, Barlow was a catcher with an underwhelming draft profile. He had a strong arm, but not much else to tout.
He didn't receive attention from scouts until he was a sophomore, when by chance, late in a game, his coach threw him in to pitch in a bases-loaded jam. He struck the batter out to end the inning and stranded the runners. He stayed in the game and closed the final inning, adding two more strikeouts.
The four-out save was not what had the scouts from the Rangers wide-eyed, however — it was the 96 mph fastball that exploded out of Barlow's hand.
With a power-curveball to contrast his fastball, and a 6-foot-3 frame, soon the Rangers' scouts were sitting down with Barlow to gauge his interest in converting from catcher to pitching full time. It wasn't a hard sell to make considering the catcher hit just above the Mendoza Line at .202 his freshman season.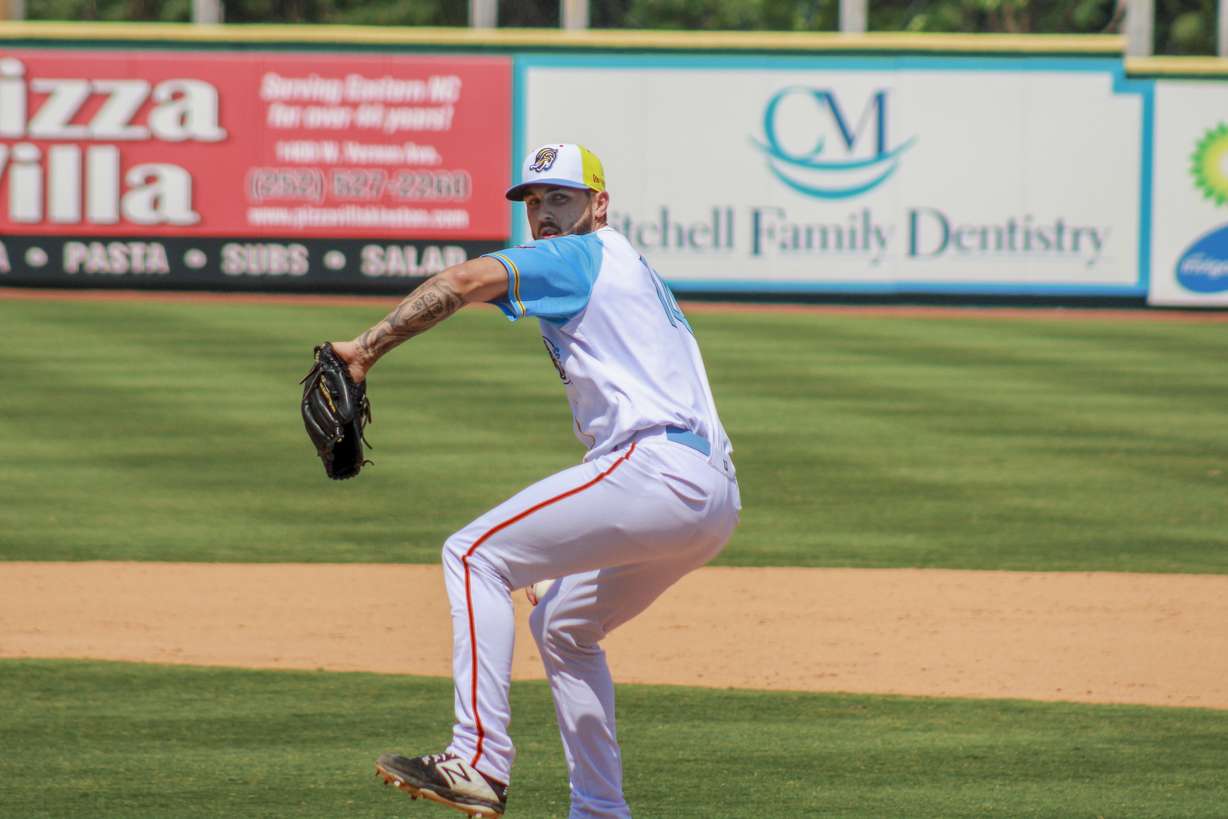 So, the Rangers made Barlow their 11th round pick in the 2016 draft, signing him to a professional contract for $85,000 to become a pitcher in their organization.
After spending the past three full summers at various stops in the Rangers organization, Barlow is ready to finally compete against other major league players. If all goes according to plan, he will have about 12 appearances this spring to make his case to be placed on the Opening Day roster for 2020.
"I feel blessed that I'm getting that opportunity," Barlow said. "I'm really excited. (The MLB players) have a lot of knowledge that obviously I don't have or I would be there. I'm looking forward to learning and making friendships with them."
Barlow finished the 2019 season in AAA, playing in 19 games for the Nashville Sounds. He struck out 14.7 batters per nine innings in his combined appearances with the Single-A Down East Wood Ducks, AA Frisco RoughRiders and the Sounds. He was unhittable for much of 2019, prompting two promotions throughout the season. For the Wood Ducks, he gave up just one earned run in 23.2 innings pitched, and in Frisco he allowed just six hits in 16 innings.
Although he was tuned up in Nashville — he allowed 17 runs and 21 walks in 17.1 innings — he still had a remarkable season in which he demonstrated his potential value to a big league club with his high strikeout rate and improved control.
As he heads to Surprise, Arizona, home of the Rangers' spring training facility, to begin final preparations for the season, he hopes to refine his ability to locate his off-speed pitch in any situation. That, he believes, will make him tough to hit by hitters at any level. If Barlow can show that his rough entry to Triple-A was just a blip in the radar, he will make it hard for the Rangers to keep him off its active roster for long.
Though he has faced the Dodgers' Enrique Hernandez and D-Backs' David Peralta in rehab at-bats over the years, this spring will be the first extended look he's had against MLB hitters. Despite this, he said it won't affect his approach.
"I would get nerves if I was to pitch in a junior varsity game against a high school team," Barlow said. "I try to use that to get me going and not treat it as a negative. This is my body getting ready to go to war."
×
Most recent Sports stories