Estimated read time: 5-6 minutes
This archived news story is available only for your personal, non-commercial use. Information in the story may be outdated or superseded by additional information. Reading or replaying the story in its archived form does not constitute a republication of the story.
PROVO — Everybody has a Kobe Bryant story.
And perhaps that's the reason why the death of the Los Angeles Lakers star and worldwide celebrity has rocked the country in the aftermath of Sunday's stunning helicopter crash that killed Bryant, his 13-year-old daughter Gianna, as well as Orange Coast College baseball coach John Altobelli, his wife Keri and daughter, Alyssa; Christina Mauser, an assistant girls basketball coach at a K-8 private school in Orange County; Sarah Chester and her daughter, Payton, a teammate of Gianna and Alyssa; and the pilot, veteran helicopter specialist Ara Zobayan.
All of the victims of Sunday morning's crash deserve respect and love and a heartfelt tribute to a life lost far too soon. But few people had or will have quite the impact of Bryant.
Some loved him. Some hated him. But all respected him, and almost anybody who grew up in the late 1990s and early 2000s imitated him as they threw a piece of garbage into a wastebasket.
Everybody had a Kobe Bryant story, including BYU basketball coach Mark Pope.
Pope entered the NBA at the same time as the star who would later become known by one name. Bryant was a fresh-faced teenager when he made the jump from Lower Merion High School near Philadelphia to a first-round pick in the 1996 draft, while Pope was a second-round draft pick the same year by the Indiana Pacers after spending seasons at Washington and Kentucky.
"I think the best tribute to Kobe Bryant right now is all the Kobe stories that we didn't know about — where he went out of his way to extend himself to people," Pope said before BYU's home game Thursday against Pepperdine (6:30 p.m. MST, CBS Sports). "We all watched in awe of the things he did on the court. It was really amazing."
Pope recalled a game when he was with the Milwaukee Bucks when Bryant single-handedly brought the Lakers from behind to win. The future BYU coach could only stare in awe from his spot on the bench as Bryant made three straight buckets — each one harder than the last — to will his team to victory.
But more awe-inspiring were the quiet stories, untold until the days after his death, when Bryant made somebody's life a little bit better.
"What's really a tribute to him — and nobody would understand not living a perfect life better than us at BYU," Pope said, "is hearing all the stories where he quietly reached out to different people in different genres of life and tried to make an impact."
Bryant left an impact on a lot of everybody — virtually anyone involved with the game of basketball in the past 25 years, whether at the amateur, college or professional level.
Maybe that's why his death impacted so many people around the country.
But even beyond basketball, Bryant's death stirred thoughts and feelings around the world. Since retiring from the NBA in 2016, Bryant has been known for his work in business, television and other media, as well as his training facilities like the Mamba Sports Academy.
More than a basketball star and celebrity, Bryant was a tireless father of four. From Natalia to Gianna to Bianka and baby Capri, Bryant's legacy became as much about raising his children as how many points he scored in a Lakers uniform.
Pope, too, is a father of four daughters. He'll send his oldest Ella, who starred at Timpview High before playing a year at Ohio, out on an 18-month mission for The Church of Jesus Christ of Latter-day Saints in Ecuador this week.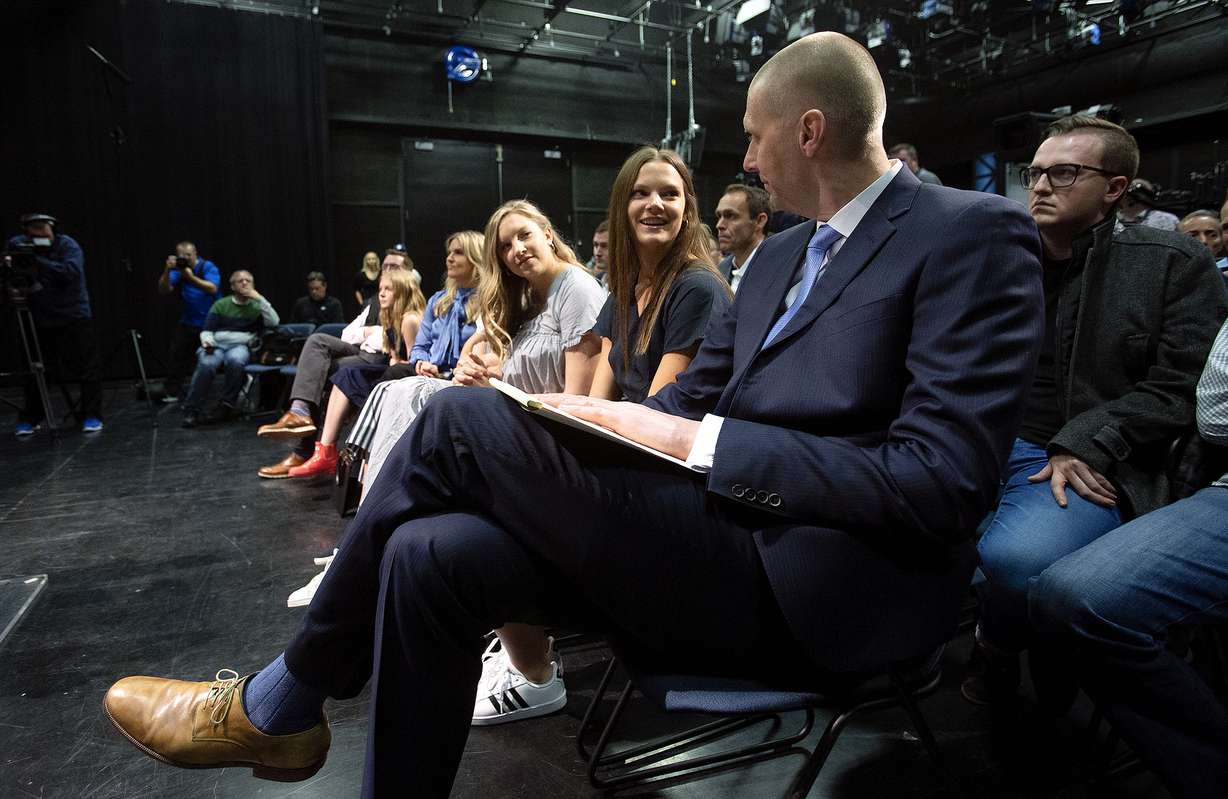 The similarities hit close to home for the Pope, 47, and Bryant, who died at 41.
"That slice of legacy is hopefully bigger than his basketball legacy," Pope said.
Maybe the outpouring of love and support at Bryant's death is also a reaction of what death — like his, or rising basketball phenom Gianna's, or any of the seven other people who tragically lost their lives in Sunday's crash — stirs in each of us.
Maybe it's simply a reminder to the rest of us, to be a little kinder, to drive a little slower, to stop and smell the roses and be a little bit better.
"Cherish every day, and enjoy your loved ones, your family and your friends," Utah State coach Craig Smith said before the Aggies' 68-45 win at Wyoming. "You get to this point in the season, it's the dog days bit. But this gives you perspective for how fortunate you are. Cherish your teammates, enjoy your time with them.
"Sometimes you look at certain people as being almost invincible, and this tells you how precious life is — how it can go so quickly."
How to watch, stream and listen
What: Pepperdine (11-10, 4-3 WCC) at BYU (15-7, 4-3 WCC)
When: Thursday, Jan. 30 at 6:30 p.m. MST
TV: CBS Sports Network (Jason Horowitz, Ryan Hollins)
Stream: CBSsports.com
Radio: BYU Radio 89.1 FM, KSL 102.7 FM/1160 AM (Greg Wrubell, Mark Durrant)
Series: BYU leads 14-9
×
Photos
Related stories
Most recent BYU Cougars stories