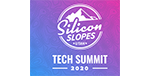 This story is sponsored by Silicon Slopes Tech Summit.
The Silicon Slopes Tech Summit recently announced their headline speaker as Mark Zuckerburg, the CEO of Facebook, much to the shock of the tech industry. In between major tech figures' speeches and presentations, the tech summit will also have some fun in true tech form.
On January 30 and 31st, anyone can participate in the Slopes Arcade. If you're a gamer and love playing with others, especially famous gamers, you'll want to check out this event. Gaming celebrities and local champs will be there playing and interacting with everyone. It's also a chance for you to show off your gaming skills and even earn money!
If you're interested in attending, be sure to take this quiz and enter your email for a chance to win tickets to the Slopes Arcade! Which Mario Kart character are you? Take the quiz below to find out.
×