Estimated read time: 3-4 minutes
This archived news story is available only for your personal, non-commercial use. Information in the story may be outdated or superseded by additional information. Reading or replaying the story in its archived form does not constitute a republication of the story.
SALT LAKE CITY — Luka Doncic thought he had an open layup.
Rudy Gobert had switched onto him out at the 3-point line, and a subtle hesitation dribble had frozen the Jazz center for a brief moment. That moment was enough for Doncic to drive past Gobert into the paint. The 20-year-old wunderkind went up to lay it off the glass. But before the ball got there, Gobert had blocked it away.
"Yeah, I mean, I thought I had like three open layups. And he came by, and I didn't see him coming at all," Doncic said. "Very, very long, very good defensive player. He's just tough to play against."
Tough in the paint — and now, tough on the perimeter, too. After Doncic scored 12 points in the first quarter, helping Dallas jump out to an 11-point lead, the Jazz decided to live with Gobert switching onto him out on the 3-point line.
The strategy mostly worked, and it made for a fun one-on-one matchup between one of the league's best offensive talents and one of the league's top defensive players.
"It's kind of fun," Gobert said of the matchup. "He's a very good player, and he can pretty much do it all. He can drive, he has that step back, he can draw fouls, too. He tried to get me with that little pass fake, but I told him, 'Not this year.' He's such a great player. I get excited for those kind of games because I know I'm going to end up guarding him a few times, and it's always fun to do so."
It also helps show just how good Gobert is — and how much he's improved.
Two years ago, after the Jazz were knocked out of the NBA playoffs by the Houston Rockets in five games, Gobert knew he needed to get better. Yes, he was the premier rim protector in the league, but Houston was able to pull him away from the basket and he didn't have his usual impact on the floor.
There were two things he thought he could get better at. The first was guarding shooting bigs; the second was switching onto smaller guards on the outside.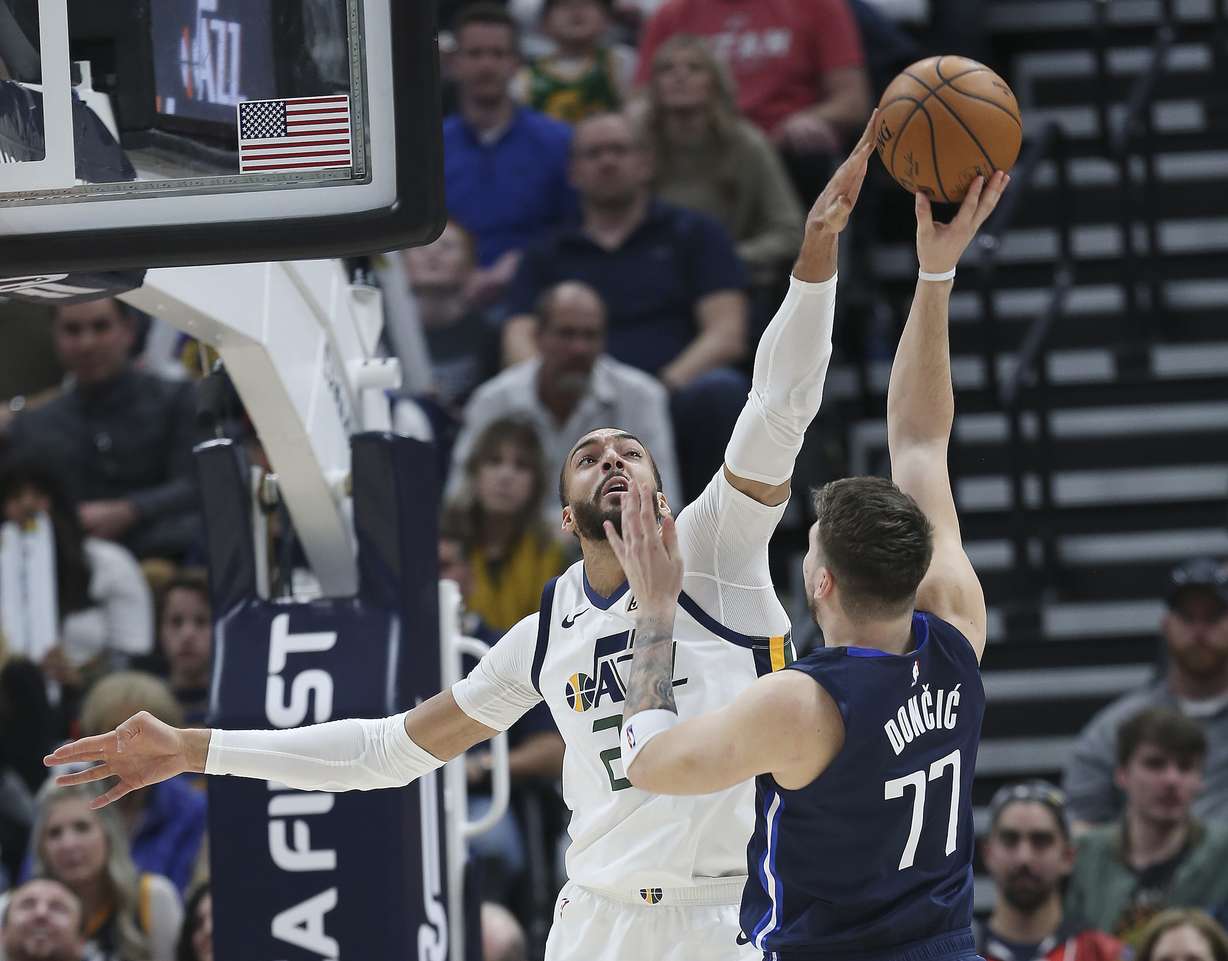 "It was a key two years ago after the playoff series," Gobert said. "I felt like I could get a lot better with that. Last year, I felt I did a great job guarding shooting bigs, popping bigs. This year, I feel like I'm a little better, especially switching onto point guards, making them hit the toughest shot possible."
It's not just him that feels that way, either.
Mavericks' head coach Rick Carlisle watched up close how Gobert was able to switch onto his best offensive player — and one of the best in the entire NBA — and mostly handle the assignment. Carlisle watched how Gobert was able to switch onto Delon Wright at the end of the game and recover to make the game-winning block.
That takes a special kind of big.
"I mean, look, Gobert, you know, he's probably going to be defensive player of the year again," Carlisle said. "He impacts the game massively at the defensive end. He doesn't just do it around the basket, he does it on the perimeter, too, on switches. He does a great job of spacing guys when they drive. We're able to score on a couple drives on him but, you know, the play he made on Wright's drive at the end was an amazing play. Look, he's a great, great defensive player."
But to his teammates, Gobert is more than just a great defensive player — he's a great player, period. Yes, he's once again one of the favorites to win the Defensive Player of the Year award, but his teammates think his name should be popping up for a more prestigious honor.
"Every single game he's game-changer for us," Bojan Bogdanovic said. "He's playing on an MVP-level right now, no more (just) Defensive Player of the Year."
×
Related stories
Most recent Utah Jazz stories