Estimated read time: 5-6 minutes
This archived news story is available only for your personal, non-commercial use. Information in the story may be outdated or superseded by additional information. Reading or replaying the story in its archived form does not constitute a republication of the story.
OREM — As Utah Valley forward Eve Braslis helped dribble out a 57-49 win over in-state rival Utah State in the final week before Christmas break, the sophomore from Melbourne, Australia, couldn't help but feel several emotions.
Exhaustion, because the Wolverines had just put in a full-forty defensive effort to hold the Aggies down.
Relief, after the freshman's previous career high went for naught just a week earlier during a 72-46 loss at Weber State.
But mostly, it was sheer joy — at the Wolverines' first win over a Division I opponent of the year, the first memorable win for first-year head coach (and former BYU assistant) Dan Nielson, and a harbinger of things to come.
"Finally, to get that win against a good D-I school was amazing," said Brasilis, the team's second-leading scorer at 10.7 points and 5.8 rebounds per game. "We knew we could play together like that, and we had been doing it in practice for a while. To finally do it on the court was fantastic.
"We wanted to keep that feeling, and just keep doing it."
Something flipped that Saturday afternoon in the UCCU Center. Something finally synced up between the players and coaches, a full rung of first-year coaches that didn't just include Nielson, but also assistant coaches Ashley Garfield, Morgan Bailey and Keilani Unga.
In short, the Wolverines were finally playing as a team.
As it turns out, adapting to a new coach, new style of play, and with a roster where two of the Wolverines' top four players include sophomores Braslis and starting point guard Maria Carvalho is a bit trickier than expected.
"It took us a while for us to settle into a new coach, and for the coaches to settle into us as players, understanding what we do, how we respond to things — it just took a lot longer than we all thought," Braslis said. "We all thought after the summer that we were there, and then it was a bit of a slap in the face with reality that we weren't quite all the way there.
"We were on a pretty steep learning curve. But we're there now, and the perfect time for conference play."
Something's changed since then, though. After two months of back-to-back losing (save for a 77-61 home victory of NAIA Antelope Valley), the Wolverines started to win.
Utah Valley (8-9) has won seven in a row since Dec. 21, a run that includes five straight victories to open Western Athletic Conference play. The Wolverines (5-0) lead the WAC by 1.5 games over Cal State Bakersfield (11-7, 3-1 WAC), their opponent Thursday in the UCCU Center.
It all started with that one win over the Aggies.
Really, it started a week before, during the loss in Ogden, though.
"There's no question that was big, and you have to couple it with the (loss to) Weber State. We thought we could've won that game, and they kicked our butts," Nielson said. "That was a low point.
"We were seeing success in practice, but to not have any results was frustrating. To see it finally come together against Utah State, to see the girls finally buy into the game plan was really kind of a perfect storm. We knew we could do this."
The winning streak peaked a week ago, when the Wolverines went to Las Cruces, New Mexico, and stunned WAC preseason favorites New Mexico State, 58-54. It was the Aggies' first home loss in conference play in 23 games and signaled that the Wolverines were contenders.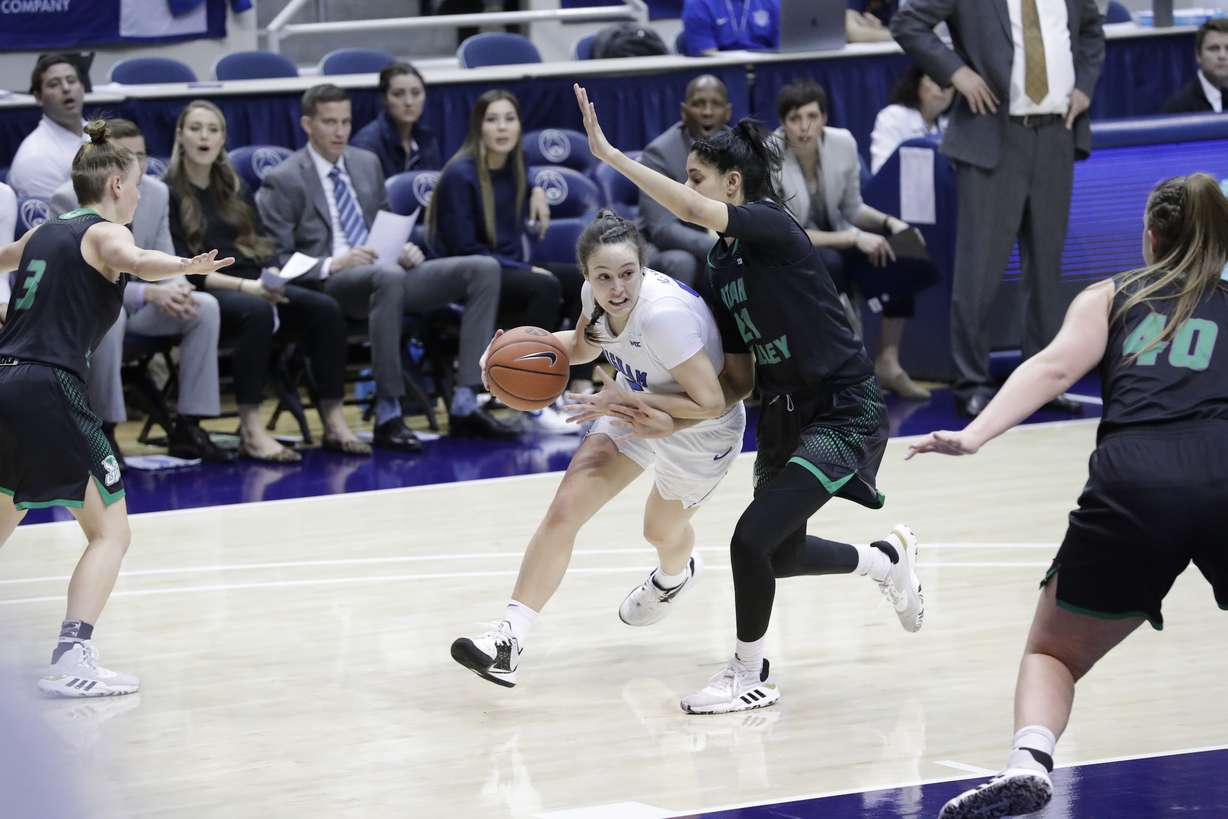 "It was really fun," said Carvalho, the 5-foot-8 guard from Lisbon, Portugal, who averages 7.4 points and a team-best 4.3 assists per game while carrying a 4.0 GPA in biochemistry. "The trip was terrible, though; it's a freaking rough trip. But it felt so good to finally win against New Mexico State, and then to win with just one day to prep against UTRGV. It was amazing."
There's no sneaking up on anyone now.
Utah Valley's next challenge, after earning that first D-I win, that first WAC win, and that startling win streak? Figure out how to play when you know other teams will give you their best shot.
In the Wild West of the WAC, it doesn't matter how you start conference play — be it 5-0 or 0-5. All that matters is how you finish, whether you are peaking at the WAC Tournament championship March 11-14 in Las Vegas.
"We want to win every game possible. But the goal has always been to try to be where we want to be by conference play," Nielson said. "As fun as this last month has been, we're also only a month removed from some pretty bad losses.
"I think we're embracing what got us, and not just moving on. We remember that we were up by 4 against Montana going into the fourth, and blew it — so that at New Mexico State we could be down by 4 going into the fourth and find a way to win."
The Wolverines still remember those losing skids well, too.
"Losing games makes us learn," Carvalho said. "We learned a lot from those losses, and that's how we started winning. We understood that we needed to play together to win games."
×
Related stories
Most recent Sports stories