Estimated read time: 3-4 minutes
This archived news story is available only for your personal, non-commercial use. Information in the story may be outdated or superseded by additional information. Reading or replaying the story in its archived form does not constitute a republication of the story.
SANDY — With the organization still searching for a full-time head coach, Utah Royals FC management knew what it needed out of Thursday's National Women's Soccer League college draft.
Goals, goals, goals.
The Royals scored just 25 goals in 2019, the fourth-worst mark in the nine-team league, and they went after it.
Utah Royals FC selected North Carolina State midfielder Tziarra King with the No. 8 overall selection in the draft, claiming the talented attacking player in the first round of the NWSL draft during the United Soccer Coaches' convention in Baltimore.
With the third pick of the second round, Utah Royals FC added Illinois State midfielder Kate Del Fava. Utah added another goal scorer late in the fourth round, grabbing Texas forward Cyera Hintzen with the No. 31 overall pick.
"There are no words to describe it," King told NWSL's self-produced broadcast. "I'm so excited to be playing with and against the best players in the world. I just can't wait to get started."
King was an attacking midfielder with the Wolfpack, totaling 48 goals and 19 assists in four years in college. But the 5-foot-8 attacker from Sicklerville, New Jersey, projects as a forward in the pro game.
Good thing for Utah, a team which inarguably needed to bolster its goal-scoring ranks before its third season on the Wasatch Front.
"I love to score goals," King said. "It's going to be harder at the next level, but I'm going to try."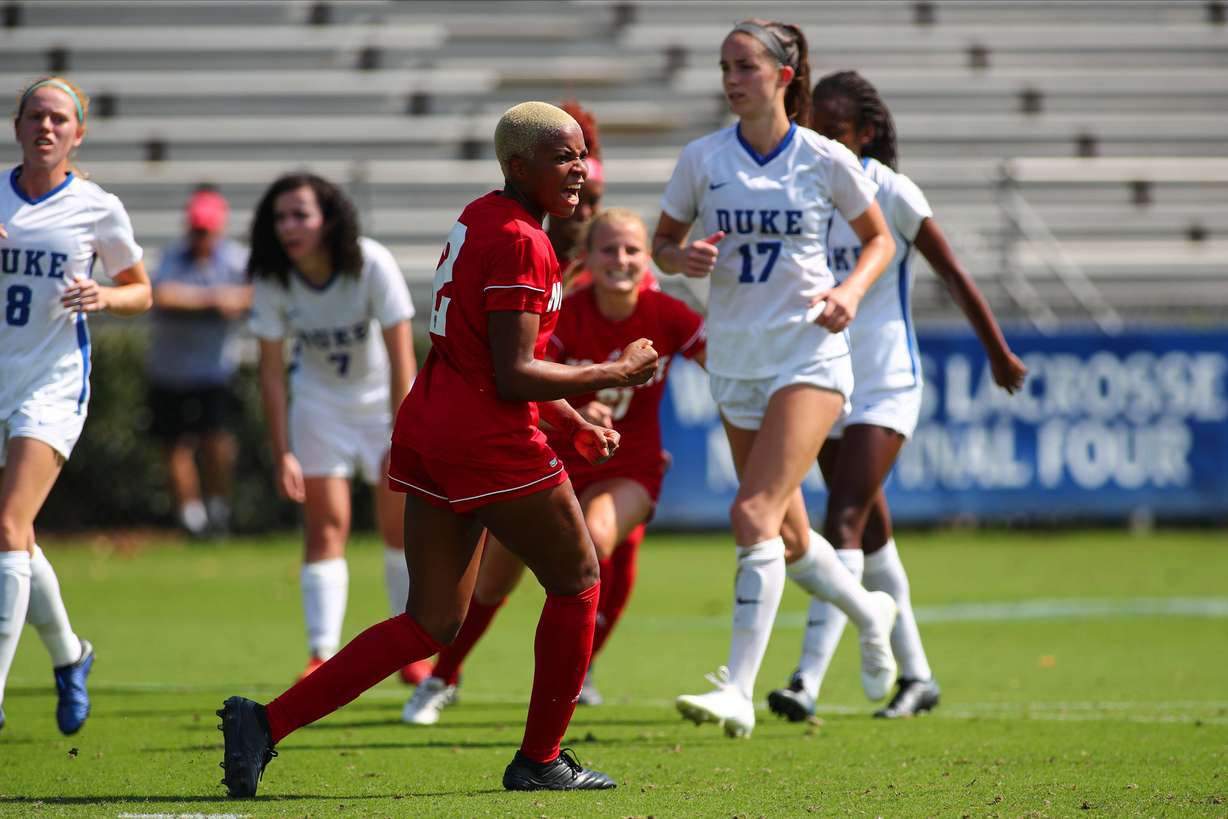 The Royals almost stayed outside the first round of the draft, having traded most of their top-level picks to Chicago in the deal that brought Christen Press and Sam Johnson to Utah. But a late trade for allocation money sent the No. 8 pick back to Utah, and the Royals shipped a reported $60,000 in the league's new mechanism for player acquisition and mechanism to the Red Stars.
Clubs do not disclose or comment on allocation amounts, per league policy.
Regardless, the Royals wanted King enough to spend to get her, and she'll bolster the forward ranks which include Press, former U.S. international Amy Rodriguez, Taylor Lytle, Brittany Ratcliffe, Raisa Strom-Okimoto, Arielle Ship and Mallory Weber.
"Honestly, childhood me is going crazy right now," King said. "I'm so excited."
Preseason training camp won't be the first time King comes to Utah. She played all but 11 minutes in last year's NCAA Tournament regional in Provo, a 2-1 win over Arkansas and a 3-0 loss to BYU.
Del Fava was a four-year multitasker in midfielder for Illinois State, winning Missouri Valley Player of the Year honors as a senior in 2019.
She led the conference as a senior with 17 goals, 39 points, 35 shots on goal and six game-winning goals, collecting six multi-goal games along the way. She also logged 7,099 minutes, a Redbirds program record by a field player.
The Kenosha, Wisconsin, native finished her four-year collegiate career with 25 goals and 11 assists in 84 minutes.
The 5-foot-8 Hintzen scored five goals with four assists as a senior in 2019 with the Longhorns.
Here's the entire list of NWSL College draft picks.
2020 Roster

Utah Royals FC
Goalkeepers: Nicole Barnhart, Melissa Lowder, Abby Smith

Defenders: Katie Bowen, Rachel Corsie, Taylor Leach, Michelle Maemone, Sydney Miramontez, Becca Moros, Madeline Nolf, Kelley O'Hara, Becky Sauerbrunn, Gaby Vincent

Midfielders: Vero Boquete, Gunny Jonsdottir, Lo'eau LaBonta, Mandy Laddish, Diana Matheson, Desiree Scott, Chestley Strother, Kate Del Fava

Forwards: Taylor Lytle, Raisa Strom-Okimoto, Christen Press, Brittany Ratcliffe, Amy Rodriguez, Arielle Ship, Mallory Weber, Tziarra King, Cyera Hintzen
×
Related stories
Most recent Real Salt Lake stories