Estimated read time: 4-5 minutes
This archived news story is available only for your personal, non-commercial use. Information in the story may be outdated or superseded by additional information. Reading or replaying the story in its archived form does not constitute a republication of the story.
SALT LAKE CITY — Over the last month, Bojan Bogdanovic has almost sounded like he's been reading off a script.
After nearly every game, he's run down the same checklist: Unselfishness, good ball movement, good ball handlers, great shooters, and an elite roll man — all the reasons the Utah Jazz's offense has been the best in the league over the last month.
And that's not hyperbole.
Over the last 10 games, the Jazz have an NBA-best 122.0 offensive rating (the Lakers are second at 118.9), they lead the league in shooting (50.2%) and 3-point shooting (40.2%), and haven't lost a game, either.
So much for being just a defensive team.
"Our unselfishness," Bogdanovic said, beginning the list of why things have clicked of late. "A lot of good ball handlers — guys that are really willing passers — and then we got a lot of good shooters on the perimeter. So, then Rudy (Gobert), one of the best rollers in the league, gives us space and an opportunity to attack."
That could have all been said at the beginning of the year, too. But through the first 24 games of the season, the Jazz had just the 24th best offense — and that was with Donovan Mitchell and Bogdanovic both having superb individual starts to the season.
So, what changed exactly? A few things helped play a role.
"It started for us, our spacing wasn't great," Jazz head coach Quin Snyder said. "So a lot of times, when you might be open, you weren't as open. But it's been a real emphasis for us trying to generate 3's."
During the 10-game winning streak, the Jazz have shot 35.1 triples per game — four more than they were attempting during their 13-11 start to the season.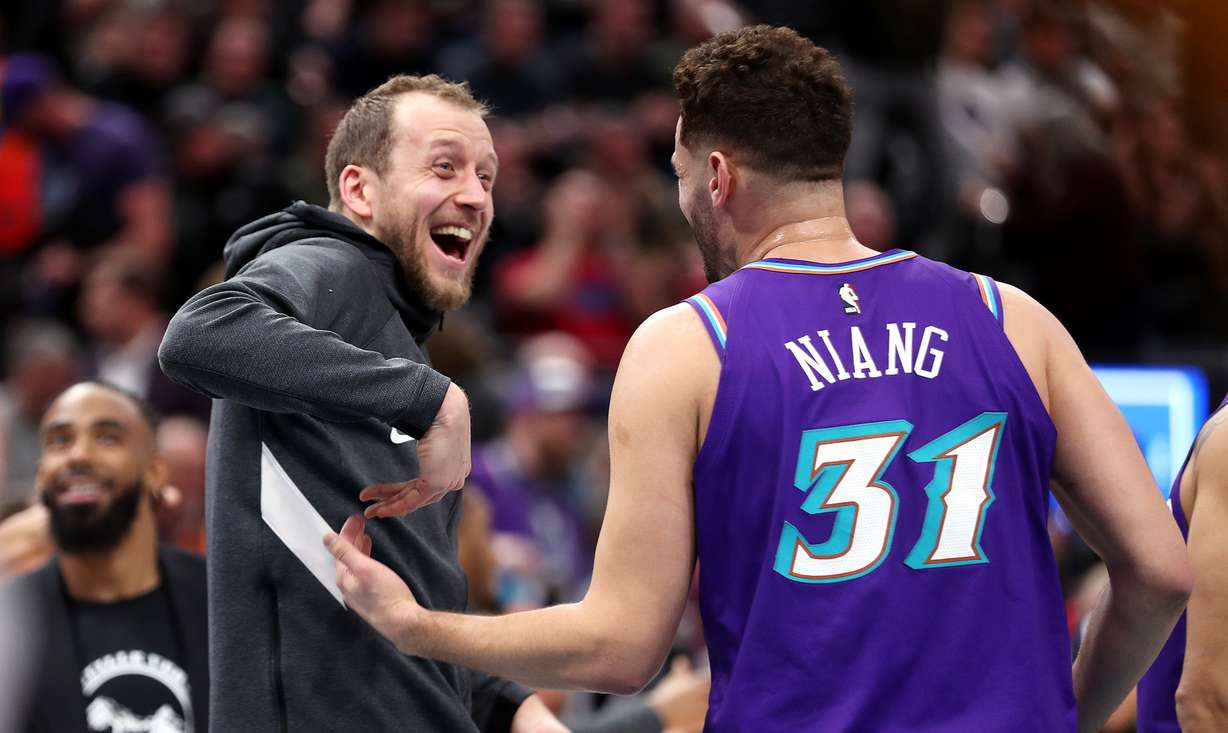 With the Jazz leading the league in 3-point shooting and featuring four players (Georges Niang, Joe Ingles, Bogdanovic and Royce O'Neale) shooting over 41% from deep, the more treys the better.
The Jazz look to create 3's in a number of different ways. They use a Gobert screen or dribble handoff — Ingles has been spectacular at using Gobert as a human shield to get open looks. They can have a ball handler penetrate and kick it out to shooters — Emmanuel Mudiay has been especially effective at doing that of late. And Mitchell and Bogdanovic can always get their own shot, too.
But generating quality looks requires accurate passing and knowing where each other will be on the court. It's also rare for an offense to predominantly be based around a big man's ability to set picks. So there was a learning curve, but one that looks to be over.
"Guys are clicking, guys are flying around and smiling, playing for each other; and that is a way better feeling than being individualized out there and not playing together," Niang said.
Snyder has put a strong emphasis on the number of 3-point attempts because he knows that the law of averages will eventually come into play — especially with the shooters on his team. Look no further than Tuesday's win over the Brooklyn Nets. The Jazz opened that game shooting 3-of-16 from 3-point range, and then preceded to make eight of their next 10.
"We are getting more connected. We are getting to know each other and getting to know a style of play that everybody believes in," Snyder said.
With the numbers the Jazz have been putting up, it's hard not to believe in.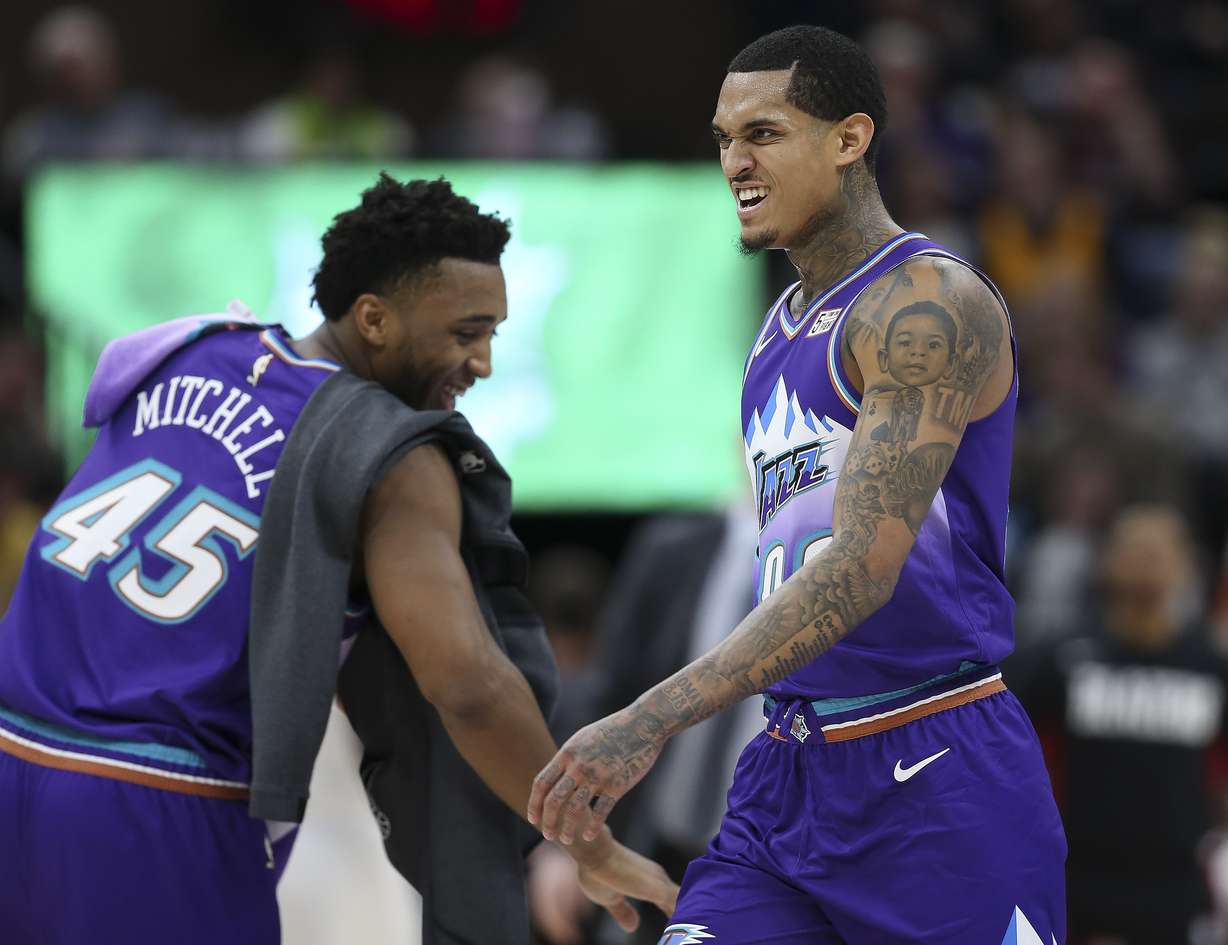 Ingles is averaging 16.8 points, 6.0 assists, and is hitting 53% of 3-point shots over the last 16 games (up from 7.5 points, 4.0 assists, and 32.4% in the 24 before that), and he has thrived playing alongside Gobert for extended minutes. Gobert has benefited from that partnership, too, with his offensive numbers going up playing alongside Ingles.
Then there's the bench.
Utah's 10-game winning streak started in Jordan Clarkson's first game with the team — and that might not be a coincidence. Before Clarkson, the Jazz were 29th in bench scoring at 26.9 points per game. Since trading for him, that average has jumped to 37.8 points per game, with Clarkson averaging 15.0 points and Niang averaging 8.6 in his new increased role.
Utah's uptick in bench production likely will be the thing that will determine if this is simply a hot stretch against some bad teams (six of the 10 wins have come against teams in the bottom eight in defensive rating) or something more sustainable.
According to cleaningtheglass.com, Utah's five most-used lineups have an offensive rating of 115.5 or higher. The problem? All but one of those lineups are made up of a collection of Mitchell, Gobert, Bogdanovic, Ingles, O'Neale and Mike Conley. By the way, Utah's starting lineup featuring Conley has a net rating of plus-17.2 — he wasn't the reason the Jazz struggled early.
Utah's starting lineups have been elite this season, no matter who has started. It was the bench that caused the early-season headaches.
"I think a lot of it is just we made a few adjustments with certain things and guys starting to get comfortable," Snyder said. "We've got a good offensive team."
And lately, they've had the best one.
×
Related stories
Most recent Utah Jazz stories