Estimated read time: 4-5 minutes
This archived news story is available only for your personal, non-commercial use. Information in the story may be outdated or superseded by additional information. Reading or replaying the story in its archived form does not constitute a republication of the story.
AROUND THE SHIELD — Daniel Sorensen is going to find a way to make an impact.
Even if that means on special teams for the former BYU defensive back.
Sorensen tied the game-high with eight tackles, including a pivotal fourth-down stop, and added another tackle and forced fumble on special teams to help the Chiefs rally from 24-0 down for a 51-31 win Sunday over the Texans that advanced Kansas City to next week's AFC championship.
Perhaps the biggest tackle came on a Houston fourth down when he stopped a fake field goal that helped spark the rally.
"When he's not playing in the secondary like he did today, he's one of our best special-teams players — if not the best one," said Chiefs coach Andy Reid, a fellow BYU alum and former graduate assistant under legendary coach LaVell Edwards. "That's how he got into the league and really made his name. We put him in those kinds of situations, and he made a big play.
"That was a big call, and a big play, by (special teams coordinator Dave Toub) — he works on that kind of stuff — and then a nice play by Sorensen."
What did Sorensen do to make such an impact on the game? Simple: his job.
"That's my responsibility," he said. "I did my job pretty much, just like anybody would've done their job.
"We worked together as a team," Sorensen added, "played together as a team, and you saw a great team victory out there."
Houston jumped out to a 24-0 lead early, including a pair of first-quarter touchdown tosses by Deshaun Watson.
But the game was far from over.
The Chiefs, rather rattled off 41-straight points, taking a 41-24 lead on back-to-back touchdown runs by Damian Williams, the latest from five yards out with 4:39 left in the third quarter.
Sorensen helped pace that run, too. The BYU product forced a fumble on a Chiefs kickoff midway through the second quarter, and the ball squirreled right into the arms of another local, Utah State product Darwin Thompson, who returned the loose ball 18 yards to Houston's 6-yard line.
Three plays later, Patrick Mahomes found Travis Kelce for the Chiefs' third touchdown of the game, pulling the hosts within three, 24-21 — one of three touchdowns scored by the tight end in the second quarter during a record-setting first half.
Thank you, Patrick. Thank you, Travis. Thank you, Danny.
Or maybe, thanks to this fan, who left after the Chiefs fell behind so his team could "get that second-half comeback."
Brighton High and Utah alum Jackson Barton was inactive for the Chiefs.
The Chiefs will host the Tennessee Titans in next week's AFC championship next Sunday, Jan. 19 at 1:05 p.m. MST.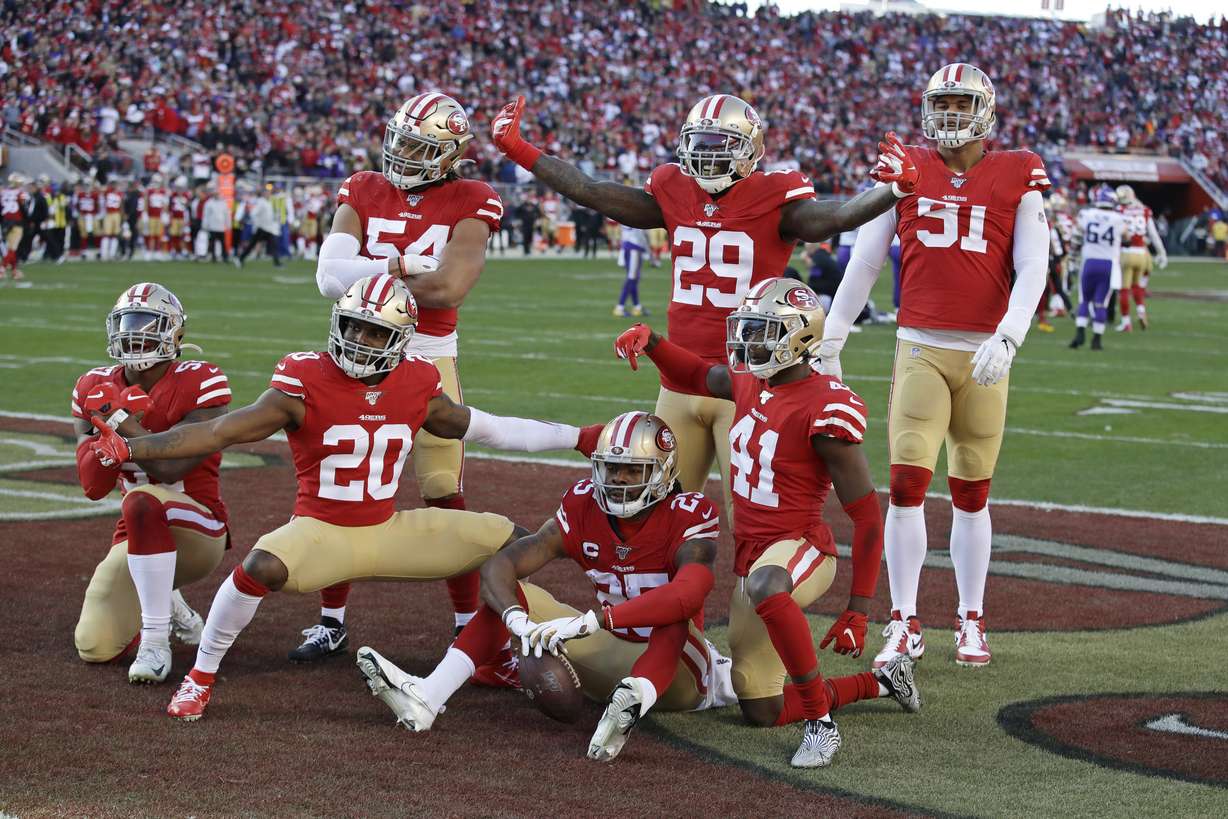 San Francisco 27, Minnesota 10
The 49ers' defense (rightfully) gets a lot of credit, with stars like Nick Bosa, DeForest Buckner and Richard Sherman.
Add Fred Warner to that list, too.
The former BYU linebacker had a team-best seven tackles, and the Niners held Minnesota to just 147 yards of offense with six sacks Saturday to advance to next week's NFC championship.
"I feel like I didn't even have to play a game," Warner jested after the game. "We ran a lot of man-coverage on third down, let the big boys up front go eat, and I'd hear the cheering.
"They did outstanding upfront. It was a huge team win all around … but honestly, I felt like we could've done even better today."
Former Utah punter Mitch Wishnowsky kicked four times for 186 yards, an average of 46.5 yards per punt with a touchback and two kicks down inside the 20.
San Francisco will host Green Bay in the NFC championship next Sunday, Jan. 19 at 4:40 MST.
Seattle 23, Green Bay 28
Aaron Rodgers (243 yards passing, 2 TDs) and Aaron Jones (62 yards rushing, 2 TDs) helped the Packers hold off the Seahawks, with an assist from former BYU running back Jamaal Williams.
Williams caught one pass for nine yards from Rodgers and added a 3-yard rush in the Packers' win.
Former Utah State linebacker Kyler Fackrell came off the bench on defense for the Packers.
Former Utah State linebacker Bobby Wagner had five tackles, a quarterback hurry and a pass defended for the Seahawks. Utah and Brighton High product Cody Barton supplied three tackles for Seattle, and former Highland High standout Bryan Mone added two tackles.
BYU's Ziggy Ansah, Utah's Marquise Blair and former Cedar and Westlake High quarterback-turned-receiver John Ursua were inactive for the Seahawks.
Tennessee 28, Baltimore 12
Former SUU cornerback LeShaun Sims had two tackles on special teams to help the Titans overpower the Ravens.
×
Related stories
Most recent NFL stories