Estimated read time: 3-4 minutes
This archived news story is available only for your personal, non-commercial use. Information in the story may be outdated or superseded by additional information. Reading or replaying the story in its archived form does not constitute a republication of the story.
SALT LAKE CITY — An avalanche slide closed Little Cottonwood Canyon Sunday morning and sent a car off the road but by 2 p.m. traffic was reopened, according to the Utah Department of Transportation.
The slide hit the road near White Pine in the canyon on state Route 210 just hours after it had reopened from being closed most of Saturday.
Cleanup of the avalanche that struck near White Pine in Little Cottonwood Canyon Sunday morning. Crews report the slide measured about 300 feet wide and hit the road at about 2 to 3 feet deep. pic.twitter.com/poD4i8wKlY

— John Gleason (@johnegleason) January 12, 2020
"My heart started pounding and we immediately braced ourselves for the unknown," said skier Pete Pelletier who was on the road with his brother, Sam Pelletier. The slide hit the vehicle two cars ahead of them.
"Out of the corner of my eye I saw a huge snow cloud," Sam Pelletier said. "And immediately knew that it was an avalanche coming down. Slammed on the brakes looked at my rearview to see if I could go in reverse, but it was a line of traffic."
After the snow cleared, they saw the SUV partially buried in 2 to 3 feet of snow that covered about 300 feet of the road.
"There were people within seconds a lot of people came right around the scene and was making sure everybody was OK," said Pete Pelletier.
All five occupants in the vehicle were uninjured, according to UDOT. Unified police were in the area just before 11 a.m. turning cars away at the scene.
The road had opened at about 8:25 a.m. Sunday before the avalanche shut it down again about 10:40 a.m. due to the slide.
It was estimated the road would be cleared and reopened by 2:30 p.m., but downhill traffic reopened sooner. Uphill traffic opened a short time later but delays were expected in the area until crews could clear the vehicle at White Pine, UDOT officials said.
UDOT tweeted at 5:30 p.m. that the road will be closed for avalanche work Monday morning from 5:30 until 8 a.m.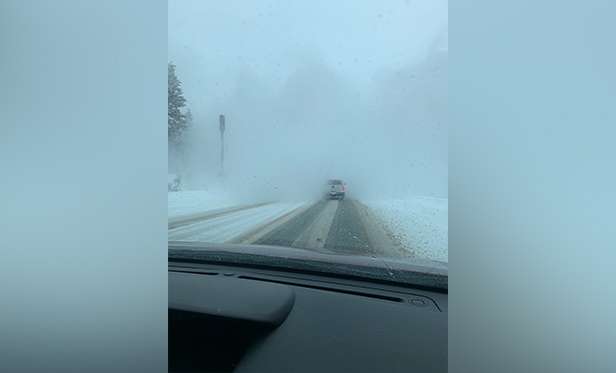 An avalanche watch was issued Sunday morning for backcountry Wasatch Mountains, north of I-80, after snow hit the entire Wasatch Front overnight.
The Utah Avalanche Center in Logan predicts dangerous conditions at higher elevations in Logan area mountains will develop Sunday afternoon and continue into the evening.
The avalanche watch also impacted Salt Lake City areas. Avalanche danger was higher in backcountry areas in the northern Wasatch Mountains and the Bear River Range.
Heavy snow and drifts from strong winds will create unstable snow, making human-caused avalanches likely, according to the UAC.
Experts advise individuals to stay off and out from under slopes steeper than 30 degrees.
The watch did not apply to ski areas "where avalanche hazard reduction measures are performed," UAC officials explained.
Dangerous avalanche conditions will continue into Monday, and the watch will remain in effect until 6 a.m. Monday.
A winter weather advisory was in place Sunday morning for the Wasatch Mountains north of I-80 and ended at 10 a.m. Sunday.
1-12-2020: We've issued an AVALANCHE WATCH.
HIGH danger is likely to develop this afternoon on some drifted upper elevation slopes. Very dangerous conditions will become more widespread tonight, with large, fast moving, and long running natural avalanches quite possible. #utavypic.twitter.com/2uXgACD7py

— UAC Logan (@UAClogan) January 12, 2020
As of Sunday at 9:20 a.m., about 4 inches had fallen in the Salt Lake and Tooele valleys, according to National Weather Service Salt Lake City.
Forecasts show moderate to heavy snow is expected to impact the Monday morning commute for areas north of Salt Lake City and mountain roads, the National Weather Service reported.
Traffic information is available via the KSL Traffic Center, @ksltraffic on Twitter, or at udottraffic.utah.gov.
The latest avalanche information can be found at Utah Avalanche Center's website.
The full KSL Weather forecast is available at ksl.com/weather.
Contributing:Tania Dean, KSL TV
×
Photos
Most recent News stories