Estimated read time: 3-4 minutes
This archived news story is available only for your personal, non-commercial use. Information in the story may be outdated or superseded by additional information. Reading or replaying the story in its archived form does not constitute a republication of the story.
PROVO — TJ Haws scored a season-high 29 points Thursday night, nearly singlehandedly bringing BYU basketball to beat Saint Mary's before falling in overtime.
The BYU senior from Alpine didn't have that kind of scoring night on the weekend.
Because he didn't need to.
Haws scored 13 points to go along with a career-high 14 assists to help BYU roll to a big early lead before holding off Portland, 96-70, Saturday night in the Marriott Center.
"TJ is a really, really advanced player," BYU coach Mark Pope said. "Sometimes my evaluation of TJ gets really critical because he is so high level, but I thought his effort in the second half against Saint Mary's was really courageous and really tough.
"Tonight, for him to respond in the way he did, and recognizing the ways we fell short at Saint Mary's, and the way he addressed those issues is spectacular. This young man is a really special player, and he's trying to put the finishing touches on a really special BYU career."
He wasn't the only one, though.
Dalton Nixon added 14 points and 11 rebounds for the Cougars — the first double-double of his career. Zac Seljaas poured in 21 points on 5-of-5 3-point shooting as BYU buried the Pilots by as much as 24-2 in the first seven minutes.
Jake Toolson had 12 points, eight assists and four rebounds for the Cougars (13-5, 2-1 WCC), who got 13 points from Kolby Lee and 11 from Alex Barcello.
When your team finishes with 29 assists and just five turnovers (three of them came off loose balls mishandled by Nixon, but who's counting?), it's easy to spread the wealth around — even without a player of the dominance of Yoeli Childs, who sat courtside in street clothes, sporting a familiar finger brace wrapping an open dislocation on the index finger of his shooting hand.
"I was talking to Yoeli at the end, like, this feels good," said Nixon, who has combined with Childs for 42 career double-doubles. "But I think I had a little Kyle Collinsworth in me, missing a layup to pad my stats.
"But guys step up. We're all going to play for each other."
But games aren't played in seven-minute spans, or even halves, when the Cougars led 51-30. Portland didn't back down, and the Pilots (9-9, 1-2 WCC) trimmed the deficit to single digits, 62-55 on freshman Chase Adam's triple with 11:20 remaining.
"It was a great start, and it started on the defensive end. We knew coming into this game that Portland is a really good team, and they got up on the Zags early on," said Nixon, referencing the Pilots' 7-point lead at Gonzaga before the Zags' 85-72 win. "So we wanted to really set the tone early.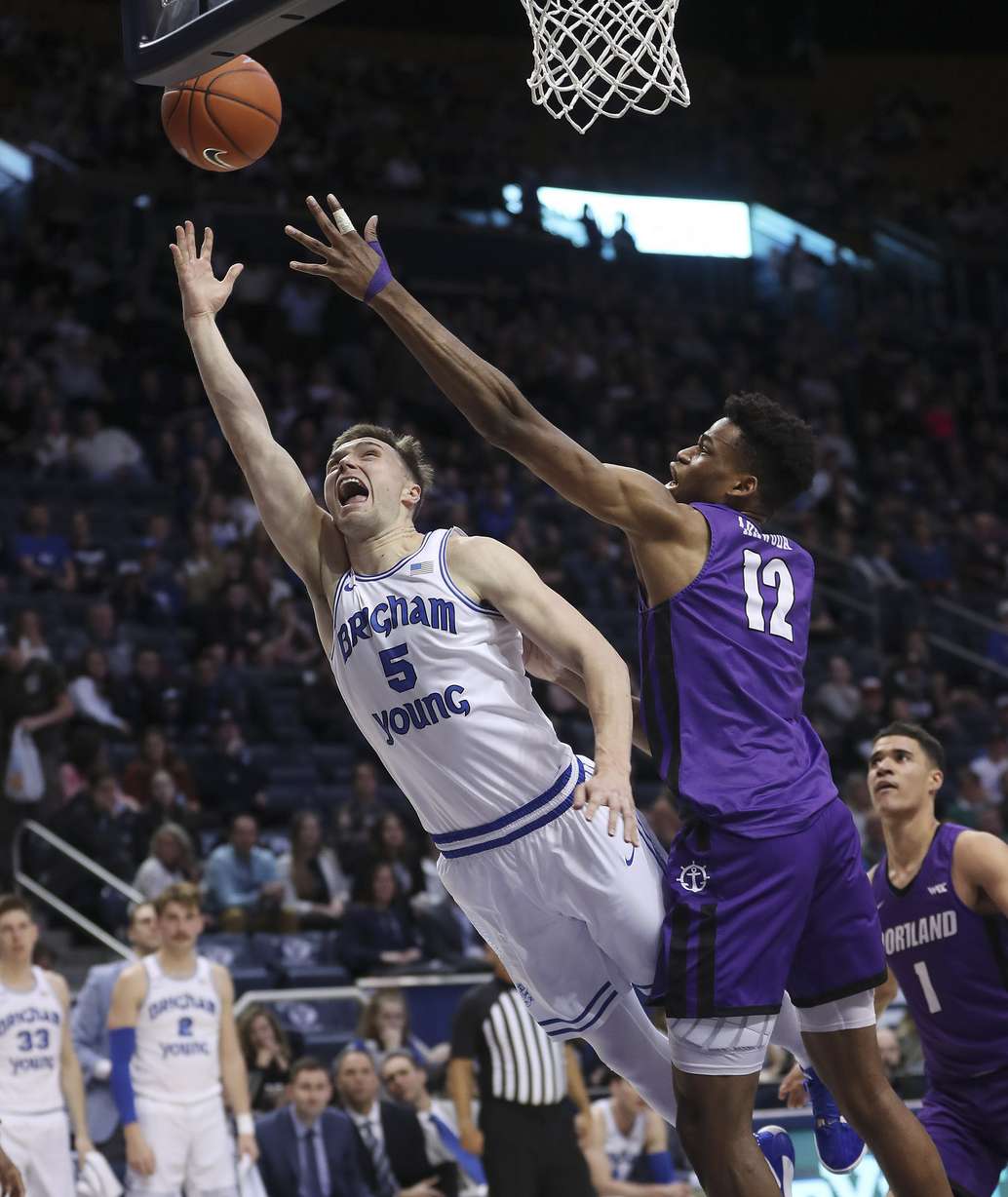 "Defensively, we were great, got out and made shots. That team fought back, but we responded really well throughout the night."
Seljaas hit a 3-pointer moments later to pace a 17-2 run, and BYU never allowed their West Coast Conference counterparts threaten again.
Malcolm Porter led Portland with 16 points and four rebounds, and Jacob Tryon added 12 points, eight assists and six rebounds for the Pilots.
Next up
BYU hosts San Diego next Thursday, Jan. 11. Tipoff is scheduled for 7 p.m. MST on BYUtv.
×
Related stories
Most recent BYU Cougars stories