Estimated read time: 3-4 minutes
This archived news story is available only for your personal, non-commercial use. Information in the story may be outdated or superseded by additional information. Reading or replaying the story in its archived form does not constitute a republication of the story.
PROVO — On its face, the 2019 BYU men's volleyball season wasn't a disappointment.
The Cougars finished the season ranked No. 12 in the country, bowing out in the Mountain Pacific Sports Federation semifinals to top-seeded (and No. 4-ranked) Pepperdine in Malibu, California, after a five-set win at Stanford in the league quarterfinals.
The Cougars reeled in wins over No. 7 Ohio State, No. 14 Ball State, No. 14 USC, No. 3 UC Irvine and No. 4 UCLA in their up-and-down season that — perhaps fittingly — finished 13-12.
But for a program with three national titles, 35 American Volleyball Coaches Association All-Americans and countless all-conference honors, the just above .500 mark may have seemed disappointing to some.
At least, that's how a handful of players felt. And that's a good thing for BYU head coach Shawn Olmstead.
"Sometimes, with really successful teams you get new groups that don't see or understand all the work that goes into it. They think it just comes together," Olmstead said. "The guys learned last year that isn't the case, and their work throughout this fall has focused on that — work in the weight room, conditioning, practice, the load in practice.
"They've responded really well, and they're just excited for this season to come. There's still a lot more work to do."
Olmstead's been around the game long enough to know not to take a season over .500 for granted. He's entering his fifth season with the BYU men's volleyball team, after all. But with two new assistants (both Devin Young and Micah Naone are only second-year coaches) on staff, as well as a remarkably unchanged starting lineup, the Cougars felt like they let a year slip away — if nothing else but to rebuild or reload or rechannel the program.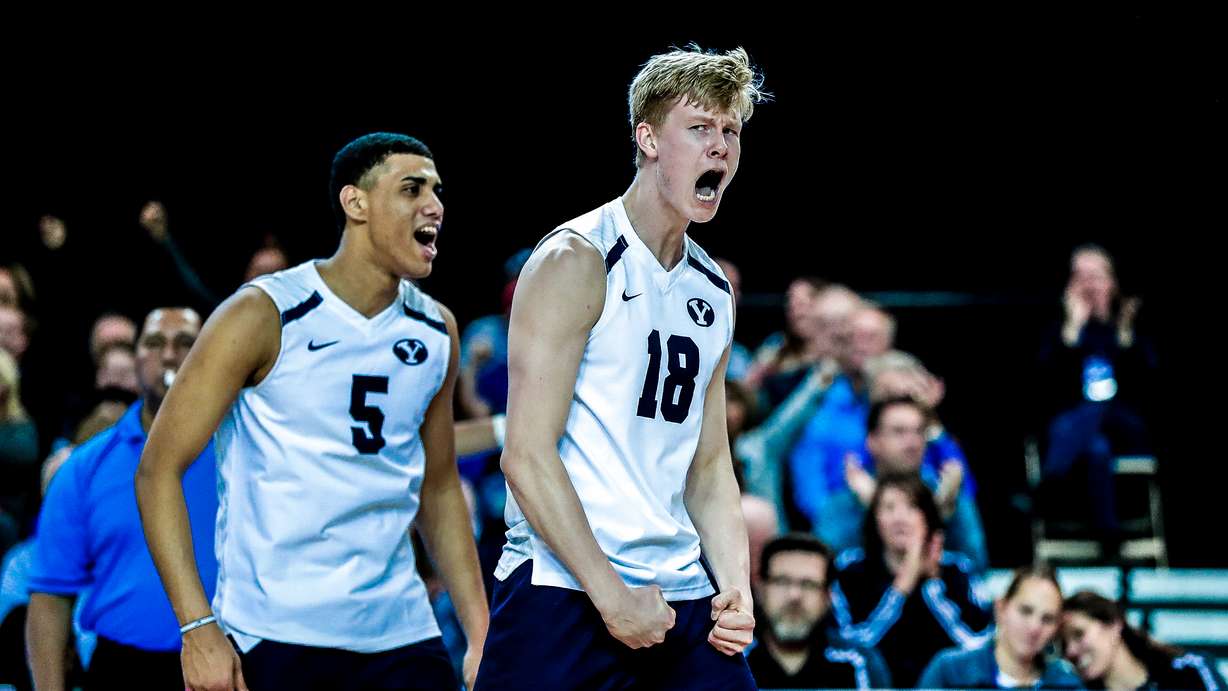 "It was a great learning experience, a great season," said BYU outside hitter Gabi Garcia Fernandez, the Cougars' lone first-team All-American last year. "I love last year's season. Even in losses and wins, it showed us that we're not unstoppable. The ball is still round. Everybody wants to play the same game, and you have to get better than the others."
Consider them reloaded now.
BYU (2-0) opened the 2020 season with back-to-back wins in the Chicago area, first finishing off No. 11 Loyola 3-1 on Friday. One night later, the Cougars added another 3-1 win over No. 6 Lewis when Garcia tallied three aces during a 7-0 run to polish off the four-set win.
"I'm really proud of the team, how we came out and played," Garcia said. "We had fun. Even back on Dec. 27, we were ready to go. We did a really good job of following the game plan, and everything just fell into place."
Cognizant of the need to not peak too early in a season, BYU opens the 2020 home schedule Friday against No. 15 Penn State (7 p.m. MST, BYUtv) in a weekend doubleheader. It will be the Cougars' third match of the season, but the first for the Nittany Lions.
But a year after laboring to a .500 record and missing out on the conference finals — let alone a trip to the NCAA Tournament — BYU won't take any match for granted.
"I felt like they needed that, and there were a lot of them that wanted that," Olmstead said. "They looked at last year as a major disappointment; and I don't look at it the same way, but I understand where they are coming from. There was grit and determination from those guys. They were excited about it.
"It's something that they noticed, and something that we did intentionally to help those guys get better, stay a little more grounded, and put in the work to make this thing roll.
How to watch, stream No. 3 BYU vs. No. 15 Penn State
When: Friday, Jan. 10, 7 p.m. MST
TV: BYUtv
Streaming: BYUtv.org
×
Related stories
Most recent BYU Cougars stories