Estimated read time: 3-4 minutes
This archived news story is available only for your personal, non-commercial use. Information in the story may be outdated or superseded by additional information. Reading or replaying the story in its archived form does not constitute a republication of the story.
PROVO — Everything was coming easy for the BYU women's basketball team Saturday afternoon as the Cougars looked for a 21st-straight win over Portland.
And then, suddenly, nothing was.
Keeley Frawley had 14 points, five rebounds and four assists, and Haylee Andrews added 10 points, six rebounds and three assists to help Portland stun the Cougars, 57-48 for the Pilots' first win over BYU since head coach Jeff Judkins moved to Provo.
Lauren Walker added a career-high 12 points — all in the first half — and three rebounds for the Pilots (8-6, 1-2 West Coast Conference), who outrebounded the Cougars 45-42.
"We didn't execute very well," said Judkins, whose team lost to Portland for the first time since 1999. "We couldn't score, and that affects you. We did a really good job in that first quarter, moving the ball and getting where we wanted to — and then we just stopped doing it. Maybe they made some adjustments, but we need to make some adjustments, too."
Paisley Johnson led BYU with 14 points and eight rebounds, Maria Albiero chipped in 13 points and four assists, and Sara Hamson supplied 11 points, 13 rebounds and seven blocks for the Cougars, who fell to .500 early in league play after opening 2-0 against the West Coast Conference.
The Cougars (7-7, 2-2 WCC) have failed to top 50 points in three of their last five games, including a 65-34 loss to then-No. 4 Oregon State in Hawaii and Thursday's 55-43 loss to No. 16 Gonzaga.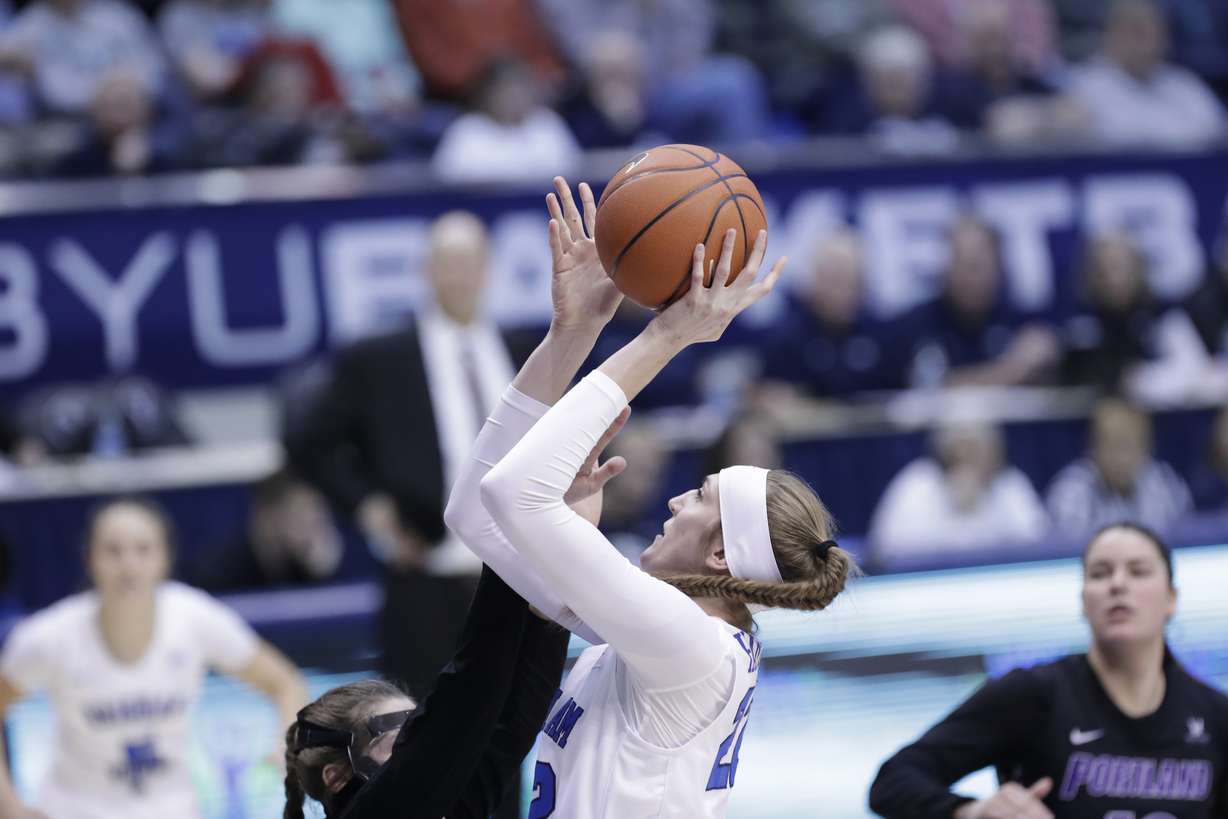 "We have a bunch of keys that other teams don't have, and that is already an advantage," Johnson said. "But continually learning the game, working together as a team, and wanting to win instead of wanting to have a career night is something that I think can really help us.
"Scoring 38 points at the half is not something that my basketball team does. I don't understand why it is happening right now. But we've got to figure something out."
Johnson connected on three of her first four shots, including a triple to help pace an 13-7 first quarter for the Cougars. But the junior sharpshooter didn't make her next shot until the 2:58 mark of the third quarter, and the Cougars' shooting went cold along with her.
The Pilots outscored the hosts 20-9 in the second quarter, holding the Cougars scoreless for the final 2:37 of the half to take a 29-22 advantage into the locker room.
After leading 13-7 after the first quarter, Portland outscored the Cougars 31-13 over the next quarter and a half to take a 38-26 lead on Frawley's open 3-pointer with 4:30 left in the third.
"They're defense was just frustrating," Johnson added. "They set up in a matchup zone, and we were running plays that we could find an advantage — but we continued to stay comfortable.
"They just wanted it more, they were excited to play."
BYU couldn't withstand the Pilots' full-court press, and the visitors scored 14 points on 14 turnovers to turn an early six-point deficit into a 12-point advantage. Portland shot just 31 percent from the field, but BYU's 33-percent shooting couldn't make up the difference down the stretch.
"I didn't feel like the press hurt us, necessarily. What hurt us is when we broke the press, they got into that zone and matched up with us," Judkins said. "We didn't move, we didn't get penetration through passing the ball to the high post or dribble penetration, and then we weren't ready to shoot.
"In the first (quarter) of the game, we got open looks — not easy, but ones they should be fired up to take. But you've got to be willing to try."
×
Related stories
Most recent BYU Cougars stories