Estimated read time: 3-4 minutes
This archived news story is available only for your personal, non-commercial use. Information in the story may be outdated or superseded by additional information. Reading or replaying the story in its archived form does not constitute a republication of the story.
PROVO — BYU women's basketball was the only team in the West Coast Conference to beat Gonzaga last year, and the Cougars did it three times, including an 82-68 win in the WCC tournament title game in Las Vegas.
The Zags put a stop to that talk Thursday night with the defense of an AP Top 25 team. Kayleigh Truong scored 10 points on 4-of-5 shooting off the bench, and No. 16 Gonzaga held the Cougars to 6 points in the second quarter to pull away for a 55-43 win Thursday night in the Marriott Center, handing BYU its first loss in West Coast Conference play. Katie Campbell supplied 11 points and six rebounds for the Zags.
Babulu Ugwu had 10 points and 11 rebounds to lead BYU (7-6, 2-1 WCC), and Brenna Drollinger added 8 points, four assists and three rebounds to go along with Maria Albiero's 8 points. Paisley Johnson and Jasmine Moody each scored 7 for the Cougars, who shot just 32.7 percent from the field.
"We got outexecuted," said BYU coach Jeff Judkins, who recently picked up his 400th career victory. "They ran their stuff, and it seemed like we were scatterbrained a lot offensively. You've got to give them credit for that, but part of it is us; we didn't do a good job.
"We had moments — in the third quarter, we came down … and then we just came back to being scatterbrained and not knowing what we were doing, offensively."
Gonzaga (13-1, 2-0 WCC) ended the first quarter on a 9-2 run to take an 18-14 edge out of the quarter, and held the Cougars to just 5 points for more than seven minutes of the second before taking a 26-17 lead on Truong's 3-pointer with 2:51 left in the half.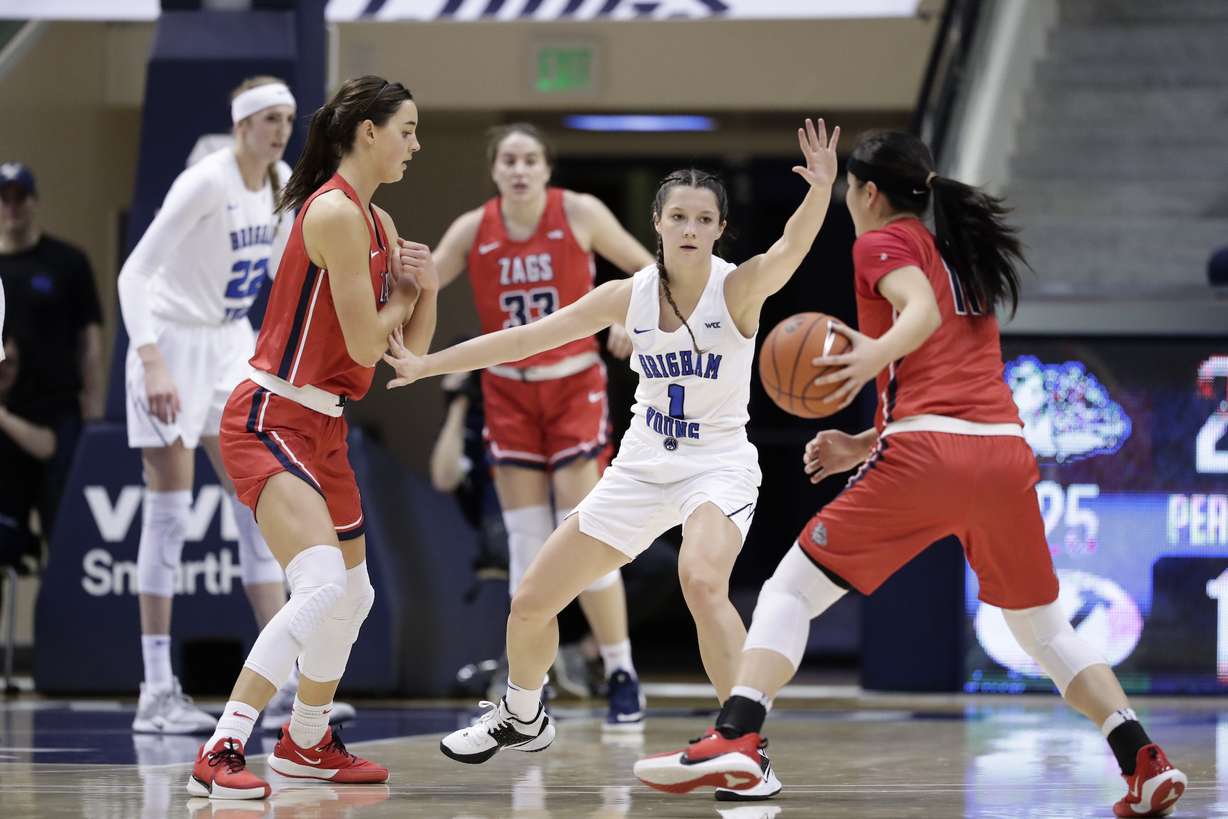 Then, with no time on the clock, Truong nailed a buzzer-beating triple to cap a 14-1 quarter-ending run that gave the Zags a 32-18 halftime lead.
The Cougars rallied to pull within 34-33 on a 3 by Drollinger. But Gonzaga rattled off a 10-0 run out of a timeout to push the lead back to double digits and go up 44-33 on Townsend's layup to end the third quarter.
"We fixed some things. Our guards were scoring more, and we drew off their energy," Ugwu said in describing the Cougars' third-quarter run. "But we stopped them on defense; that was one of the big things. We played really good defense, and focused on making easy passes, shooting your shot and making sure the focus was right."
Drollinger's 3 came with 5:03 left in the third, and BYU didn't score again until Ugwu's jumper with 6:54 left in the third.
By then, the Zags led 46-35 and needed only to run out the clock with a defense that held the Cougars to four fourth-quarter field goals.
"Their defense is very solid. They don't beat themselves, they've got a lot of length and they make you hit shots," said Judkins, whose team shot 3 of 5 from the free-throw line. "When we beat them all three times last year, we hit shots. If you aren't hitting shots against them, it's going to be a long night.
"We had a lot of good looks tonight, open shots that we just didn't hit. Airballs. Layups. Underneath the basket early in the game. And we didn't get the fouls, either."
Next up
BYU continues WCC play this weekend, hosting Portland on Saturday afternoon. Tipoff is scheduled for 2 p.m. MT on BYUtv.
Gonzaga plays at San Diego at 2 p.m. PT Saturday.
×
Most recent Sports stories