Estimated read time: 3-4 minutes
This archived news story is available only for your personal, non-commercial use. Information in the story may be outdated or superseded by additional information. Reading or replaying the story in its archived form does not constitute a republication of the story.
SALT LAKE CITY — Utah rang in the new year with an 81-69 win over the visiting Oregon State Beavers on Thursday night to start the program's Pac-12 Conference slate for the season.
Oregon State (10-3, 0-1) kept it close for much of the game before Utah (10-3, 1-0) went on a late run in the second half and led by as much as 15 points. The Beavers continued to battle back, but Utah was 25 of 28 from the free-throw line to keep OSU's hopes of a comeback as a faint chance.
Utah held Oregon State's Tres Tinkle to only 5 points in the second half after he scored 14 points in the first half. Tinkle finished with 19 points as the team's leading scorer.
The Beavers started out the game aggressively and built up a 5-point lead against a disjointed Utah offense that committed four early turnovers. But the Beavers stalled on offense for nearly five minutes midway through the first half to give the Utes the room they needed to make a 12-0 run.
"I thought we were actually quite intimidated to start the game," Utah coach Larry Krystkowiak said. "It took a minute for us to realize that the extra pass around the rim was key."
"It's good to get the first one out of the way and a W, for sure," Utes sophomore Timmy Allen said. "We didn't come out how we would have liked to, but we picked it up as the game went going on."
Krystkowiak said the biggest shift in the game for Utah was when the team committed to playing tough defense.
"The key to the game for us was making up our mind that we guarded," he said. "There was only one, maybe six- or eight-minute, period of that game where it felt like it wasn't very comfortable, and it's when we chose not to guard, and we left shooters open, got outscrapped a little bit."
Utah never gave up the lead for the remainder of the game, though Oregon State threatened several times and cut the lead to 3 points multiple times in the second half.
The Utes were led in scoring by Allen, who finished with a game-high 25 points and 10 rebounds. Allen's 13 of 15 from the free-throw line came up big for the Utes as Oregon State started the second half making six of their first seven buckets.
Sophomore Both Gach added 17 points and six rebounds, and freshman guard Rylan Jones added 14 points on 4 of 7 from 3-point range. Jones started out the game with a perfect 3 for 3 from deep to pace Utah to its first lead of the game.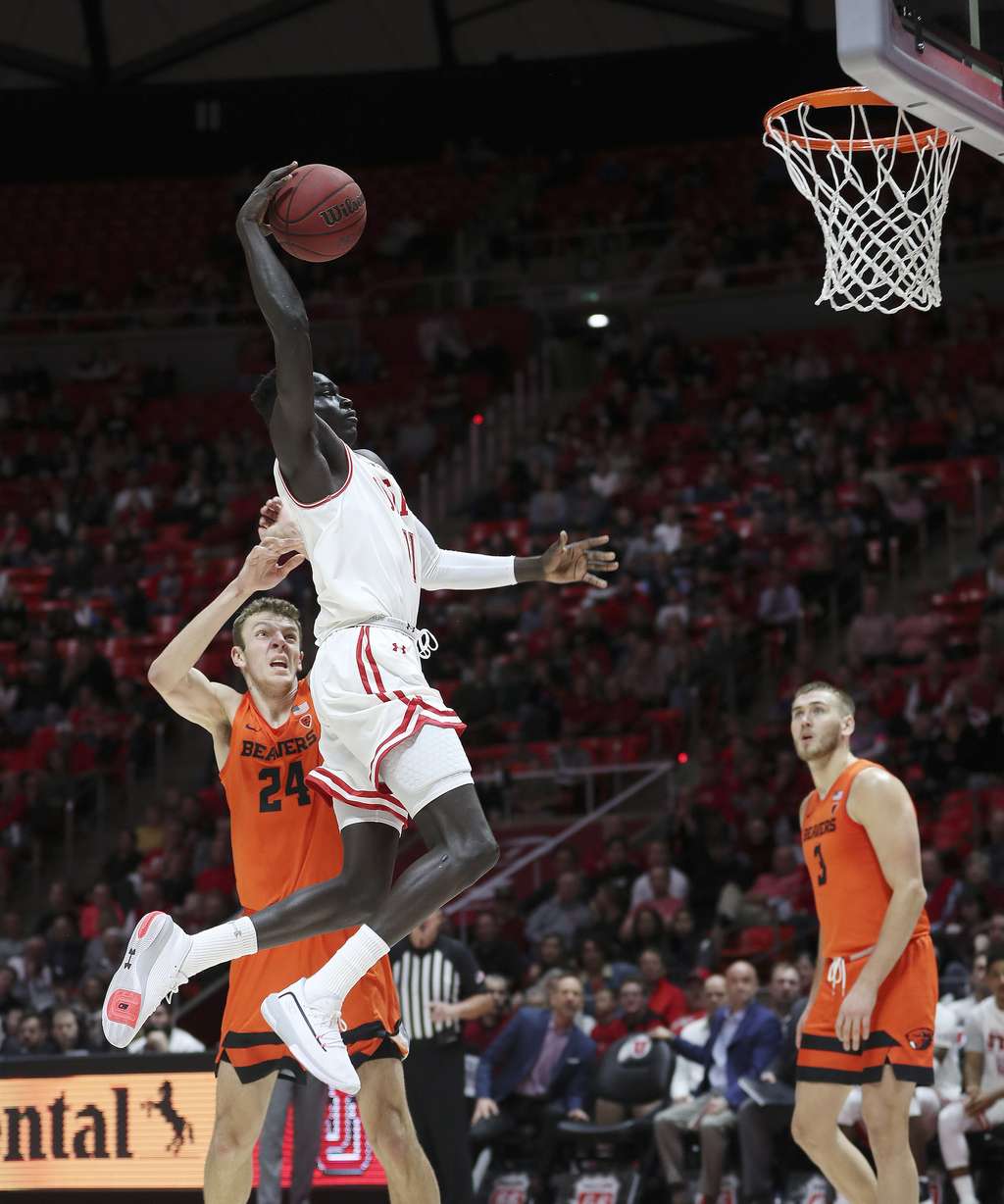 Utah picks up a win on a difficult stretch of the schedule, in which the Utes will play three top 50 teams in as many games, with No. 4 Oregon up next on Saturday at 3 p.m. at the Huntsman Center.
"They're an extremely deep team," Krystkowiak said about facing the highly ranked Ducks. "A year ago, I think we were up 15 points here and we couldn't deal with pressure. They have a bunch of athletes, as they always have; they play really hard, and I think that's going to be first and foremost is making sure that we take care of the basketball."
Utah had an 11-day break before opening conference play, which helped the Utes to heal up from a season's worth of injuries, particularly an injury to Jones' ribs, and sickness.
"The last two days we've had our entire team practice, and I don't believe that that's happened at any point this season. We've had heads banging together, ankle sprains, knee issues and all kinds of things, so the five days off that we gave them for Christmas was huge," Krystkowiak said. "We probably didn't need 11 to accomplish that, but I just thought it was pretty fresh for all of us."
×
Most recent Utah Utes stories