INDIANAPOLIS — Coach Jack Keefer's Lawrence North High School team won somewhere around 55 games in a row. The exact number is a bit hazy, but the night he thought it was going to come to an end is still quite clear.
Behind Mike Conley and Greg Oden, Lawrence North was rolling everyone. But Oden was set to miss a game against the third-ranked team in the state. So, yeah, Keefer was nervous — and he wasn't doing a very good job of hiding his emotions.
"Mike, comes up and says, 'What's wrong?'" Keefer told KSL.com. "And I go, 'Mike, we don't have the big guy tonight and these guys are third in the state and they are pretty good.'"
Conley's response: "Relax. I'll take care of it."
Conley dropped 38 points (he was only averaging around 14 that season), and the winning streak continued.
"That's the kind of young man he was," Keefer said. "He just did what he had to do to make the team win."
Lawrence, Indiana, is about 15 miles northeast of downtown Indianapolis. It's there that Conley became a force in the basketball world. It's where his AAU team — a squad coached by his father and featuring future NBA players Oden, Daquan Cook, Eric Gordon, and Josh McRoberts — became one of the best ever. It's where he won three state high school championships alongside Oden. It's where he became a Top 20 national recruit.
"On the basketball side, obviously state championships were great but you know the people I met and the lifelong relationships I still have are important," Conley said.
And they are lifelong.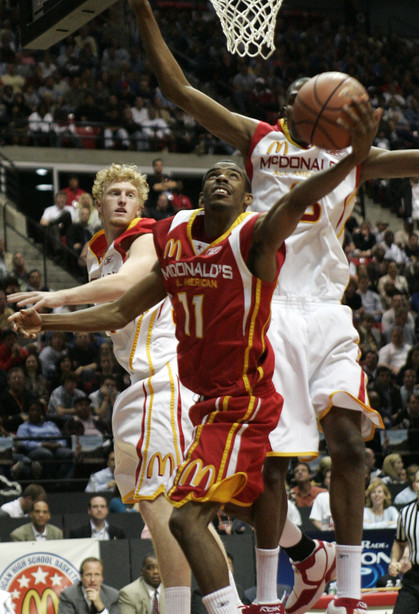 Keefer sometimes feels some apprehension when making the call. He can look around at a practice or game and make a mental checklist of all the things that Conley has helped with. He's provided those shoes, those bags, those jerseys... the list goes on.
Prep basketball isn't cheap — but Conley's made it that way for plenty of families.
"I feel like I call him too often, but he always responds very positively," Keefer said. "Uniforms, shoes, shooting backpacks, it adds up. Athletic departments don't buy that stuff, so he buys it and helps save the parents some money."
It's been years since Conley's family has lived in the area, longer still that he was winning championships for the school, and, yet, he's still giving back. And really, that's no surprise to the people that taught and coached him in Indiana.
"He would do anything for anybody," said Lawrence North athletic director Mike Penrose, who was Conley's high school math teacher. "That's just the way he's wired. He's team-first. He's selfless. No wonder he's a point guard because he'd rather have the assist than score points."
It wasn't until Conley's sixth NBA season that he averaged over three 3-point attempts per game. If you ask Keefer, he didn't just magically become a good shooter — he finally just started shooting.
"I couldn't get him to shoot," Keefer said. "He averaged about 14 maybe (during his junior year). I couldn't get him to shoot. He was always feeding people."
But there were times that the message would slip through. Like in his 38-point outburst or during a late-season state tournament game. At the time, Conley was nursing an injury on his left shooting hand. The team wrapped it up and the defense backed way off.
"The thing was he was just as good of a shooter with his right hand than he was with his left," Keefer said.
Conley buried three 3s in the first quarter of the game shooting with his right. The legend of the ambidextrous Conley was born.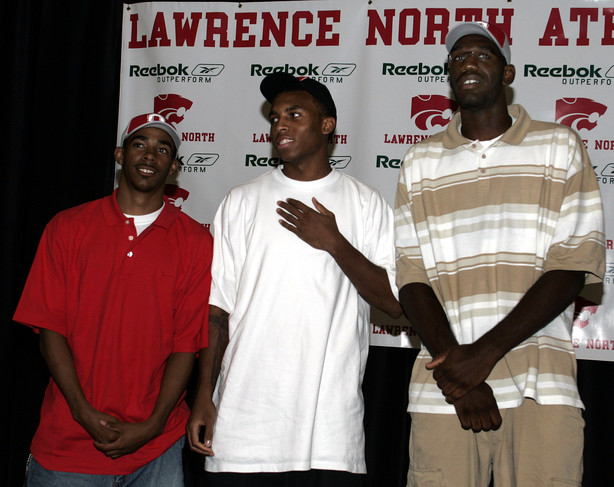 Conley and Oden have long been linked together. They played on the same AAU squad that has claims to national titles and led Lawrence North to three high school state championships. They both signed at Ohio State and were both drafted in the top four of the 2007 NBA Draft.
Both were integral parts of all their teams' successes, but the headlines and accolades were usually reserved for Oden. It was Oden that was Mr. Basketball, the No. 1 recruit, the national player of the year, and the eventual No. 1 pick. But if you ask Keefer, that never bothered Conley. In fact, he may have preferred it.
"Greg was a humble kid and Mike was trying to build him up and make him feel better about himself as far as his talents and so forth," Keefer said.
In their senior years, Keefer said that the offer was made for Conley and Oden to share Indiana's Mr. Basketball honor. Conley politely declined the award.
"He said, 'No, it's Greg. Greg gets it,'" Keefer remembered. "I don't know another human being that would say that."
But as the people of Lawrence, Indiana, can attest, there are not many people like Mike Conley.
"It's just Mike," Penrose said. "It doesn't surprise anyone around here that he's won the sportsmanship award three times."
×