SALT LAKE CITY — Sione Moa's final high school football game for Timpview was heroic.
The only thing it lacked was a hero's ending.
Moa ran for 100 yards and a touchdown, and filled in at quarterback for much of the second half in the Thunderbirds' 21-7 loss Friday night to three-time defending champion Orem at Rice-Eccles Stadium.
But it was not for lack of effort from Moa, who also had eight tackles and a 43-yard interception return in sparking Timpview (11-4) like he has throughout the season.
"We're proud of him," Timpview coach Andy Stokes said of Moa. "He's a phenomenal football player, and he's got a lot of football left in him. It's not over for him."
For all but two plays of the first three quarters, Timpview held down an Orem side that boasted five-star running back and linebacker Noah Sewell. The Tigers (10-4) scored on the first play of the game through Owen Williams' 70-yard broken play from Micah Fe'a in the first quarter, but that was most of the offense Orem could muster until Sewell's 47-yard TD run with 8:58 left in the fourth.
"We needed a change, and I knew I had to do that," Moa said. "I was a little iffy at first, not prepared. But I looked at my brothers, and we needed it. I just had to do whatever I could to help them out.
"Not myself; I had to help them out."
In between those scores, the Thunderbirds forced a litany of defensive plays, including interceptions by Moa and junior linebacker Calvin Tonga. The Tigers stalled on seven of their first eight drives, and led just 7-0 at halftime.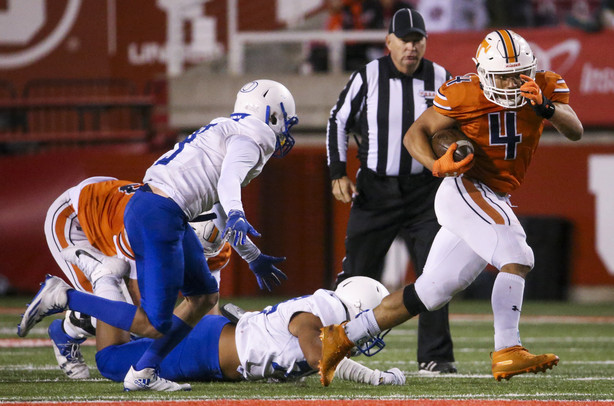 Timpview even caught a break when Cael Richardson forced a fumble at the end zone after Buju Tuisavura returned a near-muffed punt 84 yards in the third quarter. "I think we were six inches away from being there," Stokes said. "We were literally six inches away from big plays. Commend them for taking those six inches; they don't just give them up. You have to fight for them, and they did a phenomenal job of coming out and taking them. But we were literally that close."
But the dam eventually broke with Sewell's touchdown. Two plays for a combined 118 yards. Two touchdowns.
"We talk about brotherhood on this team, and we're a brotherhood," said Moa, who ran for 1,390 yards and 15 touchdowns in his second season with the T-birds. "I played with them for a short amount of time, but I felt that bond for the time I was here. I wouldn't go to war with anybody else.
"They mean the world to me, and that's for real."
But not even Moa's last-second herculean efforts, which included a 12-yard scoring run with 2:02 left, could rally the young team that will lose 21 seniors off this year's roster, including Moa and BYU commit Logan Pili.
In many ways, the Thunderbirds were a year early in their title game-run that included a quarterfinal win over crosstown rival Provo and a semifinal victory over Lehi.
Among the returners are quarterback Elijah Allen, a first-year starting signal-caller, and Raider Damuni, an all-everything athlete who committed to BYU in eighth grade.
"We've got a lot of kids coming back," Stokes said. "They'll remember this; they'll remember how this feels and they'll remember how to do it now."
×
Related Stories