Estimated read time: 4-5 minutes
This archived news story is available only for your personal, non-commercial use. Information in the story may be outdated or superseded by additional information. Reading or replaying the story in its archived form does not constitute a republication of the story.
PROVO — KJ Feagin saved his favorite trip to the Marriott Center for his last one.
The senior from San Diego State, whose career started at Santa Clara, nailed a clutch 3-pointer with 51 seconds left in regulation to help the Aztecs overturn a second-half deficit and upend BYU, 76-71 Saturday afternoon.
The win gives the Aztecs a victory in Provo in BYU's first home game against its former Mountain West Conference rival in 2011.
Jake Toolson scored 18 points, a career high at BYU, to go along with four rebounds and four assists for the Cougars. His previous career high was a 27-point effort against Idaho State while playing for Utah Valley in 2017.
TJ Haws had 13 points, six assists and four rebounds for BYU (1-1), and teammate Alex Barcello supplied 11 points and a career-high three steals.
"We knew it was going to be a fight, and we responded in the second half, brought the fight to them," Toolson said. "We've got to rebound better, and there are some things that we've got to clean up. But I felt like we did fight, and I'm happy with the way we fought."
Zac Seljaas added 8 points, three rebounds and a pair of 3-pointers that helped the Cougars overturn a first-half deficit to lead for most of the second half. But the senior wing who played a small-ball power forward fouled out with just over a minute to go, a foul that led to Matt Mitchell's free throws that brought the Aztecs back from a deficit that swelled as high as seven points.
Malachi Flynn had 16 points with two assists for San Diego State (2-0), and Jordan Schakel scored 19 points with five 3-pointers to rally the Aztecs.
San Diego State, which has eight players at 6-foot-6 or longer to BYU's one, outrebounded the Cougars 43-27 — including an unconscious 28-4 on the Cougars' offensive glass. Haws led the Cougars on the offensive glass, pulling down two of BYU's four boards on that end.
"Even with our diminutive size, we have to find a way to rebound the ball with a mob mentality," BYU coach Mark Pope said. "We have to solve that, first of all."
BYU shot just 36% from the field in the first half, and San Diego State scored on back-to-back buckets in the final 40 seconds to take a 36-29 lead at the break.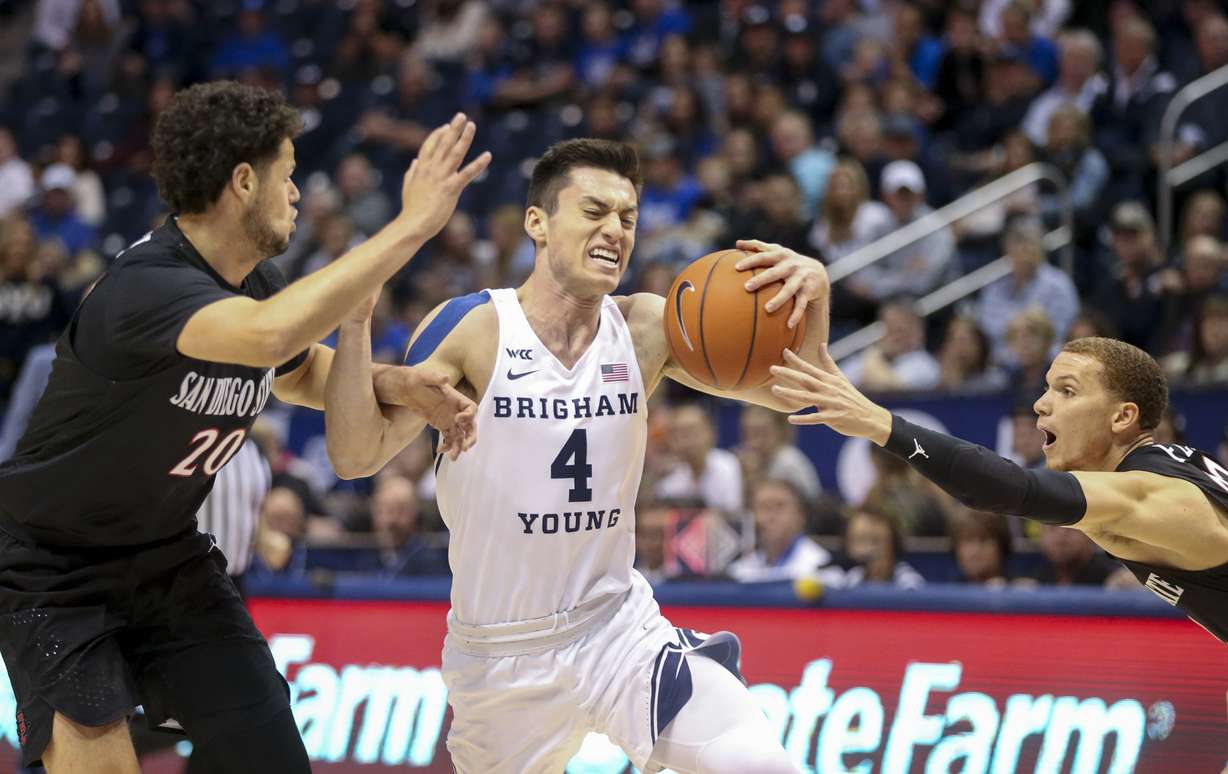 His team got the message, too.
"You can't give them second chances," Toolson said. "A lot of them were 50-50 balls; you've got to come up with those."
Seljaas scored eight during a 16-0 run that put BYU on top, 47-40 with 14:56 remaining. But Seljaas' three wasn't the dagger, nor was Haws' steal that turned into two on the other end.
It was the defense. BYU capitalized on what the previous coaching staff called a "kill" — three-straight stops — after Haws' turnover to turn a seven-point halftime deficit into a seven-point edge in just over five minutes.
"When we have that pace offensively, and we have baskets going in, it gives us energy on defense and we're able to get stops," Seljaas said. "But we've got to keep going with that, and keep fighting — just keep doing that, defensively."
But the offensive explosion didn't last, and neither did BYU's lead.
"It wasn't big in this game, because we ended up losing," Pope said. "But I hope it's big for us teaching. We know what we have to be as a team right now.
"We have to be a team that plays with pace, that has ball movement, and that trusts a simple play quickly and over and over again. That 21-3 run, that's who we want to be. If we want to be 29 points in the first half, then the 21-3 has no function in the world. … Hopefully the function of these is that it helps us believe what we can become."
Schakel, who shot 1-for-3 in the first half, went 6-for-6 from the field after the break, including a perfect 5-of-5 from 3-point range to rally San Diego State. The Aztecs shot 9-of-20 from three as a team.
"We could not locate Schakel. That was really hard for us," Pope said. "We could not grab a rebound. It was really hard for us.
"Things got a little sticky offensively. The whole first half was just hard."
×
Related stories
Most recent BYU Cougars stories