Estimated read time: 4-5 minutes
This archived news story is available only for your personal, non-commercial use. Information in the story may be outdated or superseded by additional information. Reading or replaying the story in its archived form does not constitute a republication of the story.
SALT LAKE CITY — From a corner of the Utah Jazz's practice facility, even with the assembled media surrounding him, Quin Snyder could see his team finishing up practice.
There was Mike Conley and Royce O'Neale shooting 3-pointers on one court. Donovan Mitchell was running through drills on another. There was Georges Niang and Ed Davis getting up some last shots and a three-on-three session featuring some of the younger guys like Tony Bradley, Miye Oni and Stanton Kidd.
"I think I'd be sick to my stomach if I saw someone else coaching this team," Snyder said. "That's how I feel about those guys."
He won't be seeing that anytime soon.
On Saturday, the Jazz announced Snyder had signed a long-term contract extension, keeping him in Utah for years to come.
"I'm thrilled," said Snyder, who pointed out that no one was as excited as his wife Amy. "Just a tremendous appreciation for the Miller family, all the support for me and my family, the commitment they've made to the Jazz and to myself."
Snyder remembered the first time he met with then-Jazz general manager Dennis Lindsey in an Atlanta hotel room. He called it a "meeting of the minds" as the two discussed the vision for the team.
There was an early connection and one that has only grown stronger as Snyder has coached up a lottery-bound squad to a perennial playoff team, and to now a unit that is seen as a potential championship contender.
"That understanding of what we want and what it takes to get there continues to evolve," Snyder said. "I think we're all on the same page."
For Jazz owners and management, it all starts with Snyder.
Mike Conley noticed it soon after being traded to Utah.
The Jazz head coach would call for what Conley assumed would be a quick five-minute talk, and before he knew it an hour had gone by. That's not uncommon with Snyder. When he latches onto a topic, he carefully dissects it, analyzing things in minute detail.
It's not rambling; just the opposite. He's contemplating, thinking through problems, teaching whoever so happens to be around him.
"He's constantly thinking of ways to improve the team himself as a coach, and I think it'd be good for me to have a guy like that, who's just looking at me and trying to make me a better person and player, every day," Conley said.
Conley already knew that Snyder was considered one of the best coaches in the league before the trade. He respected how the Jazz played, how they defended, how and moved the ball. But he didn't quite realize just how much went into the process of doing that.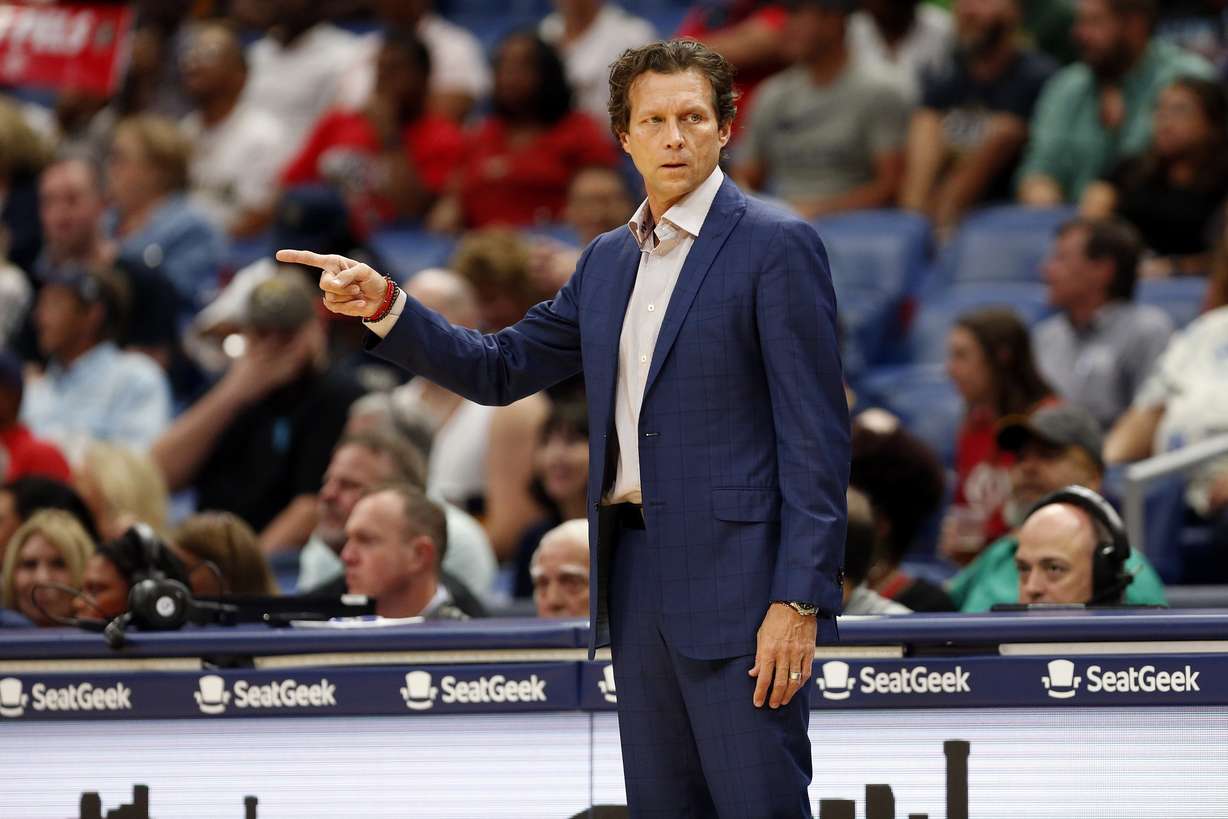 "Details. Details. A lot of details," Conley said. "I've never seen a coach so detailed. He pays attention to every single little detail, and he makes it to where you understand it."
It's one thing to teach a player a new skill or where he should be during a set or the best way to fight over a screen — it's another to teach them why and how their part fits in with the team as a whole. That's where Snyder rises above many of his peers.
"It's important for guys to understand why we're doing something the way we are," Snyder said. "That understanding really deepens your commitment and resolve to do it."
It's a philosophical thing. Once players truly begin to feel where they fit in with the rest of the team, they not only will do their job better but care more about it. It's more than just teaching them how to fight over a screen or where to run during a fast break. It's about teaching them how those things impact everyone else on the court.
"Defending a play, pick and roll possession, the offense is running the play, but defending the play is almost a play in and of itself," Snyder said. "You guard something a certain way. So everybody's relying on each other in those situations."
That's how Snyder prefers the game to be played — with everyone working in concert with each other. It takes time to get all the details down, but the results can be beautiful.
"We're all doing this together to do our best and that's really what this is all about," Snyder said.
When the Jazz play in Atlanta, Snyder still finds himself going back to the same hotel room where this all began. He can't go inside, obviously, but he sometimes just stares at the door and reliving the scene that occurred inside. The conversation that first led to him leading a team he can't imagine anyone else coaching.
×
Related stories
Most recent Utah Jazz stories